At the Foxfire Museum & Heritage Center, you will find homes, tools, trades, crafts, and a look at the lifestyle of the all-but-vanished pioneer culture of the Southern Appalachian mountains. Rabun County students began interviewing their families, friends, and neighbors in 1966 for their English class project, a magazine that they titled "Foxfire." Many times, the folks being interviewed would give the students an old tool or a finished, hand-crafted item they were discussing or documenting. Very quickly, Foxfire grew an extensive artifact collection. When The Foxfire Book became a national phenomenon, Foxfire was able to fund further growth. In 1974, land on the side of Black Rock Mountain was purchased, and Foxfire created a physical presence in the community. From the beginning, the students intended the property to be a place of interaction between themselves, their work, and their community.
Foxfire's new homeplace opened up new possibilities for the students. They could now collect and preserve larger pieces of Southern Appalachian culture – log cabins. About half of the 20+ log cabins at the Museum are authentic structures, standing nearly as they were originally built, relocated to the Museum mostly by the students' own hands. The rest of the cabins are traditional designs, constructed from usable pieces of barns, homes or other buildings too deteriorated to be reassembled, and represent structures that could not be found intact or would not be parted with by their owners.
The Museum's oldest structure is an authentic 1820s one-room log cabin that was home to three family generations with 10 children each. "Dog-trot" cabins, known for their summertime comfort, a replica chapel (the center of any mountain community), an animal barn, a blacksmith's shop, and a complete grist mill showcase other aspects of living and working in the bygone days of Southern Appalachian. Collections of simple tools and furnishings complete the picture. The Zuraw Wagon, the only existing wagon known to have been used on the Trail of Tears, is also on display. Keep in mind that almost everything at the Museum was collected or actually built by high school students who valued their unique mountain heritage. The Village Weaver, artist-in-residence Sharon Grist, is an accomplished spinner, knitter, and weaver. Sharon usually has a wide range of woven goods in progress on her many looms, and is more than happy to discuss her art with visitors. Broom-maker Carole Morse also demonstrates her craft at the Museum during the warmer months.
Self-Guided Walking Tours
For a small admission fee, visitors can take a self-guided walking tour of the Museum property along a 1/4-mile trail that climbs the property, winding throughout the cabins and grounds (for visitors with mobility issues, parts of the Museum are vehicle and wheelchair-accessible). A souvenir tour booklet provides photos and information on each of the cabins along the trail. Please allow about 2 hours for your visit to ensure ample time to enjoy the Museum. Guided tours can be arranged for school groups, clubs, or families of six or more if scheduled in advance, and feature access to extra displays and artifact collections, and several hands-on activities for young and old alike. Visit www.foxfire.org for more information.
Museum Gift Shop
The gateway to the Museum, the Gift Shop is a unique experience in its own right, featuring all of Foxfire's own publications and an extensive selection of related books covering the Southern Appalachian region: cooking, plants, animals, skills, trades, history, lore, and more. The Gift Shop carries a distinctive array of hand-made regional crafts as well, including home-made natural soaps from Miss Jenny, knitted/crocheted/woven wearables and kitchen textiles from The Village Weaver and other regional crafters, decorative and/or useful folk pottery from Steve Turpin and other North Georgia potters, just to name a few.
The Foxfire Museum is located at 200 Foxfire Lane, off of Cross Street, in northeast Georgia's Mountain City (US 441, between Clayton and Dillard), and is open Monday through Saturday, 8:30am to 4:30pm. Self-guided tour admission is $6 per adult, children 10 & under get in free (no charge to visit the Gift Shop and get more information about Foxfire and/or the Museum).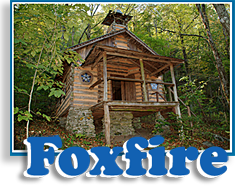 Foxfire Appalachian Museum
& Heritage Center
Post Office Box 541
98 Foxfire Lane
Mountain City, GA 30562-0541
706.746.5828