Hiawassee GA - Chubby Checkers at the Anderson Music Hall in Hiawassee, GA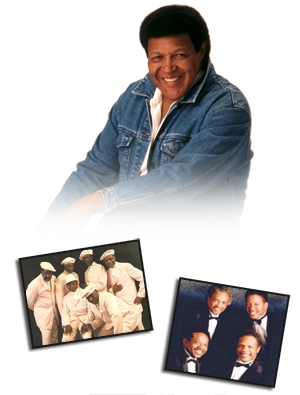 Join us in Hiawassee at the Anderson Music Hall to enjoy Chubby Checkers

Ernest Evans was born in Spring Gulley, South Carolina, but grew up in South Philadelphia, where he lived with his parents and two brothers. When he was a small boy, his mother took him to see Sugar Child Robinson, a child piano prodigy and also the famous country singer Ernest Tubb. Young Evans 
was so impressed, that he vowed to someday enter show business and took his first step toward that goal by forming a street corner harmony group when he was only 11 years old.
By the time he entered high school, Ernest had learned to play the piano a little at Settlement Music School and could do a number of vocal impressions. He also went to South Philadelphia High School with his friend Fabian Forte, who would have show business success of his own. He entertained classmates whenever he could. After school, Chubby would sing and crack jokes at his various jobs including Fresh Farm Poultry on 9th Street and at the Produce Market. It was Ernest's boss at the Produce Market, Tony A., who gave Ernest the nickname "Chubby".
The storeowner of Fresh Farm Poultry, Henry Colt, was so impressed, he began showing off his employee to his customers through a loud speaker. Henry and his friend Kal-Mann arranged for young Chubby to do a private recording for Dick Clark. A Yuletide novelty tune called, "Jingle Bells" on which Chubby did several impressions of top recording stars, was cut. Dick Clark sent it out as a Christmas greeting to all of his friends and associates in the music business. Cameo-Parkway liked it so much that they wrote a song called "The Class" and it became Chubby's first hit in early 1959.
For information call (706) 896-4191.
Beer and Wine will be sold at this event.
Tickets On Sale Now
Level 1: $42.00 + $2.00 Handling
Level 2: $32.00 + $2.00 Handling
June 2, 2018

Cost:

See above copy for cost
Categories:
Location:
Georgia Mountain Fairgrounds
1311 Music Hall Road

Hiawassee
,
GA
30546
USA

Venue Page

Weather
Map for Directions
Phone:706.896.4191
Website:
Click to Visit