John C. Campbell Folk School - Fall Festival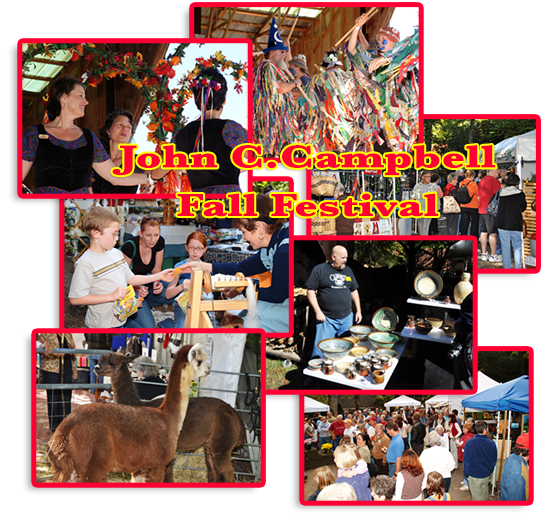 Golden fall sunlight and brightly colored leaves provide a scenic backdrop for the John C. Campbell Folk School's Fall Festival. This treasured annual celebration of Appalachian culture, held on the Folk School's Brasstown, North Carolina campus, heralds its 43rd anniversary in October.

Visit over 250 fine craft exhibitors tucked along the school's winding wooded paths. Watch more than 30 artisans demonstrate traditional and contemporary crafts. Fill your ears with bluegrass, gospel, folk, and Celtic music on both days. Tap your toes to clogging, Morris, and Garland dance performances throughout the weekend.

Children will enjoy the pony rides, petting the alpacas, and visiting the animals at the Humane Society's pet adoption booth. Face painting and arts and crafts activities will be offered by the Cherokee County Arts Council. 

Hungry festivalgoers can satisfy their appetites with a tasty lunch, dessert, or snack. Vendors' concession proceeds benefit several non-profit and community organizations. 

The Folk School's renowned Craft Shop, containing fine crafts from over 300 juried regional artists, will draw visitors throughout the weekend and be offering a chance to win a $100 gift certificate to the Craft Shop.
For more details, visit www.folkschool.org/fallfestival or call 1-800-365-5724.
Fall Festival 2017 Music & Dance Schedule

SATURDAY, October 7

FESTIVAL BARN STAGE 

MC's: Martin Sachs, David Liden, Bob Grove 
Sound: Geraud Barralon /Lindsey Liden, Glenn Fields / Annie Fain Barralon

10:00 Liden Barralon Band 
10:40 Campbell Folk School Cloggers 
11:20 The Rick & Geoff Show 
12:00 Folk School Junior Appalachian Music Students  
12:40 Wyatt Espalin & Friends 
1:20 Jones Brothers 
2:00 Heidi Holton 
2:40 Brasstown Morris & Garland Dancers  
3:20 Kudzu Kicker Cloggers 
4:00 Cane Creek Cliff Dwellers 

SHADY GROVE STAGE

MC's: Mike Oliphant, Lee Knight, Chris Moser 
Sound: Gary Kenney / Dave Peters, Zac Kilmer / Wyatt Espalin

10:00 Jones Brothers 
10:40 Greg Biltz 
11:20 Faith Willin' 
12:00 Heidi Holton 
12:40 Dusty Road Rangers 
1:20 Beansidhe 
2:00 Lee Knight 
2:40 Ellis Walden Band  
3:20 Redwine Jam 
4:00 Nelson Thomas

SUNDAY, October 8

FESTIVAL BARN STAGE

MC's: Larry Sorgen, Martin Sachs, Bob Grove 
Sound: Rob Tiger, Dave Peters

10:00 Sunday Morning String Band 
10:40 Ian Appleyard 
11:20 Faith Willin' 
12:00 Just Us Gals 
12:40 The Little Alberts
1:20 Campbell Folk School Cloggers 
2:00 The Pressley Girls 
2:40 Little Brasstown Baptist Church Choir  
3:20 Brasstown Morris & Garland Dancers  
4:00 Irons In The Fire 

SHADY GROVE STAGE

MC's: Anne Merkle, Kitty Taylor, Mike Crubaugh
Sound: Carl Dreher / Bob Dalsemer, Glenn Fields, Gary Kenny, Geraud Barralon

10:00 Folk School Junior Appalachian Music Students  
10:40 Wyatt Espalin & Friends 
11:20 Dusty Road Rangers 
12:00 Greg Biltz 
12:40 Kudzu Kicker Cloggers 
1:20 Cane Creek Cliff Dwellers  
2:00 Tom Morgan & Lynne Haas  
2:40 The Mountaineers 
3:20 Kenneth Gay  
4:00 Anne & Rob Lough
October 14, 2018

Cost:

See above copy for costs
Categories:
Location:
John C. Campbell Folk School
1 Folk School Road

Brasstown
,
NC
28902
USA

Venue Page

Weather
Map for Directions
Phone:828.837.2775
Website:
Click to Visit
Other Dates For This Event: