Hiawassee GA - Hank Williams Jr. at the Anderson Music Hall in Hiawassee, GA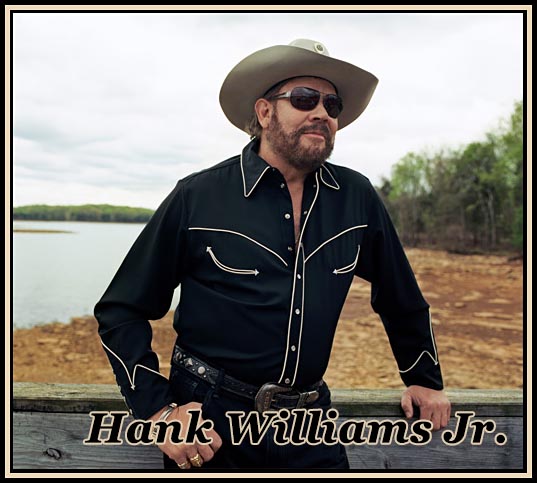 Hank Williams Jr. at the Anderson Music Hall in Hiawassee, GA


For Hank, Jr., everything changed with that 1975 dive off Ajax Mountain. The music world caught on to those changes around 1979, the year he released his first million-selling album, Whiskey Bent and Hell Bound, along with his autobiography, Living Proof. In the early 1980s, he catapulted to full-on superstar status, with major hits including "Texas Women," "Dixie On My Mind," "All My Rowdy Friends (Have Settled Down)," and in 1984, "All My Rowdy Friends Are Coming Over Tonight," a party anthem featuring a riotous video that starred Bocephus in conjunction with stars from inside (Merle Kilgore, Porter Wagoner, Kris Kristofferson, etc.) and outside (Cheech and Chong) country music.
In 1987, Hank, Jr. won his first of five country music entertainer of the year awards, and the two albums released that year – Hank Live and studio effort Born To Boogie – were platinum sellers. Born To Boogie was the CMA's album of the year in 1988, the year he won the CMA and ACM's top entertainer prize. Hank's star rose far beyond the country world in 1989, when manager Merle Kilgore arranged a deal with ABC's Monday Night Football to have Hank, Jr. rework "All My Rowdy Friends Are Coming Over Tonight" into a theme song to be played before each Monday's game. Two years later, the Monday Night theme won the first of four straight Emmy Awards, and Hank, Jr. would be the singing voice of Monday Night Football for 22 years.
"I've been a very lucky man," he's fond of saying, but Hank, Jr. has made his own luck, and made his own way. Given a chance to coast on his father's songs and his father's royalties, he found a new song to sing, and a new way to sing it.
The father lived 29 years, and the son spent nearly that long standing in his shadow. But it is what the son did after turning 29 that has landed him a place in the Nashville Songwriters Hall of Fame, that has made him a BMI Icon award winner, and one of the best-selling artists in country music history. By finding his own powerful voice, by turns rebellious and vulnerable, he has become a music icon. He remains an inspiration to Alan Jackson, Kid Rock, Jamey Johnson and other followers and a sure-bet for eventual entry into the Country Music Hall of Fame, where his plaque will be displayed in perpetuity, just like his daddy's, only different. Stop and think it over.
For information call (706) 896-4191.
Beer and Wine will be sold at this event.
Tickets On Sale Now
Reserved Seating: $77.00 + Handling
Outside Standing: $57.00 + Handling
September 8, 2018

Cost:

See above copy for cost
Categories:
Location:
Georgia Mountain Fairgrounds
1311 Music Hall Road

Hiawassee
,
GA
30546
USA

Venue Page

Weather
Map for Directions
Phone:706.896.4191
Website:
Click to Visit