Hiawassee GA - Georgia Mountain Fall Festival at the Georgia Mtn Fairgrounds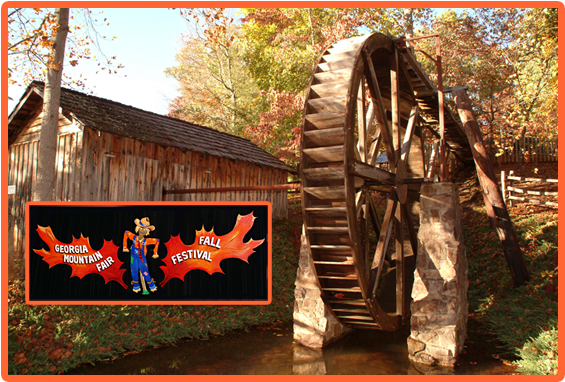 Georgia Mountain Fall Festival at Georgia Mtn Fairgrounds 
Friday, October 12
Opening Day!
Arts & Crafts 10:00 AM - 7:00 PM
Flower Show Opens at Noon
Music Show 2:00 PM - 6:30 PM
The Bellamy Brothers
Saturday, October 13
Arts & Crafts 10:00 AM - 7:00 PM
Music Show 2:00 PM & 7:00 PM
Aaron Tippin
Continuance of Country Music Show
Sunday, October 14
Arts & Crafts 10:00 AM - 6:00 PM
Interfaith Worship Service - 11:00 AM
Terry Carter
Gospel Music Show- 2:00 PM
The Isaacs
The Perrys
Mark Bishop
Monday, October 15
Arts & Crafts 10:00 AM - 7:00 PM
Music Show - 2:00 PM & 7:00 PM
Aaron Tippin
Tuesday, October 16
Arts & Crafts 10:00 AM - 7:00 PM
Music Show - 2:00 PM & 7:00 PM
Ricky Skaggs & Kentucky Thunder
Wednesday, October 17
Arts & Crafts 10:00 AM - 7:00 PM
Music Show - 2:00 PM & 7:00 PM
Schedule To Be Announced
Thursday, October 18
Arts & Crafts 10:00 AM - 7:00 PM
Music Show - 2:00 PM & 7:00 PM
Schedule To Be Announced
Friday, October 19
Arts & Crafts 10:00 AM - 7:00 PM
Music Show
Mountain Heart
Fiddlers' Convention-7:00 PM
Featuring EMCEE, Barry Palmer with Beginning Fiddler, Harmonica, Buck Dancing, Dulcimer, Dobro and Old Time Banjo. Winners in each category will be designated official Georgia State Champions.
Saturday, October 20
Arts & Crafts 10:00 AM - 7:00 PM
Music Show
Schedule To Be Announced
Fiddler's Convention - 10:30 AM
Competition includes Senior Fiddler, Junior Fiddler, Bluegrass Band, Finger Style Guitar, Flat Pick Guitar, Banjo, and Mandolin.
Finalists Competition- 7:00 PM
Featuring EMCEE, Barry Palmer

Additional Events/Attractions
Buddy The Clown
Come see Buddy the clown with his comedy, magic and his new addition, a clown bubble car that sends thousands of bubbles into the air.

Helicopter Rides
Enjoy a scenic view of the Georgia Mountain Fairgrounds and surrounding area. $20.00

Pioneer Village
Pioneer Village is a replica of just how the ole mountain towns used to be. A mercantile store with products and goods that only your grandmother might recognize. An old, one room schoolhouse, a log home with furnishings just like it was in the 1800's, a smoke house, barn and corn crib are just like it was then. It takes you back.

Crafts and Exhibits
Daily Crafts and Exhibits hours are as follows:
Monday-Saturday: 10:00 AM - 7:00 PM
Sunday: 10:00 AM – 6:00 PM
Many crafts are made at the fair as you watch.

"Old Ways" Demonstrations
"Old Ways" Demonstrations will take you back to the "old ways" as local folks show how "moonshine" was made...corn milling...shake making... cider squeezing...pork skin frying...quilting...black smithing...soap & hominy making and more.
October 18, 2019

Cost:

see above copy for costs
Categories:
Location:
Georgia Mountain Fairgrounds
1311 Music Hall Road

Hiawassee
,
GA
30546
USA

Venue Page

Weather
Google Map and Directions
Phone:706.896.4191
Website:
Click to Visit
Other Dates For This Event: