Gatlinburg TN - Arrowmont - Adult Community (Long) Classes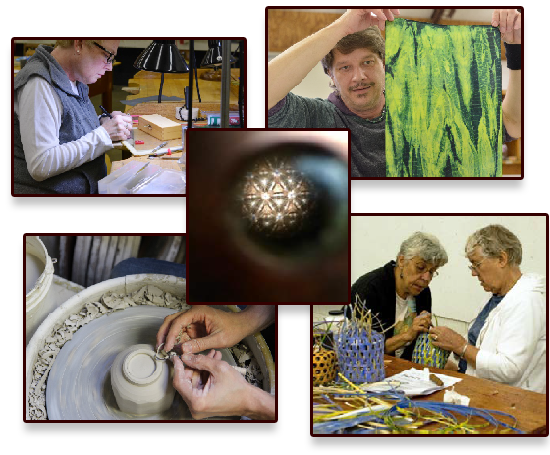 Adult (Long) Community Classes 
Handbuilding Historical Influence – Xia Zhang - $200
Perfect for both clay and history nerds of all levels! We will be learning classic handbuilding techniques such as slab building, pinching, and coiling to create organic and architectural forms. In addition to building with clay, this class will cover surface decoration techniques such as carving, mishima, and sgraffito. We will culminate the class by creating a historical vessel of choice and decorated with a personal narrative, in relevance to the vessel.
Jewelry: From Designs to Wearables - Emily Culver - $200
Starting with the jewelry basics such as sawing, piercing, soldering, forming and cold connection techniques, students will learn the possibilities of working with metal. After establishing a foundation, students will design and create original jewelry in the form of necklaces, bracelets, rings, earrings or brooches.
Mixed Media Tapestries - Elyse-Krista Mische - $200
Learn an abundance of new techniques in this well-rounded class! We will dive into fiber reactive dying, latch- hooking, tassel-making, embroidery, machine stitching, and other fabulous processes to make truly unique works of art! Put your newly learned skills into action and explore illustrative painting and drawing techniques on fabric while creating impressive non-traditional tapestries to adorn your home. We will reference Folk Art and Art Nouveau imagery to inspire our own personalized narratives and decorative compositions.
Experiments in Bag Making - Max Adrian - $200
In this five-week course, students will explore methods of making a variety of bags including totes, duffel bags, and backpacks. We will learn how to incorporate linings, bindings, pockets, and straps, while experimenting in our material choices. Some time will be spent on methods of sewing with non-traditional materials like faux-leather, faux-fur, and nylon rip-stop. Students are highly encouraged to bring any materials they may be interested in transforming into a bag of their liking, or to bring pre-existing bags that they would like to alter. Prior knowledge of machine sewing will be helpful but is not necessary.
A Basic Introduction to Mold-Making and Press-Molding – M. Paige Ward - $200
Be introduced to the techniques of plaster mold-making and press-molding as we create simple 1 or 2 part press-molds.
 Beginning with forms that we throw on the wheel, and build, extrude, carve, or find, we will make plaster or bisque molds. We will then use our molds for press-molding - recreating our original form in clay. Take it one more step further by exploring
 altering and adorning our original forms. Whether making sets of utilitarian wares or parts which will be assembled into
 sculpture, this process will allow students to utilize the power of the multiple while maintaining the mark of their hand in each unique press-molded piece they create.
The ABC's of Turning– Drue Hogland - $225
This hands-on course is designed to learn woodturning from the ground up. Starting with the basics, students will learn operations of the lathe, general and specific safety tips, the difference between spindle and faceplate turning, and the difference between dry and green woodturning. Students will also learn how to prevent cracking on your projects, the proper use of all the different traditional tools, such as gouges, faceplates, chucks, etc. and sharpening techniques for traditional tools. Finally, students will learn sanding and on and off the lathe for finishing techniques. Over the course of 5 weeks, the class will produce several projects such as tops, candle sticks, honey dippers, bowls, platters, lidded boxes, split hollow vessels, and off-set projects. 
Registrations are accepted on a first-come, first-registered basis. Class size is limited – early registration is recommended. Registration is by phone at 865-436-5860.
February 1, 2018

Cost:

See above for prices
Categories:
Location:
Arrowmont School of Arts & Crafts
556 Parkway

Gatlinburg
,
TN
37738
USA

Venue Page

Weather
Map for Directions
Phone:865.436.5860
Website:
Click to Visit
Contact: Ann May
Phone: 865-436-5860 ext. 28
Website:
Click to Visit
Other Dates For This Event: