The mountains are beautiful this time of the year. At every turn I see fields full of small yellow flowers, and the variation of greens amazing. The air is so fresh and fragrant. It is a great time to go for a hike, and there are so many places to hike in the mountains.
We are working diligently at making the Highlander a bigger asset for mountain exploration. One of our new additions to the Highlander is our backpack program, as time goes on, we will have the backpack function throughout the site, which is a huge undertaking. For now you can test it out with two counties, Fannin County, and Union County. Test it out and let us know what you think.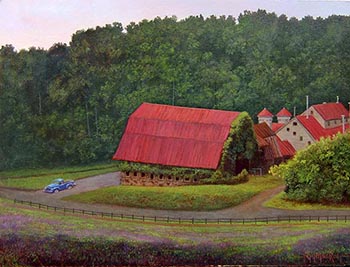 Black Smith Barn at John C. Campbell Folk School
one of the new paintings at the Highlander Gallery
Come Enjoy the New Works for John Mac Kah

10% of all sales on the John C. Campbell Folk School paintings
will be donated to John C. Campbell Folk School.
Highlander Gallery
33 Valley River Avenue
Historic Downtown Murphy, NC
This Weekend in the Mountains....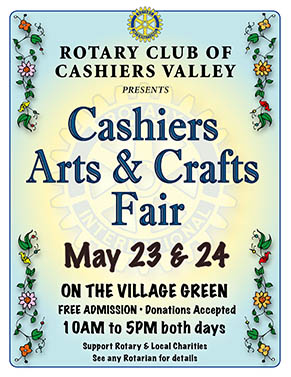 Cashiers, NC
Cashiers Valley Arts & Crafts Fair
May 23rd & 24th ~ 10 am - 5 pm
It's that time of year again! The finest artisans from throughout the Southeast will once again converge on The Village Green for the Rotary Club of Cashiers Valley's bi-annual Arts & Crafts Show. Come to the Crossroads this Memorial Day weekend for the return of one of the area's most notable events.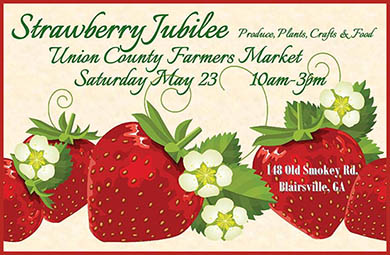 Blairsville, GA
Strawberry Jubilee
May 23rd & 24th ~ 10 am - 3 pm
Our Produce Farmers have collaborated with Western NC growers and we'll have plenty of berries for sale!
Wonderful Crafters • Early Spring Produce • Plants. Lots of Baked Goods, Jams & Jellies
Special Treat-Logan Turnpike Mill will be selling Strawberry Shortcake on their famous homemade biscuits.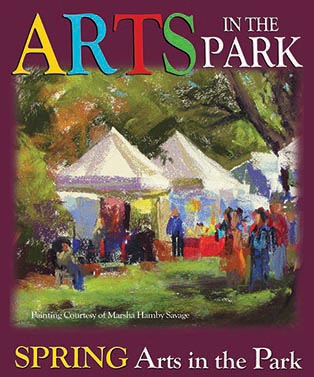 Blue Ridge, GA
Spring Arts in the Park
May 23rd & 24th ~ 10 am - 5 pm
Enjoy the 39th Annual fine arts and fine crafts festival held in the beautiful Downtown City Park of Blue Ridge, Georgia during Memorial Day weekend. Come and admire original artwork, view impressive arts demonstrations and enjoy a variety of food from over 175 exhibitors and vendors.


Blairsville, GA
Spring Arts & Crafts Festival
May 23rd & 24th ~ 7 am - 5 pm
Enjoy visiting over sixty arts & crafts vendors from around the region along with some delicious mountain fair food. There will also be three days of bluegrass, gospel, and country music for your Memorial Day weekend enjoyment!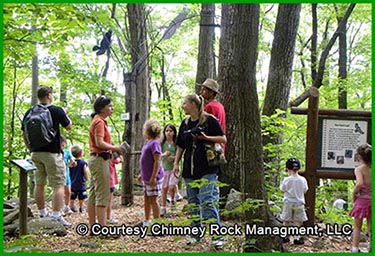 Chimney Rock, NC
Memorial Day Weekend Family Discovery Programs
May 23rd, 24th & 25th ~ 7 am - 5 pm
Meet some of Grady the Groundhog's woodland friends or possibly our birds of prey, a Red-tailed hawk and Great Horned Owl! Our resident education animals are the stars of the program, which explains each animal's role in our ecosystem, how they came to live at the park and lessons on what we can do to help protect wildlife. Family wildlife programs at 2pm. Try to outwit gravity with a free climb per person on our climbing tower open 11am–4pm.

Blue Ridge, GA
Blue Ridge Community Theater
Breakfast with Les and Bess
May 14th ~ May 31st
Comedy.(PG-13) The humorous and touching tale of a southern Alabama town's ethical, spiritual and political dilemma over how to get the Widow Lilla Barton to move out of the parsonage her father built for she and her Reverend husband. Include a pushy Realtor, who wants the depressed woman out, a decent Southern gentleman, who thinks she should be allowed to stay, and an ex-Yankee newspaper editor, who cannot even begin to understand these mysterious Southern ways, plus a Bishop who wanted marry the young Lilla and you have an evening of great laughs and drama.


Murphy, North Carolina
Murphy Chophouse - Music on the Patio
Featuring
Phillip Brooks - Friday, May 22nd - 6 pm
Troy Underwood - Saturday, May 23rd - 6 pm

Join us on the Deck for Music and a Good Time with Friends
Click for events at Murphy's Chophouse, Music line up and a map...
Next Weekend in the Mountains....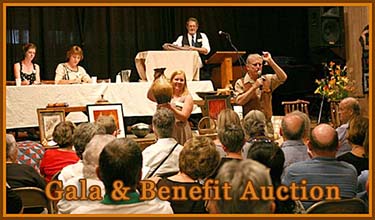 Brasstown, NC
John C. Campbell Folk School - Gala Benefit Auction
May 30th ~ 7 am - 5 pm
Please join us for an exciting evening of lively entertainment, delicious food, and traditional craft and fine art. Proceeds will benefit the Folk School's craft programs. Admission: $25 (includes food and drink). Please call Reed Caldwell, Development Manager (800-365-5724) for more information.

More and more events are being added to the Event Calendar, so now is the time to plan your trip to the mountains. Use our "Request Information Form" to get valuable information to help you plan your trip or relocation to the mountains.
Next newsletter we will be unveiling phase one of our new backpack program, make sure you check it out, it is a great new concept to add value to hour trips to the mountains.