Menu
Welcome to the Blue Ridge Highlander...Your Guide
to the Best the Blue Ridge - Smoky Mountains have to offer
20 Years on-line - 1997 - 2017
Quick links to our NEWSLETTER SIGN Up

and our EVENT CALENDAR
---
Highlander Gallery is Open...
Thursday, Friday & Saturday 11 am to 5 pm
10079 Old Highway 64 •  Brasstown NC
3/4 miles east of JC Campbell Folk School
Trip Advisor Quote...Finest Gallery within hundreds of miles...
---
Blue Ridge, Georgia
Blue Ridge Business Association
presents...
Fire & Ice Chili Cook-off
Saturday - February 17th
11 am to 5pm
Mark your calendars for live music, ice sculptures and amazing chili!
Cook-Off will happen come rain, snow or shine so see you on Saturday.
Join us at the Downtown City Park.   Chili Cook-Off will happen come rain, snow or shine so see you on Saturday. Mark your calendars for live music, ice sculptures and amazing chili! Buy a $10 Tasting Card to sample the competition and vote for the People's Choice Award. 
An amazing display of individual and unique ice sculptures from the award winning, National Ice Carving Champion "Rock on Ice" including several ice carving demonstrations.
Blue Ridge Business Association: Cesar Martinez at 678-793-6645 or Pam Fink at 706-258-2432.
---

Take a trip on the Cherohala Skyway Scenic Byway and it is mobile ready. The Cherohala Skyway's 36-miles of scenic mountain views rival any scenic byway in the eastern United States.  Mountaintops, waterfalls and waterways joined together with wildlife and giant trees, adorn this high country of eastern Tennessee and western North Carolina.  I was very impressed with Spirit Ridge Overlook with an elevation of 4,950-feet. This is by far the best handicap access location along the Cherohala Skyway.
The average trip over the Skyway takes 2 1/2-hours, if you just want to drive and view scenery.  I would recommend setting aside the best part of the day to enjoy some of the bigger than life features the Cherohala Skyway and Unicoi Mountain Wilderness have to offer.
Read more.. A day trip on the Cherohala Skyway Scenic Byway
---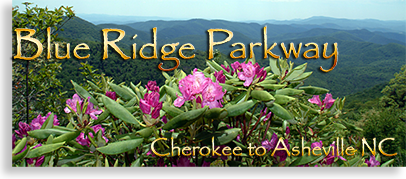 One of the special wonders in these mountains is the Blue Ridge Parkway.  The Parkway begins or ends on the edge of the Shenandoah National Park in the Blue Ridge Mountains of Virginia the Blue Ridge Parkway travels 469-miles southwestern along the high ridges and over the tall mountain peaks of the Blue Ridge Mountains ending or beginning at the southern gateway to the Great Smoky Mountains National Park.
To get the most out of your scenic road trip the Highlander suggest starting out early and begin your journey from the town of Cherokee where the Blue Ridge Parkway officially ends at the southern entrance gateway into the Great Smoky Mountain National Park.
Read more..A day trip on the Blue Ridge Parkway...from Cherokee to Asheville
---
The Highlander is celebrating 20 years on-line this year
Moving to these mountains in 1995, and seeing the wealth of healthy resources available to everyone led us to wanting to explore more That exploration led us to wanting to share that information. Having a history in marketing and publishing and the desire to publish a magazine about these mountains led us to research the Internet and its potential in 1995.
We started developing BlueRidgeHighlander.com in 1996, and launched it in 1997. Our next biggest challenge was to go around the mountains and explain to many what the Internet was and the value it had as a communication medium. Today 88.5% of the US population uses the Internet regularly.
The Highlander has been redesigned and re-programmed many times over the years. We are always looking into new ways to benefit our readers and sponsors, and are working on new benefits to add this coming season. We know you are going love the new additions and changes as we continue to grow out of the box.
We would love your input as to what you would like to have in the Highlander, after all, we are doing this for you, our readers, as a way to enjoy and plan your trips to the mountains.
Use this link to share your ideas of what you would like to see added to the Highlander. Continue to check out the progress, each week you will see something new...enjoy..
designed, produced and hosted by
The Blue Ridge Highlander logo, all photography, design, graphics, artwork, writing, digital images, etc are the
Copyright ©
of C. Wayne Dukes and Sherry Bell Dukes. 1996 - 2018, except where otherwise stated. All rights reserved, reproduction, downloading, and/or duplication of any sort is strictly prohibited, all violations will be prosecuted.
Legal Policy
. If you have any questions, or comments, regarding this site,
e-mail the Highlander
.