Menu
Welcome to the Blue Ridge Highlander...Your Guide
to the Best the Blue Ridge - Smoky Mountains have to offer
Quick links to our NEWSLETTER SIGN UP

and our EVENT CALENDAR
If you are planning a trip to the mountains and need more information
use this link to let us know what you need...
We are pulling the winning name for the John Mac Kah's John C. Campbell Folk School Framed Giclee Series tonight.
Check the Highlander later this week for the winner...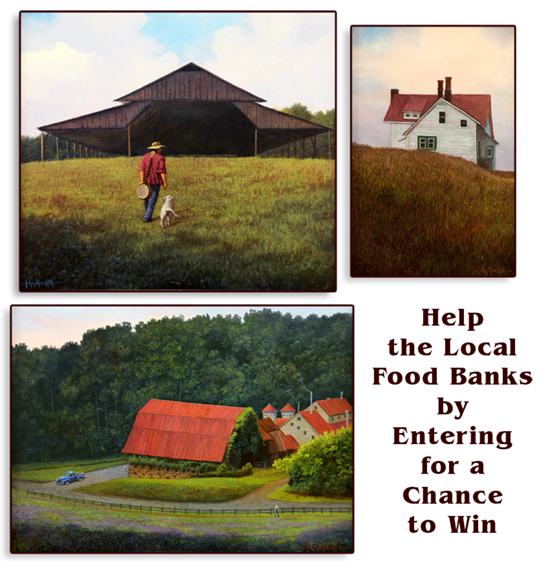 ---
Hiawassee, Georgia
Georgia Mountain Fair
9 Days...July 15th - 23rd
Look forward to the 66th annual Georgia Mountain Fair, held at the Historic Georgia Mountain Fairgrounds this summer! Thousands of visitors from across the region have experienced the excitement and nostalgia that the event has to offer. With first class musical performances, arts & crafts, fun carnival rides, unique attractions and a glimpse into North Georgia's rich history and culture, the Fair provides something for every member of the family.
Arts - Crafts, Musical Entertainment, Food Vendors, Smoky Mountain Amusements Carnival Rides, Pioneer Village with old time Demonstrations.
---
Chimney Rock, North Carolina
Family Animal Encounters
Every Day ~ Throughout July
Meet some of Grady the Groundhog's woodland friends or possibly our birds of prey, a Red-tailed hawk and Great Horned Owl, at our daily 2pm Family Animal Encounters! A Park naturalist will explain each animal's role in our ecosystem, how they came to live at the park and lessons on what we can do to help protect wildlife.
Animal Encounters meet at the Outdoor Classroom Sat & Sun and at Grady's Animal Discovery Den on Monday. Then, grab a Track Trail brochure at Grady's Den and take a hike along our Great Woodland Adventure trail with 12 interactive education stations. Cost: Included with Park admission
---
McCaysville, GA
Pickin in the Park
at Horse Shoe Bend
Every Thursday Night through September 29th
Pickin' in Horseshoe Bend Park - every Thursday, 6:00 PM to dusk, May through September. Live music jams and pickin' on the banks of the Toccoa River at the Horseshoe Bend Park in McCaysville. Free Admission. And the park is wheelchair accessible. Come out, bring the whole family to enjoy the experience. Picnic tables available, nice grassy lawn but you are also welcome to bring a blanket or chair.
---

Music on the Patio at Murphy's Chophouse Featuring
Phillip Brooks - Fri, July 22nd - 5 - 8 pm
Dana Rogers - Sat, July 23rd - 5 - 8 pm


Music at Chophouse LaPrade's on Lake Burton Featuring
Jeremiah Osterman - Fri, July 22nd - 6 - 9 pm
Phillip Brooks - Fri, July 23rd - 6 - 9 pm
---
Murphy, NC
Music & Friends
at the Daily Grind & Wine
Wednesday - July 21st
Gary Carter
Friday - July 23rd
"The Grind Debut" Wilson Slagle!
---
Chimney Rock, NC
Beats, Burgers & Brews
at the Old Rock Cafe
Every Friday & Saturday through July
Relax outdoors to the beat of bluegrass, Americana, folk, blues or other genres while enjoying a regional craft brew or glass of wine on our riverside deck. Talented local musicians and singer-songwriters liven the scene on Friday & Saturday evenings in July at this popular burger joint in Chimney Rock Village.
The Old Rock Café features one of the 2014 Zagat-rated "Must-try Burgers across the Country" with Hickory Nut Gap Meats' 100% grass-fed beef burger.
---
Blue Ridge, GA
Blue Ridge Community Theater Presents...
Play On!
Thursday July 14th through July 24th
This is the hilarious story of a theater group trying desperately to put on a play in spite of maddening interference from a haughty author who keeps revising the script. Act I is a rehearsal of the dreadful show, Act II is the near disastrous dress rehearsal, and the final act is the actual performance in which anything that can go wrong does.
When the author decides to give a speech on the state of the modern theatre during the curtain calls, the audience is treated to a madcap climax to a thoroughly hilarious romp. Even the sound effects reap their share of laughter.
---
Blue Ridge Highlander & Highlander Gallery have a new home...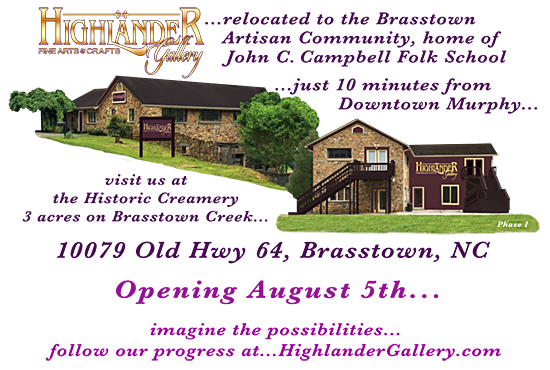 No matter how enthusiastic we are, we have to be realistic as to how much work is needed to open the Gallery to it's true potential. Below is a rendering of our plans for Phase I.  We have to get the inside done first.  So, the outside painting is not finished, nor is there a sign out front yet. 
The Gallery won't be ready for visitors until August 5th.  When we open, it will be even better than before, so we hope you all take some time to come visit us.
---
Phase I of the "new" Blue Ridge Highlander...
The Highlander has been on-line for over 18 years, and has been redesigned and re-programmed many times over the years. This update was the most challenging to date, due to the advanced technology of our times.
Due to the shear volume of valuable information that the Highlander contains, this new update has been in the making for a while. We have a lot of it completed and are anticipating having the entire "Phase I" completed by the end of January.
We would love your input as to the improvements as well as any suggestions as to what you would like to see in Phase II.
Continue to check out the progress, each week you will see something new...enjoy...
designed, produced and hosted by
The Blue Ridge Highlander logo, all photography, design, graphics, artwork, writing, digital images, etc are the
Copyright ©
of C. Wayne Dukes and Sherry Bell Dukes. 1996 - 2016, except where otherwise stated. All rights reserved, reproduction, downloading, and/or duplication of any sort is strictly prohibited, all violations will be prosecuted.
Legal Policy
. If you have any questions, or comments, regarding this site,
e-mail the Highlander
.