Menu
Welcome to the Blue Ridge Highlander...Your Guide
to the Best the Blue Ridge - Smoky Mountains have to offer
Quick links to our NEWSLETTER SIGN UP

and our EVENT CALENDAR
---
Blue Ridge, Georgia
Blue Ridge Community Theater Presents
Dickens' Christmas Carol
Friday, November 27th - Sunday December 13th
7:30 pm - 10 pm
From the bonny shores of England comes the Styckes-Upon-Thump Repertory Theatre Company, a stuffy old travelling troupe embarking on their fifteenth annual farewell tour of the Dickens' tale. The company includes Sir Selsdon Piddock, the consummate actor, with Mrs. Bettina Salisbury, Dame Rowena Middleton-Lewis, Mrs. Cordelia ffoliet-ffolkes ffortescue Woods, Teddy Shub and Elyot Crummels in multiple supporting roles. Sweet Cynthia Imbry, the general understudy, suddenly finds herself thrust onstage to perform a role she's ill-prepared for! Bettina, the company diva, pretends to be ill, certain the production will be cancelled. However, much to her shock and rage, the show does go on without her! Mayhem ensues as this professional company scrambles to keep the show going and everything that could possibly go wrong does, to hilarious, ridiculous results! (G).
---
Chimney Rock, North Carolina
What's Your View? Fall Photo Contest
Now through November 27th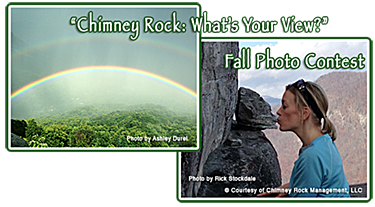 The grinning faces of your children, a friend hamming it up at Devil's Head or a stunning shot of a double rainbow over Lake Lure could win you a two-day Hickory Nut Gorge getaway with annual passes to Chimney Rock, an overnight stay at the Esmeralda Inn, lunch at the Old Rock Café and more. Hosted by Chimney Rock at Chimney Rock State Park, the "Chimney Rock: What's Your View?" photo contest launched September 7 with alluring prizes to capture the imagination of Park visitors and area photographers.
There's no fee to submit your photo to the contest for a chance to win, but all photographs must be taken inside the Park between September 7 and November 27, 2015. The contest welcomes both amateur and professional photographers to submit up to three photos per person via social media or email. The deadline to submit online or postmark date your mailed entry is November 27, 2015.
---
Scottish Tartan Museum Raffle...All Tartans Lead to Scotland

The Tartan Quilt, 60 x 90
Tickets are 6 for $5.00
Winner will be chosen January 2016
Raffle tickets may be purchased by phone, via credit card. A minimum of 10.00 of tickets must be purchased to use a credit cards.
Phone number is 828.524.7472
Mailing address is 86 East Main Street Franklin, NC 28734.
designed, produced and hosted by
The Blue Ridge Highlander logo, all photography, design, graphics, artwork, writing, digital images, etc are the
Copyright ©
of C. Wayne Dukes and Sherry Bell Dukes. 1996 - 2015, except where otherwise stated. All rights reserved, reproduction, downloading, and/or duplication of any sort is strictly prohibited, all violations will be prosecuted.
Legal Policy
. If you have any questions, or comments, regarding this site,
e-mail the Highlander
.