Purchase Authentic Mountain Art, Photos, Crafts, Gifts & Books on-line

Mountain Events
& Festivals
Sign up for
Highlander Newsletter
I love seeing the Turkey's roaming the mountains, they have such a unique look. To me they look like a herd of miniature dinosaurs. They are very docile and most often we have been able to walk amongst them without scaring them away. I bet most of you didn't know that Benjamin Franklin wanted the Turkey to be our national bird instead of the Eagle.
It is a little chillier than normal here in the southern Blue Ridge - Smoky Mountains, but don't let that stop you from coming out and enjoying all the great festivities this weekend. We have Art, Music, Wine, Adventure and Drama. Check out the great events below and come to visit us in the mountains.
For those that haven't wandered over to our new Gallery and Emporium yet, we have several new artists and a couple more coming in Thanksgiving Weekend. We are really excited to offer so much creativity to Western North Carolina. We are very thankful to all of you that have visited, as well as those of you that have help to spread the word and have brought their friends. Everyone that has come by has been extremely impressed, and enjoy being amongst so much creativity. I was going to include a photo of the Gallery and Emporium and realized it has changed so much since we last photographed it, so I will include a new one next week.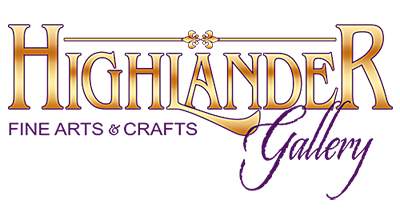 Come see us at 33 Valley River Avenue,
Historic Downtown Murphy, NC 28906
Featured Events this Weekend...
Young Harris, Georgia
Mountain Arts Association - Brasstown Resort Gallery
Artist Reception and Gallery Opening
Changing Season
November 21st, 2014
There is a slight chill in the air and the autumn leaves blaze before they fall as harbingers of a winter that covers the land with a mantle of snow.
Mountain Arts Association would like to invite you to the "Changing Season" Gallery Opening Reception, November 21, 2014, 5:30 to 6:30 at Brasstown Valley Resort, 6321 US Hwy 76, Young Harris GA 30582.
Open to the public, free of charge. Refreshments, Wine & Hors d'oeuvres served.
Meet the Artists, enjoy their art. Refreshments, Wine & Hors d'oeuvres served. This presentation will be featuring Bill Bates, presented by his wife Elizabeth, Keith Burgess, Paula Canup, Joyce Clair, Deb Collins, Jane M. Collier, Carol Duckworth, Nancy Duckworth, Bill Herold, Jon Houglum, Jan Jentzen, Deborah Larsen, Carol Lumpkin, Lorie McCabe, Carolyn Molder, Pebbie Mott, Linda Rubenstein, Estelle Schwarz, Bill Suttles, Todd Suttles, Grantland Toman, Rosemary Tyler, & Jackie Su West.

Blue Ridge Georgia
Saturday, November 22 - 7 pm to 9 pm
The 3rd Annual 'WhoDunIt?' Mystery Art Fun-draiser
BRMAA Art Center
This is a rare opportunity to acquire incredible artworks from sought-after local and regional artists at an incredible price!

This is a rare opportunity to get amazing artworks from sought-after local and regional artists at an incredible price! The mystery is trying to figure out who your artist is.
Each $50 ticket guarantees you are going home with an original piece of art. This is an event with fantastic art, delicious food, live music and lots of fun!
Give the gift of art this Christmas or expand your own art collection while helping the Art Center raise money to support our arts association and arts education programming. This will be a night you won't forget! I look forward to seeing you here!

Limited tickets available. Purchase your tickets today before they are sold out.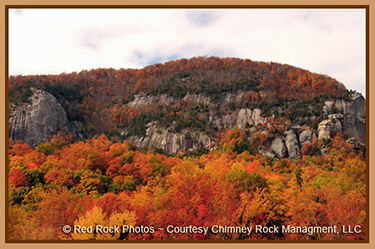 Chimney Rock North Carolina
Chimney Rock at Chimney Rock State Park
Naturalist Niche Series - Survival Skills
Saturday, November 22, 10:30 am-12:30 pm
When heading off the beaten path, it's important to stay oriented and know what useful resources you can find in the woods if you happen to get lost. Join local naturalist Clint Calhoun for an adventure into Chimney Rock's Old Growth Forest where you'll learn about helpful survival tips, techniques and essential gear. Plus, you'll discover what makes this forest ecologically remarkable. Limited to 20; advance registration required.

Ellijay, Georgia
Wine Tasting and Live Music
Saturday, November 22th - 1:30 pm - 5 pm
Featuring Lindsay Allward & Josh Schicker
Saturday, November 29th - 1:30 pm - 5 pm
Featuring Randy & Daniel
On the Patio unless the weather is not worthy, if so we will have the event in the Nealey Barn.
Click for Cartecay's Music line up, more information and a map...
Save the Date Nov 28th, 29th & 30th...

Blairsville Georgia
CHRISTMAS OPEN HOUSE
Saturday, November 29th - 10:00 to 5:00
Sunday, November 30th - 1:00 to 5:00
In anticipation of the seasons of Advent and Christmas, we will be having an Open House on Saturday and Sunday.
The 2014 season of visitation at the Reece Farm and Heritage Center will conclude on the weekend of November 29th & 30th. In celebration of the closing and in anticipation of the seasons of Advent and Christmas, we will be having an Open House on those two days. The hours will be the usual open hours, from 10:00 to 5:00 on Saturday and 1:00 to 5:00 on Sunday. There will be no charge for admission to our exhibits on both of those days.
Drawings for door prizes provided by our consignors and others will occur at 4:00 on Saturday and Sunday afternoons. Presence at the drawings is not required, but persons must come to the Welcome Center to receive a ticket and register attendance. Cookies and hot and cold beverages will be served. Craft activities for children will be available.
*** Free Admission ***

Blue Ridge Georgia
Blue Ridge Community Theater Presents
Miracle on 34th Street
Based upon the Twentieth Century Fox Film
November 28th - December 14th 2014
Thursday, Friday & Saturday 7:30
Sunday 2:00
Co-Directed by Vickie Fontaine & Kathy Simmons
An American favorite Christmas tale of the true Santa and the joy of childhood fantasy. By chance, Kris Kringle, an old man in a retirement home, gets a job working as Santa for Macy's. Kris unleashes waves of good will with Macy's customers and the commercial world of New York City by referring parents to other stores to find exactly the toy their child has asked for.
Seen as deluded and dangerous by Macy's vocational counselor, who plots to have Kris shanghaied to Bellevue Psychiatric Hospital, Kris ends up in a court competency hearing. Especially at stake is one little girl's belief in Santa. In a dramatic decision, the court confirms Kris as the true Santa, allowing Susan and countless other children to experience the joy of childhood fantasy.
RATING: G

Places of Interest & Featured Road Trips...

Byron Herbert Reece Farm & Heritage Center
One of the most enjoyable parts of being the Highlander is traveling the mountains and discovering special places to share with our readers. This week, for those of you that haven't discovered it on your own, we would like to introduce Byron Herbert Reece Farm & Heritage Center, read more about this great destination.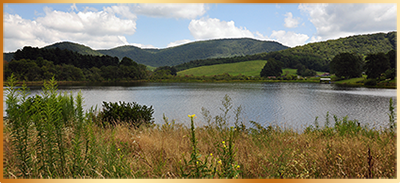 Woody Gap to Neel's Gap Scenic Drive
in Union County Georgia
We have added Map-it for use on Mobile Devices
Several of the roads on this driving tour are marked on road maps as scenic drives, though this Highlander chosen scenic driving tour is not an official Scenic Byway. Official or not, this is a great driving route for scenic driving tour fans. This 35.0-mile scenic route includes miles of winding roads, two mountain gaps, a state park, four mountain lakes, three of which offer great fishing access, campgrounds, swimming areas, and picnic areas. The scenic drive also connects to numerous trail access points for hiking and biking, four waterfalls, a historic structure and historic farmstead.
Click for more information, turn by turn directions and a map...
We noticed this past weekend, that the wild Rhododendron and Mountain Laurels are in full bloom, it is a beautiful time to take a scenic drive in the mountains. Below is a link to a great drive that you can take to enjoy the beauty of the mountains. We have added mobile links to the story to take you to our new Union County Mobile App which gives you turn by turn directions, photos and GPS for both phones and tablets.
The Highlander is in the process of adding more interactive road trips for your enjoyment. If you have a favorite, let us know and we will add it to the list.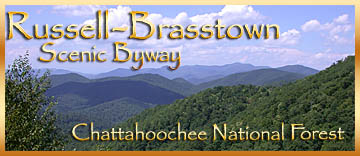 For those of you planning a trip, the Highlander has a new "Request Brochures and Information" form, feel free to use it to ask for information for your next trip or move to the mountains, click here to send make your requests...
If you haven't made reservations for a Christmas Getaway, check out the Highlander's Recommended Lodging Partners.