Purchase Authentic Mountain Art, Photos, Crafts, Gifts & Books on-line

Mountain Events
& Festivals
Sign up for
Highlander Newsletter
15 days until Christmas...
There are three great events coming up this weekend to enjoy. If you haven't visited any of these, this is the year to do it, you will be happy you did. And while you are visiting these small mountain towns, be sure to stop into their local downtown shopping district to look for those special gifts you just haven't found yet.
With only 15 days until Christmas, I would like to wish you all a wonderful holiday this year. Your holidays will be special if you remember the true meaning of Christmas and find a way to make each and every day a blessing to someone. It isn't that difficult, just look for ways to commit a simple act of kindness to those you meet. You can start with a simple smile, and wish each person you speak to a wonderful day. You will benefit from the good joy that you are spreading, and hopefully it will be contagious and continue to spread. This holiday, be sure to take the time to enjoy yourself and the people around you. Look for the good in each and every day, it is up to you to benefit from the blessings of another day of life.
The banner photo above is one of my favorites. The dog is a Great Pyrenees, that use to live around the corner from our home. Great Pyrenees are a herding breed from the mountains of France. They are very protective and gentle with small animals and children.
Meet Sampson, a Great Pyrenees and the latest member of the extended Highlander family. This is a photo Madeleine, our granddaughter and Sampson at 6 weeks old. Sampson is Maddie and Xavier's latest pet. Can you imagine how large he is going to be if this is 6 weeks. He is adorable and you can't help but love him. Sampson is a welcomed member of the family, I know we will all enjoy having him around.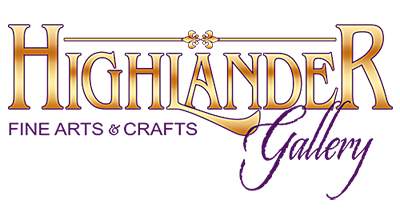 Come check out the Highlander Gallery for your Christmas shopping. We have lots of gifts from $5 on up.
We are located in Historic Downtown Murphy, at 33 Valley River Avenue, Murphy, NC 28906
Featured Events this Weekend...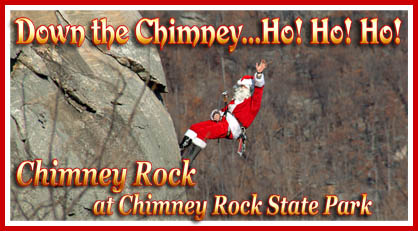 Chimney Rock at Chimney Rock State Park
Santa Climbs the Chimney
Saturday, December 13th - 11am to 2pm
How is Santa able to climb down millions of chimneys around the world in a single night? He practices, of course. Witness Santa's daring stunt as he practices on one of the world's largest chimneys at 315 feet tall! Meet Santa and Mrs. Claus, enjoy live holiday music, complimentary hot cocoa, cookies and kids' activities and see live critters. Sponsored by Coffee on the Rocks in Chimney Rock Village. Come see why Chimney Rock was named one of "10 great places to catch up with Santa" by USA Today!
Win a Free Climb with Santa's Elves! Each day, one lucky guest will win free two-hour rock climbing lessons for two with Santa's professional helpers, Fox Mountain Guides. Must be present to win the drawing.

Brasstown North Carolina
John C. Campbell Folk School
Kid's Christmas Party

Saturday, December 13th, 2014
Each year John C. Campbell Folk School has a free event of kids, it is not just another Christmas event, this is a special mountain Christmas experience. A visit from Santa on a fire truck, plus games, music, dancing, story telling and refreshments. This event is for kids of all age from Grandmas and Grandpas to Moms and Dads and down to the younger Kids as well. A wonderful family event...join us in the mountains.


Blue Ridge, Georgia
Blue Ridge Community Theater Presents
Miracle on 34th Street
Based upon the Twentieth Century Fox Film
Co-Directed by Vickie Fontaine & Kathy Simmons
Last Weekend....December 11th, 12th, 13th & 14th 2014
An American favorite Christmas tale of the true Santa and the joy of childhood fantasy. By chance, Kris Kringle, an old man in a retirement home, gets a job working as Santa for Macy's. Kris unleashes waves of good will with Macy's customers and the commercial world of New York City by referring parents to other stores to find exactly the toy their child has asked for.
Seen as deluded and dangerous by Macy's vocational counselor, who plots to have Kris shanghaied to Bellevue Psychiatric Hospital, Kris ends up in a court competency hearing. Especially at stake is one little girl's belief in Santa. In a dramatic decision, the court confirms Kris as the true Santa, allowing Susan and countless other children to experience the joy of childhood fantasy.
RATING: G
Places of Interest & Featured Road Trips...

Byron Herbert Reece Farm & Heritage Center
One of the most enjoyable parts of being the Highlander is traveling the mountains and discovering special places to share with our readers. This week, for those of you that haven't discovered it on your own, we would like to introduce Byron Herbert Reece Farm & Heritage Center, read more about this great destination.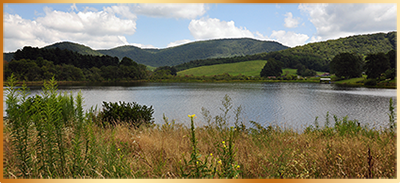 Woody Gap to Neel's Gap Scenic Drive
in Union County Georgia
We have added Map-it for use on Mobile Devices
Several of the roads on this driving tour are marked on road maps as scenic drives, though this Highlander chosen scenic driving tour is not an official Scenic Byway. Official or not, this is a great driving route for scenic driving tour fans. This 35.0-mile scenic route includes miles of winding roads, two mountain gaps, a state park, four mountain lakes, three of which offer great fishing access, campgrounds, swimming areas, and picnic areas. The scenic drive also connects to numerous trail access points for hiking and biking, four waterfalls, a historic structure and historic farmstead.
Click for more information, turn by turn directions and a map...
We noticed this past weekend, that the wild Rhododendron and Mountain Laurels are in full bloom, it is a beautiful time to take a scenic drive in the mountains. Below is a link to a great drive that you can take to enjoy the beauty of the mountains. We have added mobile links to the story to take you to our new Union County Mobile App which gives you turn by turn directions, photos and GPS for both phones and tablets.
The Highlander is in the process of adding more interactive road trips for your enjoyment. If you have a favorite, let us know and we will add it to the list.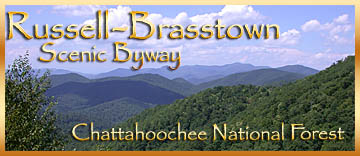 For those of you planning a trip, the Highlander has a new "Request Brochures and Information" form, feel free to use it to ask for information for your next trip or move to the mountains, click here to send make your requests...
If you haven't made reservations for a Christmas Getaway, check out the Highlander's Recommended Lodging Partners.