Purchase Authentic Mountain Art, Photos, Crafts, Gifts & Books on-line

Mountain Events
& Festivals
Sign up for
Highlander Newsletter
This Weekend in the Mountains...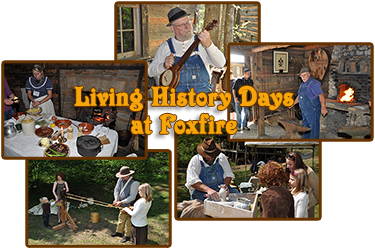 Foxfire Hosts Living History Days
Saturday, May 2nd, 2015
8:30 a.m. to 4:30 p.m.

See the days of pioneer Appalachia brought to life by local families as the Foxfire Museum & Heritage Center hosts a day of living history, with adults and children dressed in 1800s period costumes, showcasing almost every facet of life in these mountains 200 years ago.


Murphy, North Carolina
Murphy Chophouse - Music on the Patio
Featuring
Troy Underwood - Saturday

Saturday, May 2nd - 6 pm

Join us on the Deck for Music and a Good Time with Friends
Click for events at Murphy's Chophouse, Music line up and a map...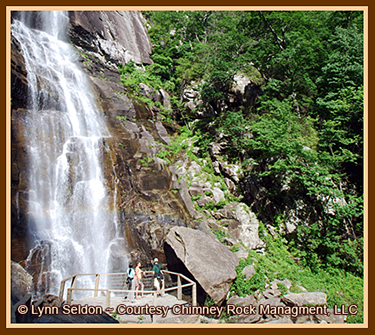 Chimney Rock, NC
May 3rd 2015
Naturalist Niche: Waterfall Exploration
Hickory Nut Falls is not only one of the highest falls east of the Mississippi River, it's also full of plants and animals are easy to miss if you aren't watching closely! Join a Park Naturalist to explore the Falls and search for life hiding among the rocks. Advance registration required. Waterfall Exploration is part of our Naturalist Niche series. Join an expert naturalist on park trails once a month January - December to learn about plants, wildlife, survival skills, birding, geology or other fascinating outdoor topics!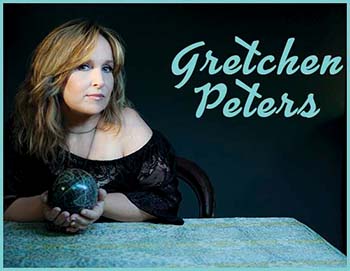 Blue Ridge GA
May 2nd 2015
Blue Ridge Community Theater
Live Music is Better Concert Series
presents Gretchen Peters
Gretchen Peters is a Grammy nominated singer-songwriter from Nashville. Both her poetic language and the spare, evocative sounds she created in the studio to support her organic story-telling is brought to the live stage. Peters' own voice and guitar playing have been at the core of her music since she started performing in the Boulder, Colorado folk circuit as a teenager. Inspired by Paul Simon, Bob Dylan, Joni Mitchell and a new generation of songwriters rising out of Nashville that included Steve Earle, Nanci Griffith and Rodney Crowell, Peters relocated to Music City in the late 1980s.
John Mac Kah at the Highlander Gallery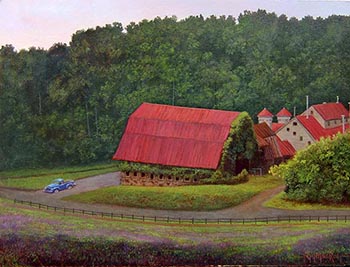 Black Smith Barn at John C. Campbell Folk School
one of the new paintings coming to the Highlander Gallery
Come Enjoy the New Works for John Mac Kah

10% of all sales on the John C. Campbell Folk School paintings
will be donated to John C. Campbell Folk School.
John Mac Kah, will be displaying his paintings of the natural beauty of the Blue Ridge Mountains and John C. Campbell Folk School. John is a teacher at the Folk School, and loves the simple and natural environment. That simple beauty has inspired John to create many beautiful paintings throughout the campus. Come to the Highlander Gallery meet John and enjoy his wonderful art.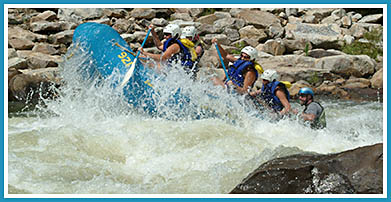 Book a Rafting Trip down the Ocoee or Nantahala Rivers
To book a rating trip or raft and zip and be there on opening day, call today for our specials, 828-835-3275 or email tara@greatmountainretreats.com

More and more events are being added to the Event Calendar, so now is the time to plan your trip to the mountains. Use our "Request Information Form" to get valuable information to help you plan your trip or relocation to the mountains.
Next newsletter we will be unveiling phase one of our new backpack program, make sure you check it out, it is a great new concept to add value to hour trips to the mountains.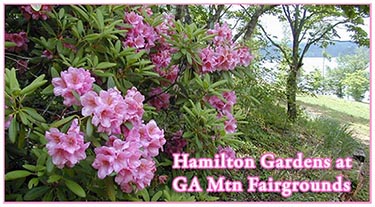 Hiawassee Georgia
Rhododendron Festival
Georgia Mtn Fairgrounds' Hamilton Gardens
April - May ~  9:00 - 3:00
These gardens along the wooded shoreline in a upper east corner of the fairgrounds contains one of the largest collections of hybrid Rhododendrons in the State of Georgia, blooming from early April to late May.
The gardens are open with a minimal entrance fee during the blooming season and guided walking tours and shuttle tours are also available by appointment for a Georgia Mountain Fairgrounds Campground slightly higher fee.
There is also a donation box available during the non-blooming days accepting donations for maintenance expenses by the local Lions Club that cherishes and preserves the garden for the public. The Garden is open from 9:00 am to 3:00 pm.

For those of you planning a trip, the Highlander has a new "Request Brochures and Information" form, feel free to use it to ask for information for your next trip or move to the mountains, click here to send make your requests...
Blairsville-Union County

Each season there's something new in Blairsville. Outdoor adventure, cozy cabins, picturesque mountain views, and unique events await your arrival.
Adventure Retreats

Pick an Adventure, Rafting, Zipline, High Angled, Climbing Wall, Horseback, Paintball, Disc Golf, Biking, Fishing and more.
Goat's Milk Soap

Blackberry Sage, All Natural Handmade Goat's Milk Soap made in the Blue Ridge and Smoky Mountains.
Relax in a mountain cabin overlooking peaceful ridges and valleys. Explore charming mountain towns. Ride the Blue Ridge Scenic Railway. Discover our rivers, streams, lakes and waterfalls. Hike, fish, shop or simply relax....read on....