Purchase Authentic Mountain Art, Photos, Crafts, Gifts & Books on-line

Mountain Events
& Festivals
Sign up for
Highlander Newsletter
Have a Wonderful and Blessed Thanksgiving...
We Have So Much to be Thankful For...
As you can see, our turkey population is growing in the header. Wonder if that is due to a growing population of vegetarians....just a thought.
Look around today, and account for all that you are thankful for. The Highlanders are truly blessed. We have a loving family that live and work together in the Blue Ridge - Smoky Mountains. We all love what we do, something that is only a dream to most. And this year, we have added a larger Gallery and a new Emporium to the mix and it all seems to work so well together.
We are very thankful to all of you that have visited, as well as those of you that have help to spread the word and have brought their friends. Remember the Gallery and Emporium when you are doing your Christmas Shopping this year, we have a lot of great gift ideas in all price ranges, and your purchases help to further not only the Gallery, but also the Highlander Magazine as well.
For those that haven't wandered over to our new Highlander Gallery and B. R. Highlander Emporium yet, we have several new artists and a couple more coming in This weekend. We are really excited to offer so much creativity to Western North Carolina.
Featured Events this Weekend...

Blairsville Georgia
CHRISTMAS OPEN HOUSE
Saturday, November 29th - 10:00 to 5:00
Sunday, November 30th - 1:00 to 5:00
In anticipation of the seasons of Advent and Christmas, we will be having an Open House on Saturday and Sunday.
The 2014 season of visitation at the Reece Farm and Heritage Center will conclude on the weekend of November 29th & 30th. In celebration of the closing and in anticipation of the seasons of Advent and Christmas, we will be having an Open House on those two days. The hours will be the usual open hours, from 10:00 to 5:00 on Saturday and 1:00 to 5:00 on Sunday. There will be no charge for admission to our exhibits on both of those days.
Drawings for door prizes provided by our consignors and others will occur at 4:00 on Saturday and Sunday afternoons. Presence at the drawings is not required, but persons must come to the Welcome Center to receive a ticket and register attendance. Cookies and hot and cold beverages will be served. Craft activities for children will be available.
*** Free Admission ***

Blue Ridge Georgia
Blue Ridge Community Theater Presents
Miracle on 34th Street
Based upon the Twentieth Century Fox Film
November 28th - December 14th 2014
Thursday, Friday & Saturday 7:30
Sunday 2:00
Co-Directed by Vickie Fontaine & Kathy Simmons
An American favorite Christmas tale of the true Santa and the joy of childhood fantasy. By chance, Kris Kringle, an old man in a retirement home, gets a job working as Santa for Macy's. Kris unleashes waves of good will with Macy's customers and the commercial world of New York City by referring parents to other stores to find exactly the toy their child has asked for.
Seen as deluded and dangerous by Macy's vocational counselor, who plots to have Kris shanghaied to Bellevue Psychiatric Hospital, Kris ends up in a court competency hearing. Especially at stake is one little girl's belief in Santa. In a dramatic decision, the court confirms Kris as the true Santa, allowing Susan and countless other children to experience the joy of childhood fantasy.
RATING: G

Ellijay, Georgia
Wine Tasting and Live Music
Saturday, November 29th - 1:30 pm - 5 pm
Featuring Randy & Daniel
On the Patio unless the weather is not worthy, if so we will have the event in the Nealey Barn.
Click for Cartecay's Music line up, more information and a map...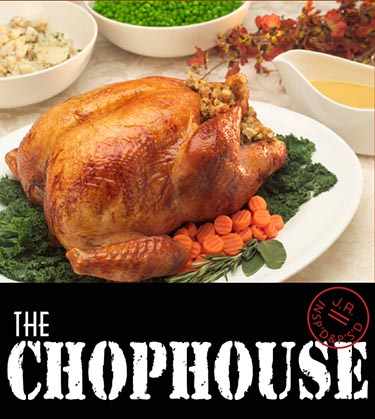 Thanksgiving Offerings from The Chophouse
Thursday November 27th
Beginning at 12 Noon
Let the Chophouse prepare your Thanksgiving Feast at one of their
three excellent Restaurants.
Murphy's Chophouse in Historic Downtown Murphy NC
or
The Chophouse of Hiawassee GA across from Lake Chatuge
or
The Chophouse at LaPrade's on Lake Burton GA

click for Murphy's Chophouse Thanksgiving Feast menu...
click for The Chophouse in Hiawassee Thanksgiving Feast menu...
click for The Chophouse at LaPrade's Thanksgiving Feast menu...

Save the Date Nov 5th, 6th & 7th...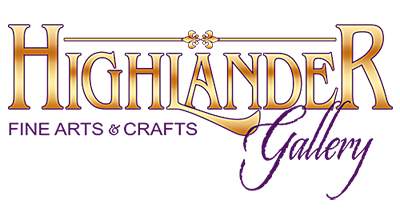 Murphy North Carolina • December 5th, 2014
The Highlander Gallery at Murphy Art Walk
Featuring the Artwork of 3 talented Mountain Artists
and Jim our new Classical Guitar Artist
Doreyl Ammons Cain


Whimsical Pastel Artist

Nanci Leigh

Handcrafted
Original
Jewelry Designs


Neal Hearn

Handcrafted
Original Designs
in Glass & Copper
Visit the Highlander Gallery during the Murphy Artwalk in Historic Downtown Murphy, at 33 Valley River Avenue, Murphy, NC 28906


Franklin North Carolina
Heritage Christmas Progressive Celebration
at the Scottish Tartans Museum
December 5 - 5:00 pm
Wine, Cheese and appetizers at the Macon County Historical Museum followed by desert at the Scottish Tartans Museum.
December 6 - 1:30 - 3:30
Pick out your own custom made swag at Cowee Christmas. Your choice of Cowee Pottery School ornament to decorate your swag.
December 7 - 2:00 - 3:00 pm
Hot Chocolate, Cookies & Festivities at the Stewart Family Homestead Cabin on Coon Creek Road.
One Ticket - Three Events only $30 per ticket
All proceeds to benefit The Historical and Scottish Museums & Cowee Pottery School
Tickets on Sale at the Historical & Scottish Museums
& the Franklin Chamber of Commerce
Places of Interest & Featured Road Trips...

Byron Herbert Reece Farm & Heritage Center
One of the most enjoyable parts of being the Highlander is traveling the mountains and discovering special places to share with our readers. This week, for those of you that haven't discovered it on your own, we would like to introduce Byron Herbert Reece Farm & Heritage Center, read more about this great destination.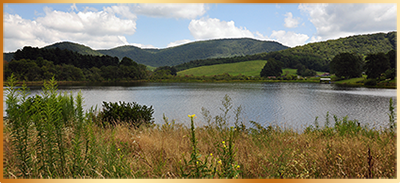 Woody Gap to Neel's Gap Scenic Drive
in Union County Georgia
We have added Map-it for use on Mobile Devices
Several of the roads on this driving tour are marked on road maps as scenic drives, though this Highlander chosen scenic driving tour is not an official Scenic Byway. Official or not, this is a great driving route for scenic driving tour fans. This 35.0-mile scenic route includes miles of winding roads, two mountain gaps, a state park, four mountain lakes, three of which offer great fishing access, campgrounds, swimming areas, and picnic areas. The scenic drive also connects to numerous trail access points for hiking and biking, four waterfalls, a historic structure and historic farmstead.
Click for more information, turn by turn directions and a map...
We noticed this past weekend, that the wild Rhododendron and Mountain Laurels are in full bloom, it is a beautiful time to take a scenic drive in the mountains. Below is a link to a great drive that you can take to enjoy the beauty of the mountains. We have added mobile links to the story to take you to our new Union County Mobile App which gives you turn by turn directions, photos and GPS for both phones and tablets.
The Highlander is in the process of adding more interactive road trips for your enjoyment. If you have a favorite, let us know and we will add it to the list.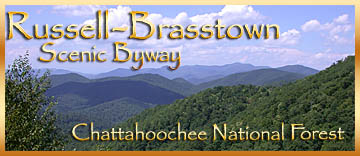 For those of you planning a trip, the Highlander has a new "Request Brochures and Information" form, feel free to use it to ask for information for your next trip or move to the mountains, click here to send make your requests...
If you haven't made reservations for a Christmas Getaway, check out the Highlander's Recommended Lodging Partners.
Premier Accommodations

Surrounded by nature and spoiled by all the comforts of home at The Blue Ridge Lodge by Comfort Inn & Suites in the Blue Ridge Mountains of North Georgia.
Adventure Retreats

Pick an Adventure, Rafting, Zipline, High Angled, Climbing Wall, Horseback, Paintball, Disc Golf, Biking, Fishing and more.
The Foxfire Series

Foxfire 40th Anniversary Book, Faith, Family and the Land.
Relax in a mountain cabin overlooking peaceful ridges and valleys. Explore charming mountain towns. Ride the Blue Ridge Scenic Railway. Discover our rivers, streams, lakes and waterfalls. Hike, fish, shop or simply relax....read on....