Signs of Spring in the Mountains....
Yesterday while we were out, we started to see signs of spring...Yippee!
We saw daffodils all over, the ones above were taken at John C. Campbell Folk School. While we were on the campus, we also saw people in the gardens, preparing the gardens for the coming season's gardens and gardening classes. We enjoy going for hikes at the Folk School and have always admired the gardens, they are so orderly, and the berries, herbs and vegetables are very healthy. Walking through a healthy garden helps give me a fresh perspective on whatever life is brining me at the moment and that is a good thing.
This year we have plans on featuring short articles from contributing writers. The first one this year was on Witch Hazel, the article came from the Preservation Committee at Georgia Mountain Research and Education Center in Blairsville Georgia, we will continue to add to this collection throughout the year. Our next article will be the first in a series from the Foxfire Museum and Heritage Center, for those that haven't experienced Foxfire, this will be a real treat.
I don't know about you, but I can't wait for spring to be here to stay. We are constantly updating the event calendar with all the great things happening in the mountains this year, so keep checking the calendar throughout the year when you are looking for something to do.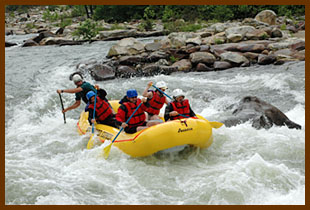 For you true Adventurers, the Ocoee opens on March 15th, call today for our specials 828-835-3275 or email tara@greatmountainretreats.com to book a rating trip or raft and zip and be there on opening day.
Featured Events this Weekend...
Mountain City Georgia
Foxfire Museum and Heritage Center
Saturday March 8th - 9:30 am - Mid - Afternoon
Come to Foxfire Museum and Heritage Center, Saturday March 8th from 9:30 am until mid afternoon to watch a workday on the rebuilding of this barn. This barn was donated by the Sam Beck family of Warwoman and Foxfire is so pleased to add it to our museum.
Foxfire is located at 98 Foxfire Lane off Cross Street, Mountain City, Georgia 30562.
For more information call 706-46-5828 or email foxfire@foxfire.org.


Ellijay Georgia
Wild Game & Wine Dinner at Cartecay Vineyards
Saturday March 8th - 5:30
Tickets are limited to only 40 guests. Only a few spaces left, call today to reserve a seat 706-698-9463.
Dinner will include venison, trout and quail with additional sides
dessert and appetizers and wine will be served with each course of food.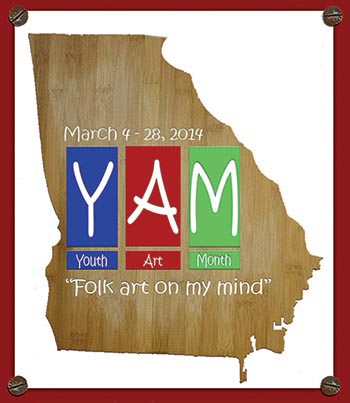 Blue Ridge Georgia
March is Youth Art Month
at BRAMAA at the Art Center
Celebrate the art of our local youth during nationally celebrated Youth Art Month. The art of local students from several different schools will be on display inside our Richard Low Evans Gallery.

Ellijay Georgia
Cartecay Vineyards Live Music - 1:30 - 5:30
Saturday, March 8th - Randy & Daniel
Saturday, March 15th - John Sosebee

Come join us at Cartecay Vineyard to celebrate life with live music and a wine tasting. Good Music, Good Wine, Good Friends....
click for more information on Cartecay's events and a map...
Featured Events March 15th...
Asheville, North Carolina
Art by John Mac Kah Open House Celebration
Saturday - March - 15th - 10am - 5pm
Asheville artists John Mac Kah, Alisa Lumbreras and Jason Rafferty invite you to come view recent craft-made landscape paintings Saturday, March 15th. Come celebrate the twelfth anniversary of John Mac Kah's Studio H in the Cottonmill Building of Asheville's River Arts District. The open house will run from 10am-5pm.

Ellijay, Georgia
St. PETrick's Day in Downtown Ellijay
Saturday - March - 15th - 1pm - 5pm
Walking Pet Parade starts at 1:00.
(Come early to line up near courthouse)
Pet Costume & Talent Contest! Beer & BBQ Garden, Corn Hole Tournament & Great Music down on River St.

A Brand New Highlander is on the Horizon
The Highlander has always been the most comprehensive coverage there is of these mountains, and we have redesigned and reprogrammed it many, many times since we launched it in 1997, and it is time to begin again.
As we rebuild the Highlander we would love to have your comments as to what you would like to see differently, so email us with your thoughts. This is a monumental project, so we will be rolling it out in phases, the phone version will be the first launch, featuring our Event Calendar, Featured Communities, and our Advertisers & Sponsors. You will also begin and continue to notice formating changes with in the site.

For those of you planning a trip, the Highlander has a new "Request Brochures and Information" form, feel free to use it to ask for information for your next trip or move to the mountains, click here to send make your requests...
If you haven't made reservations for a Christmas Getaway, check out the Highlander's Recommended Lodging Partners.
Check out our updated Event Calendar...
for other events throughout the mountains

Highlander would like to give a
Big Thanks to our Current Partners....
Relax in a mountain cabin overlooking peaceful ridges and valleys. Explore charming mountain towns. Ride the Blue Ridge Scenic Railway. Discover our rivers, streams, lakes and waterfalls. Hike, fish, shop or simply relax....read on....
One hour north of the hustle and bustle of Atlanta via I-575, the communities of Ellijay and East Ellijay welcome visitors to relax and enjoy a place of quaint mountain towns, friendly folks and genuine southern mountain culture.
Each season there's something new in Blairsville-Union County! Spring and summer outdoor lovers will hike endless trails, see breathtaking views atop Brasstown Bald, visit rushing waterfalls, and relax on serene Lake Nottely. Delight in the explosion of autumn leaf color or cuddle up in a cozy winter cabin.