Trout Capital of Georgia!
Blue Ridge Georgia is the Trout Capital of Georgia! Georgia's Blue Ridge has 550 miles of beautiful water, including the pristine Toccoa River.
Fall Arts in the Park Festival

The mountain air will be cool, the leaves will be turning and the downtown city park will be full of beautiful art and creativity.
Handmade Bark Jewelry

Highlander's Mountain Art Gallery Featuring - Authentic Handmade Art & Fine Crafts from the Blue Ridge Smoky Mountains.

Purchase Authentic Mountain Art, Photos, Crafts, Gifts & Books on-line

Mountain Events
& Festivals
Sign up for
Highlander Newsletter
Spring in the Mountains....
It is hard to believe how quickly the time is passing this year. This past week we have noticed that all the trees have buds on them, some have tiny little green leaves, some larger and some are bright with flowers. The mountains are waking up after a long winter's sleep.
Spring is such a great time of the year, it really shows the miracle of life, from the smallest bud to a new born sheep or other critter. The earth is moving ahead in the natural order of life. Spring always inspires me to rejuvenate my thoughts to bring a more positive year.
Easter is this coming weekend and there are celebrations all through the mountains. Be sure to get out and enjoy this beautiful spring with your family and friends.
Have a Blessed Easter...Mrs. Highlander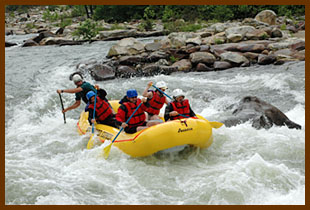 For you True Adventurers, the rivers are open and running, call today for our specials 828-835-3275 or email tara@greatmountainretreats.com to book a rating trip or raft and zip.
Featured Events this Weekend...

59th Annual Easter Sunrise Service
at Chimney Rock State Park
Sunday ~ April 20th, 2014 ~ 6:30 AM
Celebrate the glory of Easter as our guest at this interdenominational community worship. This special service will be filled with song, scripture, music and spectacular sunrise views over beautiful Lake Lure and Hickory Nut Gorge. John Mason, the Park's featured hammered dulcimer player, will perform.
This is a very special and moving event, a true Highlander favorite.
Arrive early, dress warmly and bring a flashlight.
Gates Open 5-6 am; Service 6:30 am.


Brasstown, North Carolina
John C. Campbell Folk School
April 19th, 2013 ~ 1:00 Sharp
This is an annual favorite for kids, the Saturday before Easter. Bring your children at 1:00 p.m. to hunt for filled Easter eggs.
There will be three areas for egg hunting, divided by age: 0-4, 5-7, and 8 & older. This event is free.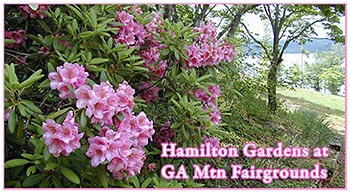 Hiawassee, Georgia
2014 Rhododendron Festival
Friday, April 18th - May 18th

This yearly tradition of strolling through the magnificent and rare beauty of over 400+ Rhododendrons in an explosion of colors and varieties has just been made even more wondrous – the Rhododendron Festival is back at the Hamilton Gardens!
The Rhododendron Festival begins Friday, April 18th and runs until Sunday, May 18th. Each weekend, specially selected vendors will be offering a variety of handcrafted garden art and crafts in Georgia Mountain Fairgrounds upper parking level, adjacent to the Hamilton Gardens entrance.
The hours of operation will be Mondays thru Saturdays, 10:00 am to 5:00 pm and Sundays 11:00 to 3:00 pm. Parking is free.


Young Harris, Georgia
Mountain Arts Association "Colors of Spring"
Meet the Artists Reception
Friday, April 18th, 2014 - 5:30 - 6:30
The earth is warmed and signs of rebirth abound as multiple shades of green slowly reveal colorful spring flowers.
Mountain Arts Association would like to invite you to the "Colors of Spring" Gallery Opening Reception, April 18th, 2014, 5:30 to 6:30 at Brasstown Valley Resort, 6321 US Hwy 76, Young Harris GA 30582.
Open to the public, free of charge.
Click for more information. artist being presented and a map...



Ellijay, Georgia
Awakening of the Vines Festival
Saturday, April 19th - 11:30 am - 5:00 pm

Live Music, Vendors, Tastings, Burning of the Old Vine Cuttings.
On the Patio unless the weather is not worthy, if so we will have the event in the Nealey Barn.


Murphy, North Carolina
Easter Breakfast & Lunch
Sunday, April 20th - 8:00 am - 2:30 pm

Special Easter Breakfast Buffet, Baked Ham Lunch. Regular menu items also available.
Come by before or after you go to John C. Campbell Easter Egg Hunt


Lake Burton, GA ~ Hiawassee, GA ~ Murphy, NC
Easter Brunch
Sunday, April 20th - 10:30 am - 4:00 pm

All three Chophouses are having a Special Easter Brunch with a special great Easter menu in addition to their full luncheon menu
Click for Lake Burton, menu and a map...
Click for Hiawassee menu and a map...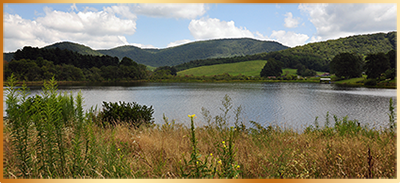 Woody Gap to Neel's Gap Scenic Drive
in Union County Georgia
We have added Map-it for use on Mobile DevicesS
Several of the roads on this driving tour are marked on road maps as scenic drives, though this Highlander chosen scenic driving tour is not an official Scenic Byway. Official or not, this is a great driving route for scenic driving tour fans. This 35.0-mile scenic route includes miles of winding roads, two mountain gaps, a state park, four mountain lakes, three of which offer great fishing access, campgrounds, swimming areas, and picnic areas. The scenic drive also connects to numerous trail access points for hiking and biking, four waterfalls, a historic structure and historic farmstead.
Click for more information, turn by turn directions and a map...


Planning a trip to the Mountains? The Highlander has a new "Request Brochures and Information" form, feel free to use it to ask for information for your next trip or move to the mountains, click here to send make your requests...
For those of you planning a trip, the Highlander has a new "Request Brochures and Information" form, feel free to use it to ask for information for your next trip or move to the mountains, click here to send make your requests...
If you haven't made reservations for a Christmas Getaway, check out the Highlander's Recommended Lodging Partners.
Check out our updated Event Calendar...
for other events throughout the mountains

Highlander would like to give a
Big Thanks to our Current Partners....
Relax in a mountain cabin overlooking peaceful ridges and valleys. Explore charming mountain towns. Ride the Blue Ridge Scenic Railway. Discover our rivers, streams, lakes and waterfalls. Hike, fish, shop or simply relax....read on....
Each season there's something new in Blairsville-Union County! Spring and summer outdoor lovers will hike endless trails, see breathtaking views atop Brasstown Bald, visit rushing waterfalls, and relax on serene Lake Nottely. Delight in the explosion of autumn leaf color or cuddle up in a cozy winter cabin.
Julie Barnett, Realtor

Lake Burton is a special brand of living and Julie Barnett is your one stop for Lake Burton Real Estate For Sale!
Youth Retreats

Experience the best most affordable Youth Retreat Center in the Southeast!
Goat's Milk Soap

Blackberry Sage, All Natural Handmade Goat's Milk Soap made in the Blue Ridge and Smoky Mountains.