Purchase Authentic Mountain Art, Photos, Crafts, Gifts & Books on-line

Mountain Events
& Festivals
Sign up for
Highlander Newsletter
John Mac Kah
April 16th at the Highlander Gallery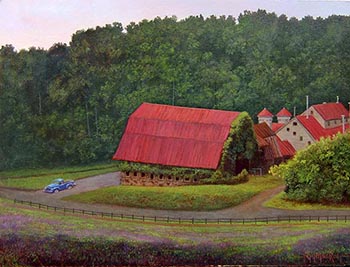 New Works of John Mac Kah
Black Smith Barn at John C. Campbell Folk School
one of the new paintings coming to the Highlander Gallery
Join us for a night of creativity at the Highlander Gallery
on April 16th, 2015.
Wonderful Art, Classical Guitarist,
Wine & Hors d'oeuvres will be served.
John Mac Kah, will be displaying his paintings of the natural beauty of the Blue Ridge Mountains and John C. Campbell Folk School. John is a teacher at the Folk School, and loves the simple and natural environment. That simple beauty has inspired John to create many beautiful paintings thoughout the campus. Come to the Highlander Gallery meet John and enjoy his wonderful art.
10% of all sales on the John C. Campbell Folk School paintings
will be donated to John C. Campbell Folk School.
I am sure we are not the only ones that are happy to see spring. We have been noticing the dogwoods along with other flowering trees blooming as well as daffodils and crocus. Another thing you see a lot of in early spring is animals of all kinds frolicking through the fields. Today is a nice sunny day and a good day to go for a hike and rediscover fresh air and how good it feels to be outdoors, even if you can only do this on your lunch break. Learn to enjoy every day in your life.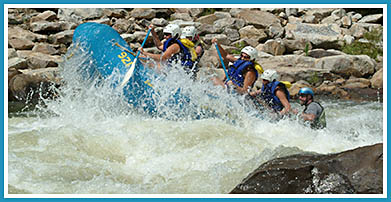 The Ocoee River is Open....
Book a Rafting Trip down the Ocoee or Nantahala Rivers
To book a rating trip or raft and zip and be there on opening day, call today for our specials, 828-835-3275 or email tara@greatmountainretreats.com
The New Highlander
We are making great progress on the new Highlander, although because of it's size, you will be seeing the changes as we go along, so if things seem a little different, please be patient with us, it is a huge endeavor.
We are excited about presenting our latest feature "the Highlander Backpack." You will be able to add your favorite destinations to your Backpack, and bring them with on your trip, on either your tablet or smart-phone. Each destination will have a photo, short description, the GPS co-ordinates and a google map to make your ventures easier. You will also be able to add to or edit your Backpack as you travel. Because the Highlander covers so much territory, we will be starting with our partner counties first for this new feature.
Easter is less than two weeks away...time to plan for a good time in the mountains.
Easter is coming up this weekend!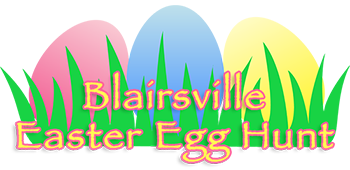 Blairsville Georgia
Annual Easter Egg Hunt at Meeks Park
March 28th ~ 10 am to Noon
Children (ages 2-12yrs old) will hunt for over 6,000 eggs placed on three fields in Meeks Park.
Drawing will be held for an Easter Egg basket.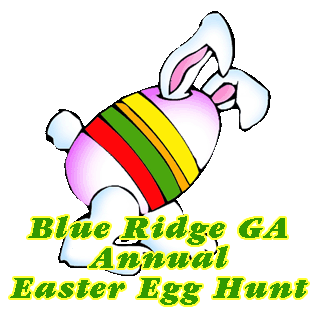 Blue Ridge Georgia
19 Annual Easter Egg Hunt at
St. Luke's Episcopal Church of Blue Ridge, GA
7 Ewing Street (beside the Kiwanis fairgrounds)
April 4th •  1 pm
19th Annual Blue Ridge Community Easter Egg Hunt will be hosted at 1 p.m. The egg hunt will include more than 1,000 real eggs as well as 1000 plastic eggs filled with candy and other small prizes hidden throughout the church grounds. A dedicated area will be provided for very young children. Refreshments will be served, free and open to everyone.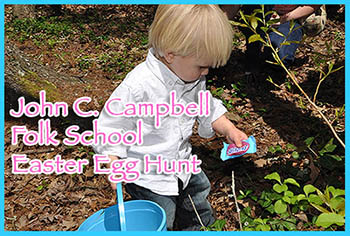 Brasstown North Carolina
John C. Campbell Folk School
April 4th •  1 pm promptly
An annual favorite for kids the Saturday before Easter, bring your children at 1:00 p.m. to hunt for filled Easter eggs. There will be three areas for egg hunting, divided by age: 0-4, 5-7, and 8 & older.
This event is free and held at the Open House. We ask that you please park in the gravel lot across from the Keith House to allow plenty of space for egg hunting and for the safety of the participants. There will be live music during the event.
Please arrive early - the hunt begins promptly at 1:00 pm and doesn't last very long!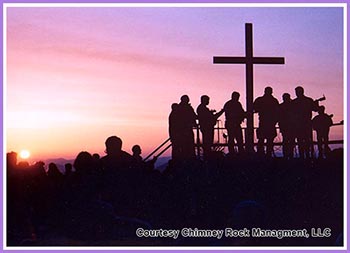 Chimney Rock at Chimney Rock State Park
60th Annual Easter Sunrise Service
April 5 • 6:30 am
Celebrate the glory of Easter with song, scripture and spiritual music as a spectacular sunrise ascends over Lake Lure. Chimney Rock's annual Easter Sunrise Service has become a legendary event in WNC, attracting more than 1,000 early risers from around the Southeast each year.
This special 60th Anniversary year will feature live music, spiritual songs, Park musician John Mason on the hammered dulcimer and breathtaking scenery. Guests are invited to eat breakfast at the Old Rock Café and stay to enjoy the Park all day.
Free admission for entry to Sunrise Service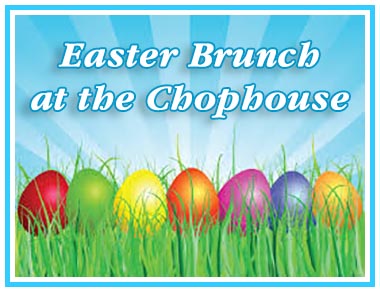 Join us at the Chophouse
For Easter Brunch
April 5 • 10:30 am - 4:00 pm
Featuring a special Easter menu in addition to our full luncheon menu.
Open from 10:30 am – 4:00 pm
Click here for the Chophouse at LaPrades and a map...
Click here for Chophouse in Hiawassee and a map...
Click here for the Murphy Chophouse and a map...

Local Chef to Cook at The 2015 Masters Golf Tournament
James Reaux, Chef/Owner of The Chophouse Restaurants and Hawg Wild BBQ's has been asked to be a guest chef at The Masters Golf Tournament in Augusta, Georgia. He will be preparing gourmet meals for select invitees from April 6th through April 12th during the tournament week. This is Reaux's second opportunity to cook at one of the greatest tournaments in the world and he's proud to represent the North Georgia Region.
Reaux is the owner and operator of the restaurant group Coast II Coast located in Western North Carolina and Northern Georgia. The restaurants currently in the group are Murphy's Chophouse Restaurant, The Chophouse of Hiawassee, The Chophouse at LaPrade's and Hawg Wild BBQ in Clarkesville and Commerce, Georgia. As a Chef and restaurateur, James enjoys the challenges and successes of a prosperous business along with entertaining his customers with exceeding their expectations.

For those of you planning a trip, the Highlander has a new "Request Brochures and Information" form, feel free to use it to ask for information for your next trip or move to the mountains, click here to send make your requests...