Georgia's Blue Ridge

Visit the authentic mountain towns of Blue Ridge and McCaysville, lined with antiques and art galleries, specialty shops and eateries.
Blue Ridge Spring Arts in the Park

This festival features 100's of artists and craftsmen. Hailed as a Southern Tradition, visitors to our mountain home number 15,000+.
Rob Withrow Pottery

Highlander's Mountain Art Gallery Featuring - Authentic Handmade Art & Fine Crafts from the Blue Ridge Smoky Mountains.

Purchase Authentic Mountain Art, Photos, Crafts, Gifts & Books on-line

Mountain Events
& Festivals
Sign up for
Highlander Newsletter
We have a great weekend coming up for the kids, John C. Campbell Folk School is having their Annual Kid's Christmas Party and if you haven't already seen Santa Climb the Chimney, you should to take your kids of all ages to Chimney at Chimney Rock State Park to watch Santa climb the chimney. For those of you in visiting or living in Georgia, Forrest Hills has a special Lunch with Santa and Horse Drawn Carriage Rides for the whole family.
I heard it first hand from my granddaughter that Blue Ridge Community Theater's "A Christmas Story" was great, the whole family enjoyed it throughly, this is the last weekend, so don't miss it. Now, for you big kids, join Cartecay Vineyard for a Wine Tasting and Music this weekend, we have been there ourselves and really enjoyed both the music and wine.
We would also like to suggest that you give the gift of creativity this Christmas to those that are special to you. The mountains have so many creative souls that make incredible works, there is always something for everyone. The Highlander Gallery, Multitude's Gallery, The Art Center & John C. Campbell Folk School Gift Shop are all having Special Christmas Sales and all have unique gifts available. Another thought is Cartecay Vineyard's wine as a gift for some special, or the gift of a trip to the mountains for a special family get together, or romantic rendezvous to one of the Highlander's favorite mountain getaways.
Don't forget Christmas is about love, the love of family and friends and the love of Christ. So this Christmas, make sure you show love to all those around you.
Featured Events this Weekend...
Historic Downtown Murphy NC
Highlander Gallery
Special Sale on ALL Artwork
Incredible artwork from Anthony Abreu at an incredible price! This is your opportunity to own one of Anthony's Giclée for a great Christmas price. Buy one for yourself and one for a friend or loved one, they make great Christmas presents. We are also accepting Christmas layaways.
20% off All Unframed Paper Giclée Prints
25% off All Framed Paper Giclée Prints
30% off All Canvas Giclée Prints, Framed and Unframed
COME IN OR ORDER VIA PHONE 828-835-9982

Brasstown NC
John C. Campbell Folk School
Kid's Christmas Party

Saturday, December 14th
Each year John C. Campbell Folk School has a free event of kids, it is not just another Christmas event, this is a special mountain Christmas experience. A visit from Santa on a fire truck, plus games, music, dancing, story telling and refreshments. This event is for kids of all age from Grandmas and Grandpas to Moms and Dads and down to the younger Kids as well. A wonderful family event...join us in the mountains.

|
Dahlonega GA
Lunch with Santa
Sunday, December 15th

Sunday December 15th, Lunch with Santa Adults and Children 12 years and up $14.95, Children 4-11 $9.95, Children 3 and under are Free.

Free Goodies for the kids and photo opportunities.

Also, Horse-drawn Carriage Ridges with one of Santa's Elves only $5 per person. Call today to reserve your spot.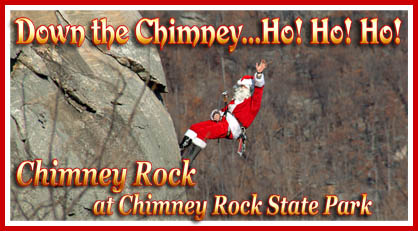 Chimney Rock at Chimney Rock State Park
Santa Climbs the Chimney
Saturday, December 14th - 11am to 2pm
How is Santa able to climb down millions of chimneys around the world in a single night? He practices, of course. Witness Santa's daring stunt as he practices on one of the world's largest chimneys at 315 feet tall! Meet Santa and Mrs. Claus, enjoy live holiday music, complimentary hot cocoa, cookies and kids' activities and see live critters. Sponsored by Coffee on the Rocks in Chimney Rock Village. Come see why Chimney Rock was named one of "10 great places to catch up with Santa" by USA Today!
Win a Free Climb with Santa's Elves! Each day, one lucky guest will win free two-hour rock climbing lessons for two with Santa's professional helpers, Fox Mountain Guides. Must be present to win the drawing.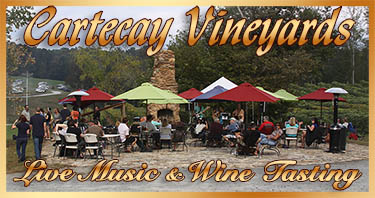 Ellijay Georgia
Cartecay Vineyards Live Music - 1:30 - 5:30
Saturday, December 14th - April Cummings
Saturday, December 21st - Matthew Croxton

Come join us at Cartecay Vineyard to celebrate life with live music and a wine tasting. Good Music, Good Wine, Good Friends....
click for more information on Cartecay's events and a map...

Blue Ridge Georgia
A Christmas Story by Philip Grecian at the
Blue Ridge Community Theater
On Stage thru Dec. 15th
Thur - Sat - 7:30 pm; Sun - 2:00pm
I have to say this is one of my all time favorite Christmas Stories. Humorist Jean Shepherd's memoir of growing up in the Midwest in the 1940s follows nine-year-old Ralphie Parker in his quest to get a genuine Red Ryder BB gun under the tree for Christmas. Ralphie pleads his case before his mother, his teacher, and even Santa Claus himself, at Goldblatt's Department Store. The consistent response: "You'll shoot your eye out." All the elements from the beloved motion picture are here, including the family's temperamental exploding furnace; Scot Farkas, the school bully; the boys' experiment with a wet tongue on a cold lamppost; the Little Orphan Annie decoder pin; Ralphie's father winning a lamp shaped like a woman's leg in a net stocking; Ralphie's fantasy scenarios and more. A Christmas Story is destined to become a theatrical holiday perennial.
Directed by: Patricia Webb

For those of you planning a trip, the Highlander has a new "Request Brochures and Information" form, feel free to use it to ask for information for your next trip or move to the mountains, click here to send make your requests...
If you haven't made reservations for a Christmas Getaway, check out the Highlander's Recommended Lodging Partners.
Check out our updated 2013 Event Calendar...
for other events throughout the mountains

Highlander would like to give a
Big Thanks to our Current Partners....
Relax in a mountain cabin overlooking peaceful ridges and valleys. Explore charming mountain towns. Ride the Blue Ridge Scenic Railway. Discover our rivers, streams, lakes and waterfalls. Hike, fish, shop or simply relax....read on....
One hour north of the hustle and bustle of Atlanta via I-575, the communities of Ellijay and East Ellijay welcome visitors to relax and enjoy a place of quaint mountain towns, friendly folks and genuine southern mountain culture.
Each season there's something new in Blairsville-Union County! Spring and summer outdoor lovers will hike endless trails, see breathtaking views atop Brasstown Bald, visit rushing waterfalls, and relax on serene Lake Nottely. Delight in the explosion of autumn leaf color or cuddle up in a cozy winter cabin.
Blue Ridge Georgia

Surround yourself with beauty, relaxation and natural fun in Georgia's Blue Ridge. Get-away cabins, charming downtowns. Rivers, lakes, waterfalls. Hike, fish, shop, relax.
Corporate Retreats

Work and Play in the Mountains. Take a break from the big city and bring your employees to the mountains.
The Foxfire Series

Foxfire 40th Anniversary Book, Faith, Family and the Land.