Purchase Authentic Mountain Art, Photos, Crafts, Gifts & Books on-line

Mountain Events
& Festivals
Sign up for
Highlander Newsletter
Highlander Gallery Featuring....
John Mac Kah and Ruthanne S. Kah
exhibit continues through September 20th
at the Highlander Gallery
33 Valley River Avenue, Murphy, NC 28906
John and Ruthanne's art is founded on 19th century and early 20th century traditions in American landscape painting. As a rule, they prefers to work on site, always in search of new vistas and expeditions. John works with a prayer that paying deep attention to the natural world will help preserve and remind us of our connection with the planet.

For you True Adventurers, the rivers are open and running, call today for our specials:
828-835-3275 or email tara@greatmountainretreats.com to book a rating trip or raft and zip.
Featured Events this Weekend...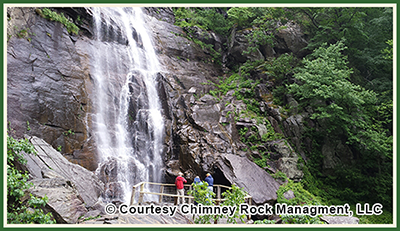 Chimney Rock North Carolina
This Weekend at
Chimney Rock at Chimney Rock State Park
There's something for everyone at Chimney Rock. Whether you seek the high adventure of a challenging hike and guided rock climbing, a leisurely stroll and soaking in breathtaking 75-mile views of Lake Lure and Hickory Nut Gorge, something fun and interactive for the kids, or delighting in the cool mists of 404 ft Hickory Nut Falls, you'll find it here. That's not all. Check out the events coming up this weekend and join us.
Saturday - September 20th - 11 am - Noon
Rockin' Naturalist Guided Hike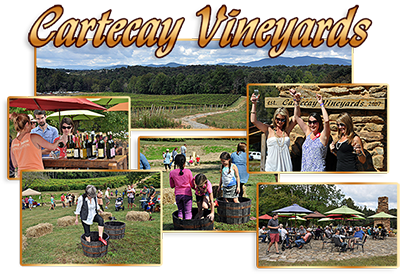 Ellijay, Georgia
Crush Fest at Cartecay Vineyard
Grape Stomping Fun....
Saturday - September 20th
If you haven't attended Cartecay's Crush Fest, this is one event you need to attend, fun for all ages.
Grape Stomping, Live Music with Matthew Croxton & Man Bites Dog, 7 Tastings and Cartecay Vineyards' Logo Wine Glass. Food and Arts/Crafts Vendors on Site.
Enjoy a beautiful fun day in the mountains, take off your shoes and join in the Grape Stomping.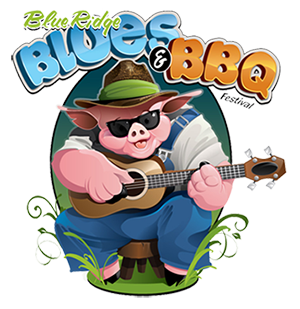 Blue, Georgia
Blues & BBQ Festival
Saturday - September 20th

Downtown Blue Ridge will set the stage as a fantastic back drop and venue location for a perfect early fall event. The leaves start to change with cooler days and crisp evenings that invite outdoor activities! The sounds of Blues music and the sweet smell of BBQ from local and regional cookers will fill the air as families and groups of friends enjoy this unique setting and event. The Blues festival is the following day on Saturday and starts at 12 p.m. to 9 p.m. $5.00 admission, collectible posters and apparel. Door prizes, food and a People's Choice Awards.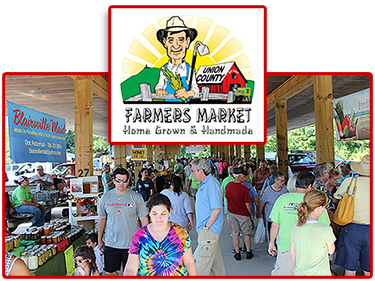 Blairsville, Georgia
Apple Dumpling Festival
Saturday - September 20th

The Farmers Market has over 60 vendors providing home grown produce, handmade crafts, and more!
Located on Old Smokey Road, off of Weaver Road near Home Depot in Blairsville, Georgia. Please note that the hours for the market:
Tuesday: 3:00 p.m. until 7:00 p.m.(or until the farmers plum run out of goods to sell, whichever comes first!).
Saturday: 7:00 a.m. until 1:00 p.m.(or until the farmers plum run out of goods to sell, whichever comes first!). You will want to come early because they do sell out fast!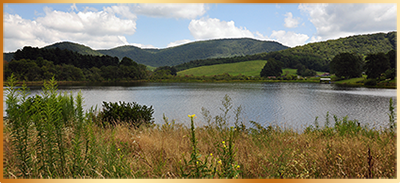 Woody Gap to Neel's Gap Scenic Drive
in Union County Georgia
We have added Map-it for use on Mobile Devices
Several of the roads on this driving tour are marked on road maps as scenic drives, though this Highlander chosen scenic driving tour is not an official Scenic Byway. Official or not, this is a great driving route for scenic driving tour fans. This 35.0-mile scenic route includes miles of winding roads, two mountain gaps, a state park, four mountain lakes, three of which offer great fishing access, campgrounds, swimming areas, and picnic areas. The scenic drive also connects to numerous trail access points for hiking and biking, four waterfalls, a historic structure and historic farmstead.
Click for more information, turn by turn directions and a map...
We noticed this past weekend, that the wild Rhododendron and Mountain Laurels are in full bloom, it is a beautiful time to take a scenic drive in the mountains. Below is a link to a great drive that you can take to enjoy the beauty of the mountains. We have added mobile links to the story to take you to our new Union County Mobile App which gives you turn by turn directions, photos and GPS for both phones and tablets.
The Highlander is in the process of adding more interactive road trips for your enjoyment. If you have a favorite, let us know and we will add it to the list.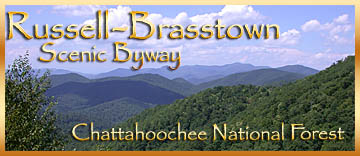 For those of you planning a trip, the Highlander has a new "Request Brochures and Information" form, feel free to use it to ask for information for your next trip or move to the mountains, click here to send make your requests...
If you haven't made reservations for a Christmas Getaway, check out the Highlander's Recommended Lodging Partners.