Purchase Authentic Mountain Art, Photos, Crafts, Gifts & Books on-line

Mountain Events
& Festivals
Sign up for
Highlander Newsletter
The mountains are beautiful this time of the year. At every turn I see fields full of small yellow flowers, and the variation of greens amazing. The air is so fresh and fragrant. It is a great time to go for a hike, and there are so many places to hike in the mountains.
We are working diligently at making the Highlander a bigger asset for mountain exploration. One of our new additions to the Highlander is our backpack program, as time goes on, we will have the backpack function throughout the site, which is a huge undertaking. For now you can test it out with two counties, Fannin County, and Union County. Test it out and let us know what you think.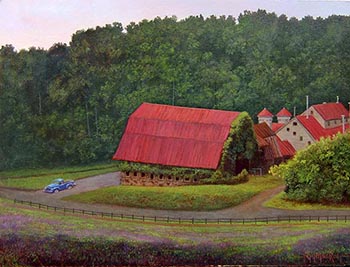 Black Smith Barn at John C. Campbell Folk School
one of the new paintings at the Highlander Gallery
Come Enjoy the New Works for John Mac Kah

10% of all sales on the John C. Campbell Folk School paintings
will be donated to John C. Campbell Folk School.
Highlander Gallery
33 Valley River Avenue
Historic Downtown Murphy, NC
This Weekend in the Mountains....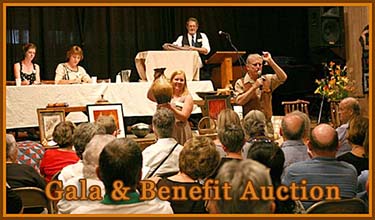 Brasstown, North Carolina
John C. Campbell Folk School - Gala Benefit Auction
May 30th ~ 7 am - 5 pm
Please join us for an exciting evening of lively entertainment, delicious food, and traditional craft and fine art. Proceeds will benefit the Folk School's craft programs. Admission: $25 (includes food and drink). Please call Reed Caldwell, Development Manager (800-365-5724) for more information.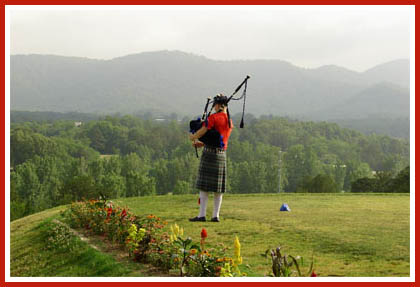 Blairsville, Georgia
Kilted Golf Classic
Friday May 29th ~ 11 am - Tee Time 1 pm
Great food and prizes!
Hole in One wins Sears garden tractor !!!
Donated by Andy Burks - Sears of Blairsville
For more information
contact Scott Carter at 706-745-7359.
Cost per golfer $75 or bring 4-man team for $300.
$10 off for each player in a kilt!


Murphy, North Carolina
Murphy Chophouse - Music on the Patio
Featuring
Phillip Brooks - Friday, May 29th - 6 pm
Troy Underwood - Saturday, May 30th- 6 pm

Join us on the Deck for Music and a Good Time with Friends
Click for events at Murphy's Chophouse, Music line up and a map...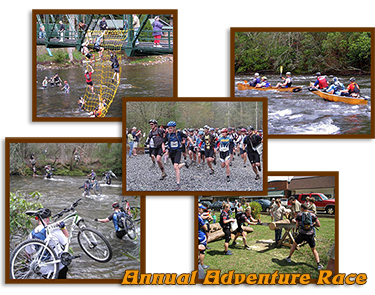 Blue Ridge, Georgia
Annual Adventure Race
Saturday May 30th ~ 9 am
The Blue Ridge Adventure Race and the Atomic Adventure Race are races that are held in Northwest Georgia. In 2015 these races combined and are part of the Blue Ridge Adventure Racing Weekend.
The 2015 Blue Ridge Adventure Race will start in downtown Blue Ridge Georgia Saturday May 30. Two races, an 8 hour and a 24 hour race.
Disciplines: Mountain Biking, Trekking and Paddling. Race director Jeff Leininger will be setting 2 incredible courses. Teams will be able to choose between the 8 hour race and the 24 hour race. Both races will start at 9 AM.
Next Weekend in the Mountains....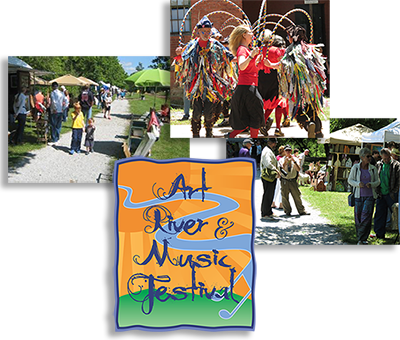 Murphy, North Carolina
Cherokee County Arts Council
The 5th Annual Art, River & Music Festival
Saturday June 7, 2015
All our traditional features will be included - live entertainment all day; a great collection of art and craft vendors; food booths; live demonstrations of blacksmithing, woodworking, weaving and more; canoe rides on the Hiwassee River; the Farmers market open all day - and...the Festival is expanding!
This year there are tours of the historic Hackney Building, renowned Cherokee artist and storyteller, Davy Arch will be demonstrating traditional Cherokee crafts, interspersed with tales of Cherokee history. And...Doctor Ryan will be bringing his Traveling Medicine Show.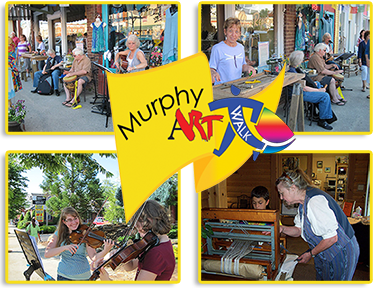 Murphy, North Carolina
Murphy Art Walk - 60's & 70's Celebration
June 6th 2015 ~ 5pm to 8pm

Join us in Historic Downtown Murphy for a night of fun and creativity. Valley River Arts Guild organized all the local merchants to stay open late on the first Friday of each month, May through October to welcome guests from all over.
Artists are scattered throughout downtown Murphy, demonstrating their skills, plenty of music, wine and other fun activities. A great Friday evening in the Spring.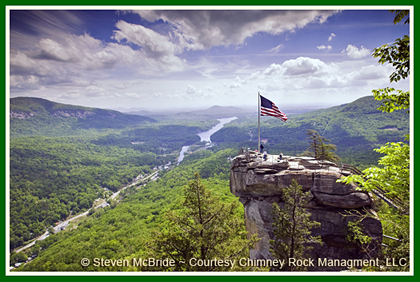 Chimney Rock, North Carolina
National Trails Day
June 6th ~ 10 am
What better way to celebrate National Trails Day than to take a hike? Join a Park naturalist for adventurous guided hikes at 10am, 12pm and 2pm on our beautiful Hickory Nut Falls trail to learn about the flora and fauna that live there.

More and more events are being added to the Event Calendar, so now is the time to plan your trip to the mountains. Use our "Request Information Form" to get valuable information to help you plan your trip or relocation to the mountains.
Next newsletter we will be unveiling phase one of our new backpack program, make sure you check it out, it is a great new concept to add value to hour trips to the mountains.