Menu
Welcome to the Blue Ridge Highlander...Your Guide
to the Best the Blue Ridge - Smoky Mountains have to offer
Quick links to our NEWSLETTER SIGN UP

and our EVENT CALENDAR
If you are planning a trip to the mountains and need more information
use this link to let us know what you need...
Congratulations....Ginny & David Heche won the John Mac Kah's John C. Campbell Folk School Framed Giclee Series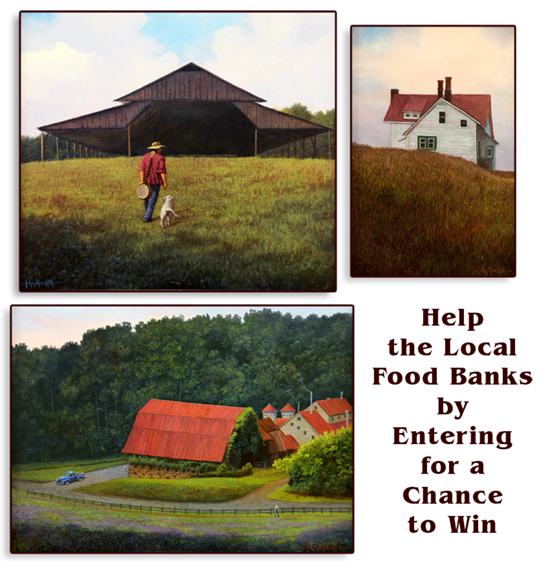 ---
Blairsville, Georgia
Green Bean Festival
Saturday, July 30th
The Green Bean Festival celebrates the nutrient rich heritage between green beans and the people of North Georgia. The Green Bean Festival hopes to establish a larger market for locally grown varieties, to promote sustainable "green" living, to increase tourism to Union County and surrounding areas, to pass on the vast knowledge of our farmers to the next generation,and to create a fun, family-orientated event. The Green Bean Festival highlights many aspects of this popular vegetable including everything from origins and history to pressure canning and favorite recipes. Look for different varieties of green beans, from heirloom pole beans to mountain white half-runners, and lots of other fresh, juicy produce The whole county turns out for this family "Country Fair" type event.
---
Hiawassee, Georgia
Moonshine Crusin
July 28th - 30th
Live Mountain Music • Hundreds of Classic Cars
Swap Meet • Folk Show • Exhibits • Pioneer Village
Automotive Vendors • Mountain Crafts • Much More
Thursday 100 Mile Cruise
---
Chimney Rock, North Carolina
Family Animal Encounters
Every Day ~ Throughout July
Meet some of Grady the Groundhog's woodland friends or possibly our birds of prey, a Red-tailed hawk and Great Horned Owl, at our daily 2 pm Family Animal Encounters! A Park naturalist will explain each animal's role in our ecosystem, how they came to live at the park and lessons on what we can do to help protect wildlife.
Animal Encounters meet at the Outdoor Classroom Sat & Sun and at Grady's Animal Discovery Den on Monday. Then, grab a Track Trail brochure at Grady's Den and take a hike along our Great Woodland Adventure trail with 12 interactive education stations. Cost: Included with Park admission
---
Blue Ridge, GA
The Art Center Presents...
3D off the Wall Exhibit
July 30th - August 27th
The 6th Annual three-dimensional only art show, "Off the Wall," takes the works off the gallery walls and lets you see the beauty of three-dimensional works.
The Art Center will be having an artist's reception on July 30th 5 - 7pm, open to the public. Come meet the artists and and enjoy their fine artwork.
---
McCaysville, GA
Pickin in the Park
at Horse Shoe Bend
Every Thursday Night through September 28th
Pickin' in Horseshoe Bend Park - every Thursday, 6:00 PM to dusk, May through September. Live music jams and pickin' on the banks of the Toccoa River at the Horseshoe Bend Park in McCaysville. Free Admission. And the park is wheelchair accessible. Come out, bring the whole family to enjoy the experience. Picnic tables available, nice grassy lawn but you are also welcome to bring a blanket or chair.
---

Music on the Patio at Murphy's Chophouse Featuring
Phillip Brooks - Fri, July 29th - 5 - 8 pm
Dana Rogers - Sat, July 30th - 5 - 8 pm


Music at Chophouse LaPrade's on Lake Burton Featuring
Jeremiah Osterman - Fri, July 29th - 6 - 9 pm
Phillip Brooks - Sat, July 30th - 6 - 9 pm
---
Murphy, NC
Music & Friends
at the Daily Grind & Wine
Wednesday - July 27st
Wyatt Espalin
Friday - July 29th
"Lady J
---
Chimney Rock, NC
Beats, Burgers & Brews
at the Old Rock Cafe
Every Friday & Saturday through July
Relax outdoors to the beat of bluegrass, Americana, folk, blues or other genres while enjoying a regional craft brew or glass of wine on our riverside deck. Talented local musicians and singer-songwriters liven the scene on Friday & Saturday evenings in July at this popular burger joint in Chimney Rock Village.
The Old Rock Café features one of the 2014 Zagat-rated "Must-try Burgers across the Country" with Hickory Nut Gap Meats' 100% grass-fed beef burger.
---
Blue Ridge, GA
Blue Ridge Community Theater Presents...
La Lucha Band - Jazz
Saturday July 30th
Their repertoire is a diverse mixture of Jazz standards, Latin inspired rhythms and original compositions. Each member of the trio has extensive national and international performance experience, including a tour of Italy and France with performances at the "Umbria Jazz Festival" and "Jazz a Juan" in Juan Les Pins. La Lucha aims to create music that transcends genres and classifications. They consider music to be live art, which will continue to breathe, grow and evolve with their commitment to it.
---
Blue Ridge Highlander & Highlander Gallery have a new home...
Opening August 5th...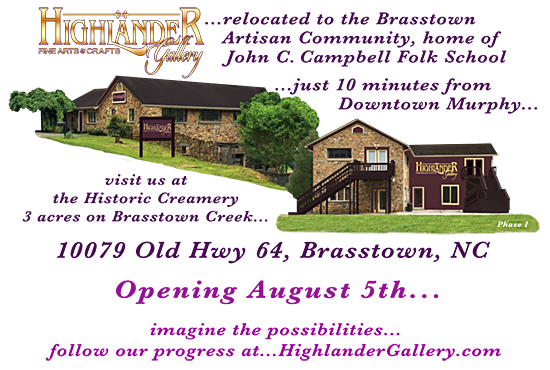 No matter how enthusiastic we are, we have to be realistic as to how much work is needed to open the Gallery to it's true potential. Below is a rendering of our plans for Phase I.  We have to get the inside done first.  So, the outside painting is not finished, nor is there a sign out front yet. 
The Gallery won't be ready for visitors until August 5th.  When we open, it will be even better than before, so we hope you all take some time to come visit us.
---
Phase I of the "new" Blue Ridge Highlander...
The Highlander has been on-line for over 18 years, and has been redesigned and re-programmed many times over the years. This update was the most challenging to date, due to the advanced technology of our times.
Due to the shear volume of valuable information that the Highlander contains, this new update has been in the making for a while. We have a lot of it completed and are anticipating having the entire "Phase I" completed by the end of January.
We would love your input as to the improvements as well as any suggestions as to what you would like to see in Phase II.
Continue to check out the progress, each week you will see something new...enjoy...
designed, produced and hosted by
The Blue Ridge Highlander logo, all photography, design, graphics, artwork, writing, digital images, etc are the
Copyright ©
of C. Wayne Dukes and Sherry Bell Dukes. 1996 - 2016, except where otherwise stated. All rights reserved, reproduction, downloading, and/or duplication of any sort is strictly prohibited, all violations will be prosecuted.
Legal Policy
. If you have any questions, or comments, regarding this site,
e-mail the Highlander
.