George Washington Vanderbilt was born in 1862 to William Henry and Maria Louisa Vanderbilt. George's family ancestors arrived in America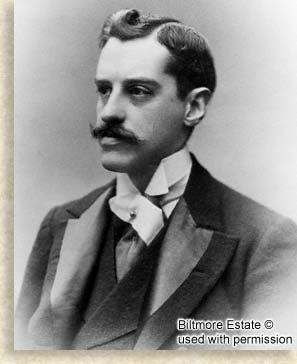 around 1650, emigrating from Holland and settling on Staten Island, New York. The Vanderbilt's were prosperous as farmers but that was all about to change.
In 1810 George's grandfather, Cornelius Vanderbilt (1794-1877) decide to make a change in the family vocation. At 16 Cornelius borrowed $100 from his mother in order to build a ferry service on New York Bay. That vision of taking to the waterways turned into a trade business that consisted of a fleet of 100 steamboats making trips to Europe and Central America.
This farsighted venture of Cornelius, yielded him a fortune and brought him the enduring title of "Commodore." Some 50 years later and in control of such wealth, the "Commodore" invested in railroads including the New York Central bringing into his coffers a second fortune, with the sum total of one hundred million dollars. When the "Commodore" departed, he was considered the wealthiest industrialist of the time. During his life the "Commodore" started a family tradition of philanthropy which was continued on by Cornelius' son, William Henry, who inherited most of his father's one hundred million dollars.
William Henry (1821-1885) was George Washington Vanderbilt's father. The "Commodore" wasn't so sure William Henry had his sense for business, although driven by his father's example of stepping higher than the last Vanderbilt, William Henry doubled the family's assets as a financier.
The Vanderbilts became known for living a life of privilege, wealth, education, travel and having a taste for the fine arts. William Henry was known as an astute collector, displaying his collection of 200 painting in his 58-room mansion in Manhattan. He was also known as a philanthropist, displaying considerable generosity when it came to worthy causes such as endowing the now known, Medical School of Columbia University and funding the Metropolitan Opera in 1883.
George Washington Vanderbilt was the youngest of eight children in the Vanderbilt family when the mansion at 640 Fifth Avenue was completed in 1881. It was considered the largest and most splendid house in Manhattan. Here, George was exposed to the latest modern conveniences, refrigeration and telephones as well as a glass-roofed stable courtyard to exercise William Henry's beloved trotting horses. The Manhattan mansion was decorated in European style, accenting the architectural design of the mansion.
Growing up as a child, George was quiet and intelligent, he showed little interest in the family's financial business. George was drawn to his father's cultural interest. He began displaying this interest at an early age, by creating his own collection of books and artworks including overseeing the designs within his private quarters and his personal library at their Manhattan mansion.
George knew the quality of the "finer things." He enjoyed reading books, traveling the world, and a study of the arts. George experienced the development of the famed Fifth Avenue mansion and was a natural when it came to overseeing and housing a collection of fine arts. Eventually he would inherit the mansion and all its contents.
The lives of Cornelius "Commodore" and William Henry Vanderbilt are a fascinating slice of American history. In a land of opportunity, they became a royal family. Wealth, power and influence led then into the world of the socially elite. A world that often made it difficult on the newly wealthy. The Vanderbilt's proved that new American fortunes overrode the order of old society bloodlines.
With his inheritance from William Henry's fortune, George took to an even greater height, the qualities the Vanderbilt's displayed in regards to their personal American aristocracy.
It was in his nature to be a perfectionist, a nature that would manifest his dream of a self-sufficient country estate that would rival none other.


Sign up for the Blue Ridge Highlander Newsletter, Messages from the Mountains
to find out first about our new feature stories, road trips and special offers

Your e-mail addresses will not be sold or given away to anyone.
Privacy Policy

Interested in your business being on the Highlander, click here...

Let our visitors tell you about the Highlander...


Click the feathers to go to the Highlander site map...