Pigeon Forge Tennessee • Sevier County • Great Smoky Mountains
Travel • Real Estate • Art Galleries • Lodging • Restaurants • Outdoor Adventure
With stacks of live entertainment centers, amusement parks, numerous shopping centers, lodging, restaurants, galleries and all kinds of other amenities that line the 6 lane boulevard for miles on either side of the road, Pigeon Forge has everything you came looking for and then some. It wasn't that long ago that Pigeon Forge had all the ambience of a forgotten prairie town. For decades, the town was a rather quiet community with some lodging, souvenir shops and dining, just a spot in the road, out in the open between the county seat of Sevierville and the active resort and tourism town of Gatlinburg at the entrance to the Great Smoky Mountains National park. Today you'll find that void has been filled, the once empty valley has been lifted by an inspired vision that would bring capital and attention to the hometown of Dolly Parton.
The name Pigeon Forge comes from the old iron forge dating back to 1820 that was and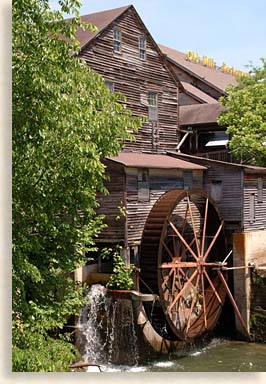 still is located on the Little Pigeon River. The huge "Old Mill" as its known
today still operates as a mill and houses a popular restaurant and gift shop. Pigeon Forge was always considered a small local community that offered some accommodations and services to visitors of the Great Smokies. I can remember the first time I passed through Pigeon Forge in 1967 I really hadn't notice that I even passed through a town. In 1978 I again passed through Pigeon Forge with Mrs. Highlander and our newborn daughter and I did see a sign for Pigeon Forge yet didn't really notice a town. After focusing my attentions on the Rocky Mountains in Colorado, Wyoming and Montana for a number of years I passed through Pigeon Forge again in 1995 and low and behold a city based on tourism sprang up from the ground and I saw for the first time "Pigeon Forge Tennessee." It seems a local gal of exceptional quality and talent broke ground on a vision and planted the seeds that would make Pigeon Forge one of the nations most successful boomtowns dedicated to the tourism industry. With the opening of Dollywood's amusement park in the late 1980's, Pigeon Forge began a trend that is still booming today.
More than 11,000,000 visitors come to Pigeon Forge each year to have fun, be entertained, shop till they drop, eat all they can handle and kick back and just enjoy the magnificent views of the Great Smoky Mountains. Not only are there great outdoor recreations awaiting you throughout Sevier County, the wilds of the Smokies, there are also several golf courses for you city slickers who are looking for a great variety filled getaway. Plus there's more to do in Pigeon Forge than you can plan for and things to do you never thought of doing before. I can only imagine it might be hard to drag the kids from all the fun in Pigeon Forge to show them the natural wonders of the Great Smoky Mountains National Park, good luck with that challenge, it's a challenge worth challenging. With water parks, amusement parks along with arcades and special attractions the kid vote has already been cast. Husbands will also be tempted and dare to ask the wives to take a break from shopping to take a scenic drive with the family.
Fun is what Pigeon Forge is all about, what Pigeon Forge destined itself to become, a family getaway with no limits barred. Due to the fact the town is so spread out and divided along a 6 lane Parkway, Pigeon Forge has thought ahead and provided an inexpensive trolley service to shuttle visitors around, the trolley makes the going easy especially during the height of the seasons. Although the season never ends in Pigeon Forge with events and festivals, live entertainment, shopping sales, restaurants and fine dining to satisfy your hunger, and enough variety in lodging to suit anyone's style and outdoor recreation to boot.
Continuing south on the Parkway (US 411,) thru Pigeon Forge you reach the foothills on the south side of town where the city limits of Pigeon Forge ends, here the Little Pigeon River divides the Parkway's north and south lanes with high-forested ridges on either side. Traveling further south on the Parkway you get a sense you've entered the Great Smoky Mountain National Park, it's not the national park just yet, but a 5-mile spur of the Foothills Parkway. This companion to the other Foothills Parkways in the area were constructed to accentuate the natural beauty of the Smoky Mountains region, like an approach road to a great mountain estate.
Neighboring Towns and Countryside
Sevier County in the Great Smoky Mountains
Gatlinburg, Tennessee Sevierville, Tennessee

Interested in your business being on the Highlander, click here...

Let our visitors tell you about the Highlander...

Click the feathers to go to the Highlander site map...


The Blue Ridge Highlander logo, all photography, design, graphics, artwork, writing, digital images, etc are the
Copyright ©
of C. Wayne Dukes and Sherry Bell Dukes. 1996 - 2014, except where otherwise stated. All rights reserved, reproduction,
downloading, and/or duplication of any sort is strictly prohibited, all violations will be prosecuted.
Legal Policy
.
If you have any questions, or comments, regarding this site,
e-mail the Highlander
.