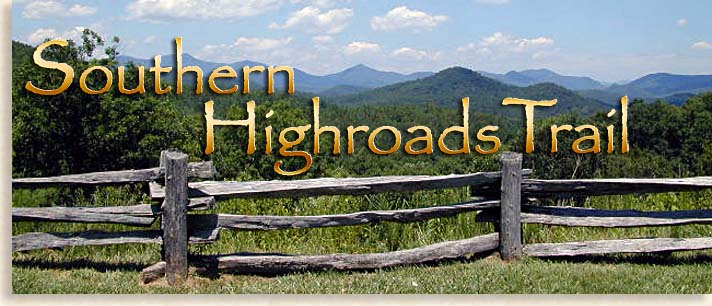 The Southern Highroads Trail is a 364-mile National Scenic Byway that travels through 4 states of the southern Blue Ridge Mountain highlands. The 364-mile byway will take visitors thru the mountainous regions of the Chattahoochee National Forest of North Georgia, the Sumter National Forest in northwestern South Carolina, the Nantahala National Forest in western North Carolina and the Cherokee National Forest in southeastern Tennessee.
The Southern Highroads Trail forms a complete circle bringing travelers back to its chosen starting point. The Southern Highroads Trail can be accessed at numerous junctions depending on where the traveler wishes to begin. On the route you'll experience the beauty, wildlife and natural wonders of the southern highlands as you travel through mountain communities, National Forest, mountain valleys, along the shores of mountain lakes, thru whitewater river gorges and over high mountain ridges.
Along the Southern Highroads Trail you'll find lodging, dining, shopping, hiking, mountain biking, camping, fishing, horseback riding, whitewater rafting and kayaking, repelling and exceptional backpacking country. Travelers will come in contact with a rich history of gold mining and panning, logging and gem hunting while enjoying the opportunity of many mountain festivals, live entertainment and that general good mountain feeling. The full trip usually requires several days to get the true experience yet you can jump onto the Southern Highroads Trails at any chosen location and enjoy a sampling of the journey at your leisure.
The Blue Ridge Highlander has composed a full virtual tour of the Southern Highroads Trail in its Scenic Highlander Tours entitled "Aye'll Take the Highroads." Each state along the trail offers its own unique mountain experience. Travelers can begin to enjoy the journey by clicking the Scenic Highlander Tours link below and take the full virtual tour or click the additional link below which will take you right to the state selection of choice.
This section of the virtual Scenic Highlander Tour, "Aye'll Take the Highroads" in North Carolina begins at Whitewater Falls on the edge of South Carolina and travels east thru the Nantahala National Forest. The journey will take travelers thru the towns of Cashiers in Jackson County, Highlands Macon County, Franklin Macon County, Hayesville Clay County and Murphy in Cherokee County.
the Highlander
Although very enjoyable, the mountains can be a driving challenge to a flatlander (no offense), to help you with your new venture, take a look at our driving tips

Interested in your business being on the Highlander, click here...

Let our visitors tell you about the Highlander...

Click the feathers to go to the Highlander site map...


The Blue Ridge Highlander logo, all photography, design, graphics, artwork, writing, digital images, etc are the
Copyright ©
of C. Wayne Dukes and Sherry Bell Dukes. 1996 - 2014, except where otherwise stated. All rights reserved, reproduction,
downloading, and/or duplication of any sort is strictly prohibited, all violations will be prosecuted.
Legal Policy
.
If you have any questions, or comments, regarding this site,
e-mail the Highlander
.