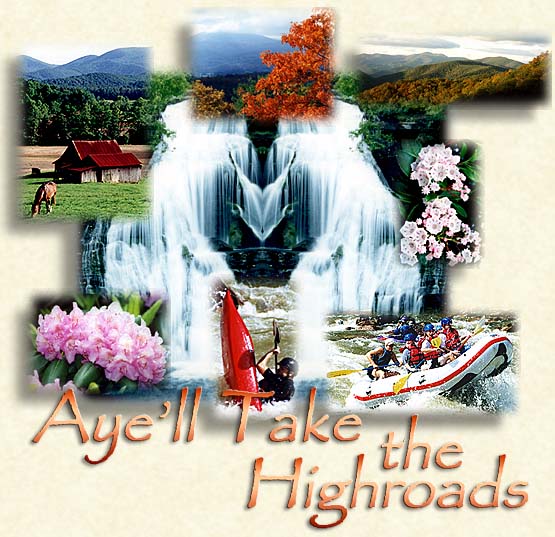 The Southern Highroads Trail...a popular route in the southern highlands saw its birth in the 1990's. The trail is an accumulation of several mountain routes forming a loop through four states, Georgia, North Carolina, South Carolina and Tennessee. The trail was designed for the visitor to start in any of the four states they choose and complete their tour in a circle, back to their selected point of entry.
The Southern Highroads Trail is a ribbon of asphalt, gently gliding across valleys and over mountain gaps, while occasionally following along the shore of a beautiful lake. We will cross the Appalachian Trail twice, zig-zag over the Eastern Continental Divide, do switch backs up and down mountain slopes, hug the curves of a high mountain gorge and ride the banks of a whitewater river rushing down a steep mountain gorge, all in one trip.
The Southern Highroads Trail encompasses thirteen counties in four states.
You'll experience each community with a quaint personality unique to its view of mountain life and commercial heritage, both old and new. Boom towns with old gothic courthouses claim the boundaries, while preserved pioneer settlements and old homesteads mark the landscape. Patches of grassy fields occasionally pop out of the forest. The crop here is mostly live stock, with a little agriculture. For the most part, this is not a land for farming although great for growing trees. Occasionally you will see some good farm land, but not often.
Hardwood forests canvas steep mountain slopes. Most counties have a 50/50 share between private land and National Forest. Some counties have more while others have a little less. The Southern Highroads Trail travels within 4 National Forests, the Chattahoochee in North Georgia, the Nantahala in Western North Carolina, the Cherokee in South Eastern Tennessee, and Sumter in "Upcountry," South Carolina.
MAP OF THE SOUTHERN HIGHROADS
The Trail is 364 miles in length, or should I say encircled. There's no particular starting point which adds to its appeal. Its accessibility is determined by regional approach or metropolitan airports outside the mountains. There are only small air fields in the mountainous region. The Southern Highroads Trail can be a accessed within 90 minutes of four major metropolitan areas, Atlanta, GA, Asheville, NC, Chattanooga, TN and Greenville, SC. It is also approximately 45 minutes from a world renowned Great Smoky Mountains State Park. One thing I noticed traveling the entire Southern Highroads Trail, the pavement is outstanding, mostly due to great engineering, maintenance and the lack of heavy truck traffic.
The Southern Highroads Trail is a ribbon of asphalt that holds the southern highlands' experience together, but it is only the ribbon. A wealth of history and natural beauty lie within the Trail, too many stories to be told at this time. You will enjoy your first trip on the Southern Highroads Trail, although once is not enough to reveal all of its many secret wonders, so plan to come back again.
The southern highlands of the Blue Ridge Mountains offer dramatic visual beauty, abundant wildlife, many natural wonders, plenty of recreation, and a flora display beyond compare. The land is old beyond comprehension, the faces of its people are warm and friendly. It's a hard land that some have attempted to tame, as well as a fragile land longing to be left alone. A changing world has put focus on this land whose innocence captured the imaginations of all that experience it.
The Blue Ridge Mountains are a geographical marvel with natural wonders that took eons to create. Carelessness can devastate these wonders so quickly, never to return to their original state, it's essential we obey the rules of the National Forest, Parklands and Waterways, not only for ourselves, for future generations to enjoy as well.
Visitors are welcome to come and enjoy the beauty of God's creation merged with man's ingenuity. The Blue Ridge Mountains are as precious as a rare stone, a great blue sapphire of priceless value, so while you are visiting, please respect the forest and the heritage of its people who are diligently working to preserve their fading culture for the sake of future prosperity.
The Highlander....


Sign up for the Blue Ridge Highlander Newsletter, Messages from the Mountains
to find out first about our new feature stories, road trips and special offers

Your e-mail addresses will not be sold or given away to anyone.
Privacy Policy

Interested in your business being on the Highlander, click here...

Let our visitors tell you about the Highlander...


Click the feathers to go to the Highlander site map...