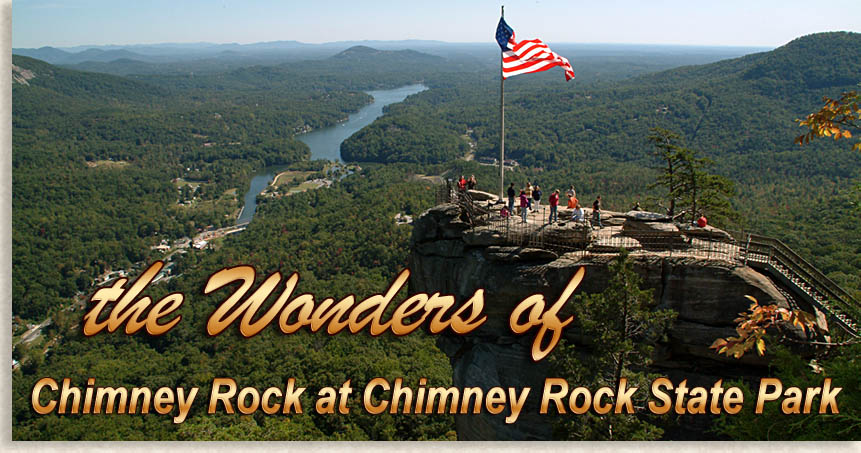 The Wonders of
Chimney Rock at Chimney Rock State Park
The great towering column known as Chimney Rock at Chimney Rock State Park is the centerpiece of a geological, botanical, wildlife habitat, purely existing as an educational stage under the open sky and by far one of the most inspirational playgrounds for folks of all ages. Hiking, climbing, informative guided tours, group outings, nature studies, outdoor classrooms and exhibit houses, plus two gift shops and two restaurants will fill your day from dawn to dusk. Along with enough panoramic views to blister a photo finger you'll also encounter a large open meadow, a magnificent waterfall, a white water river, a climbing tower, renowned guided rock climbing opportunities, miles of foot trails and enough vertical stairs to put a stair-master to shame, or you can just take the elevator to the top floor, a way to enjoy Chimney Rock in ease with merely a touch of a finger.
Chimney Rock State Park is a playground of natural wonders and a window into a world of mystery and adventure. As renowned as the monolith chimney rock is, and as high as Hickory Nut Falls are, they are only a fraction of the wonders the park has to offer, making this North Carolina State Park a one of a kind experience for all those that love the great outdoors.
To Mrs. Highlander and I, a trip to Chimney Rock at Chimney Rock State Park is a physical, mental and spiritual journey. We often find within this unique geological site something unexplainable that draws upon the soul, often bringing about an enlightened sense of well-being as though we are present within a holy cathedral, united with that element of existence, that is pure and natural in nature, a rare place of worship worthy to be called a "temple mount."
Listed below are three tales of this prized and revered parkland, a virtual experience that will likely not only inform but enlightened our Blue Ridge Highlanders readers thoughts and senses, hopefully setting about a longing for their own personal adventure into a world uniquely designed by the natural order of the Great Creator's ingenious hand of time, all made available for your own pleasure and enjoyment.
The Highlander

Sign up for the Blue Ridge Highlander Newsletter, Messages from the Mountains
to find out first about our new feature stories, road trips and special offers

Your e-mail addresses will not be sold or given away to anyone.
Privacy Policy

Interested in your business being on the Highlander, click here...

Let our visitors tell you about the Highlander...


Click the feathers to go to the Highlander site map...