Travel • Real Estate • Lodging • Cabin Rentals • Bed & Breakfasts • Restaurants
Helen • Cleveland • White County • North Georgia Mountains
On the outer edge of the southern most region of North Georgia's Blue Ridge Mountains, under the shadow of Mount Yonah and several small mountains is White County. A land of legends, infamous waterfalls and beautiful mountain scenery. It's here you first come across the first series of lower mountain valleys were many signs of an ancient Native American village. It has been claimed that in 1540 DeSoto passed thru here on his elusive journey into the higher reaches of the North Georgia mountains an on, up, into the far western mountains of Western North Carolina.
The Sautee-Nacoochee Valley in White County is a place of tales, myths and historical fact. The valley is claimed to be the home of the Cherokee Village of Little Chota. On its valley floor stands the symbol of religious order, a place were a sacred fire burned continuously upon a ceremonial mound 190 ft. long, 150 ft. wide and 20 ft. high.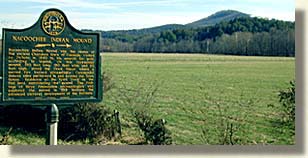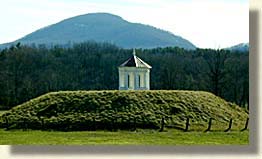 In 1828 gold was discovered here, some claim it was the first mining operation in North Georgia.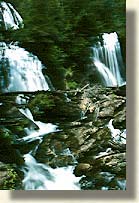 Ironically this is the were in 1838 U.S. soldiers rounded up local Native Americans for a forced march on what history would call the "Trail Of Tears."
This section of White County has a unique history and geological wonders all its own. The Nacoochee Valley is scattered with historical markers describing the plight of the original inhabitants as well as tales of pioneers and early European explorers. There is also a very visible flat top earth mound where a Chief Priest's temple home once stood.
A few miles to the north, in the midst of the Chattahoochee National Forest, is Anna Ruby Falls. A spectacular set of double falls, two separate waterfalls powered by two separate creeks, dropping 50 and 153 feet and converging into one outstandingly beautiful rushing creek in Unicoi State Park just outside Helen.
Helen: Eat, drink, shop, and be merry. It must be party time in the Alps. No, This is the unprecedented town of Helen, an Alpine styled get away that always has a festival type atmosphere even when there's no festival going on at all. Thirty years ago, a floundering town of lodging and a hand full of stores needed a jump start. With the help of three business men and a local artist they conceived and drew up the plans for an old world Bavarian Village. Today, Helen has over 200 specialty and import shops, several themed restaurants and more than 1,000 plus rooms to accommodate what has become one of the Blue Ridge Mountains largest draw for tourism.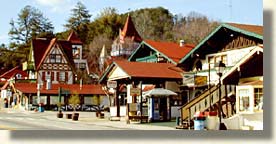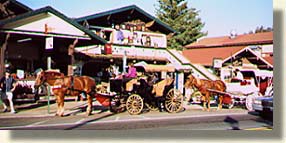 Cleveland: "Mamma, where do babies come?" Why Cleveland Georgia of course. Cleveland is a town in White County that is notable for being the home of "Cabbage Patch," and the "Cabbage Patch Hospital." A place where new born Cabbage Patch dolls along with Cabbage Patch children dolls are united in adoption with the young, future adult children who journey to Cleveland, for this special unique experience.
After the adoption process is completed, downtown Cleveland square is the perfect place to introduce the newly little people parents, to shopping, dining and that oh so critical lodging for that first night of adjustment.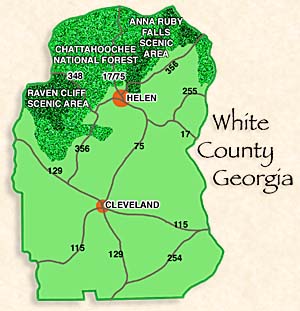 click map
for a larger image

Interested in your business being on the Highlander, click here...

Let our visitors tell you about the Highlander...

Click the feathers to go to the Highlander site map...


The Blue Ridge Highlander logo, all photography, design, graphics, artwork, writing, digital images, etc are the
Copyright ©
of C. Wayne Dukes and Sherry Bell Dukes. 1996 - 2014, except where otherwise stated. All rights reserved, reproduction,
downloading, and/or duplication of any sort is strictly prohibited, all violations will be prosecuted.
Legal Policy
.
If you have any questions, or comments, regarding this site,
e-mail the Highlander
.