George Washington Vanderbilt found a land of rugged beauty with an enchanting presence, a land composed of breathtaking mountain views and natural wonders. It was here on the southern fringes of Asheville, North Carolina that George planted his vision and watched it take roots, creating a fairy tale existence out of a vast wilderness.

Always exposed to opulence, culture and education, George's artistic spirit was quickened at an early age. George traveled the continents, he was a collector and avid student of the arts. George always longed for the perfect opportunity to express his true love by developing a summer estate that would house his cherished and ever growing collection of art and literary works. While in Asheville, George set out to explore parcels of land that were both available and affordable at the time, eventually accumulating 125,000 acres, an estate equivalent to the size of a modest mountain county.
George's country estate provided a unique atmosphere for entertaining and also operated as a self-supporting enterprise. He went on to crown his vision with the grand title, "Biltmore Estate." The title derived from the name of the town of his ancestral Dutch origins Bildt and "moor" from the old English word describing an open rolling landscape.
It was at this point that George had to the make the next critical decisions. What master of design and architecture would he choose to build what has come to be known as an "American Castle?" What sculptor of terrain and botanical genius would be chosen to transform a wilderness into a garden paradise? Only the best would be considered, George chose two of the 19th century's most distinguished American designers, two renowned gentlemen he had known for years, architect Richard Morris Hunt and landscape architect Frederick Law Olmsted. This creative trio had collaborated on the family mausoleum on Staten Island, commissioned by his father William Henry in 1884.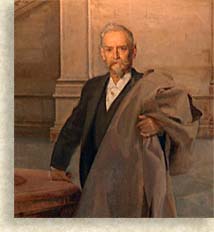 Richard Morris Hunt (1828-1895) was a renowned architect. Being the first American admitted to the prestigious Ecole des Beaux-Arts in Paris, Mr. Hunt was placed in a position of demand amongst high society.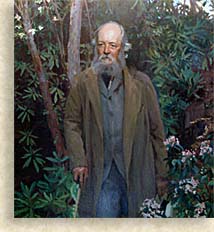 His public works include the Metropolitan Museum of Art in New York, the pedestal for the Statue of Liberty and the Yorktown Monument in Virginia. A favorite of the Vanderbilt family, Mr. Hunt also designed the Marble House in Hudson Valley, the Breakers in Newport, Rhode Island and George Vanderbilt's older brother's mansion at 660 Fifth Avenue, New York.
Frederick Law Olmsted (1822-1903) is considered to be the founding father of American landscape architecture. Trained in both engineering and agriculture Mr. Olmsted is credited with the designs of numerous parks including the U.S. Capitol grounds, the campus at Stanford University in California, but most notably, New York's Central Park. As a naturalist he was called upon in 1864 to consult on the preservation of Yosemite Valley, one of the first national parks created in America.

Click to enter the Lodge Gate and the Castle in the Sky...


Sign up for the Blue Ridge Highlander Newsletter, Messages from the Mountains
to find out first about our new feature stories, road trips and special offers

Your e-mail addresses will not be sold or given away to anyone.
Privacy Policy

Interested in your business being on the Highlander, click here...

Let our visitors tell you about the Highlander...


Click the feathers to go to the Highlander site map...