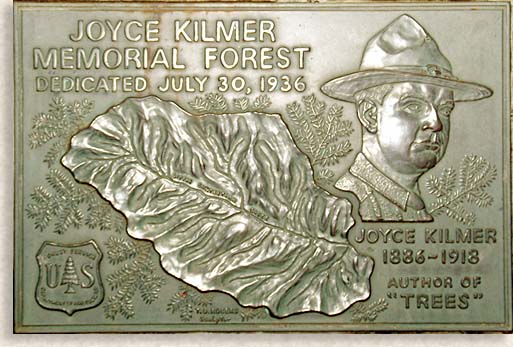 Joyce Kilmer
December 6, 1886 - July 30, 1918
Born Alfred Joyce Kilmer on December 6, 1886, this creative soul and devout Christian became a journalist, poet, literary critic, and an editor at the New York Times. Yet, a single poem catapulted Kilmer to notoriety, a 12-line poem expressing his dearest affection for "Trees," written in the year 1913. Joyce Kilmer's poem was published in 1914 in a collection entitled, Trees and Other Poems.
Many admirers of this poem have given their perception as to what particular tree so inspired Joyce Kilmer's imagination. It is said by some that it was a magnificent white oak tree on the campus at Rutgers College in New Jersey that inspired this literary work of art, the college he attended from 1904 thru 1906. Although, Joyce Kilmer's son Kenton has stated that the poem had no particular tree in mind, and that his father had no exceptional sentiment concerning trees, just a common admiration for their beauty. Kenton went on to say the poem was written by his father in an upstairs bedroom of Joyce's Mother and Father's home, at a desk in his parents' room next to a window that looked out onto a well-wooded lawn with a variety of trees.
Being a true American patriot, Joyce Kilmer enlisted in the war in 1917 when the United States first joined World War I. He served as a sergeant in the 165th U.S. Infantry Regiment. While on a reconnaissance mission July 30, 1918, during the Second Battle of Marne, Joyce Kilmer was killed in action, he was 31 years old. The French government felt moved by Kilmer's personal sacrifice and awarded him the Croix de Guerre for bravery.
Back in the United States with the ongoing destruction of the forest, the once forested landscape looked like a wasteland. Mass loses of trees created an even bigger problem. Without the trees' root systems holding the soil in place, erosion began filling streams, rivers, and lakes with unwanted soil. This erosion began clogging the natural ecosystem that sustained wildlife and their habitats. Plants, crops and humans that depended on the watershed of the Appalachian and Blue Ridge Mountains would suffer for these mass tree losses.
Yet the war on the American forest continued to rage on uncontrolled, generated by a nations demand for more wood products. With only profits on their mind and a need to be filled, the logging companies gladly supplied the country's request without consideration of the ecosystems.
As time went on the U.S. Forest Service became larger and stronger protectors and defenders of the forest. A new army of patriots, dedicated to the preservation of our natural resources was peaking during the administration of President Franklin Roosevelt and his "New Deal" programs.
The only way for this new Army to fix what was broken was to buy the American soil back from the mighty land barons and private citizens. They replenished the wastelands with new saplings as they preserved the virgin forests that were left in the eastern United States, placing those lands under constant government protection and regulations. Yet, it was a patriot poet whose own namesake became synonymous with the preservation of the giant ancient trees, the Joyce Kilmer Memorial Forest.
TREES
I think that I shall never see
A poem lovely as a tree.
A tree whose hungry mouth is prest
Against the earth's sweet flowing breast;
A tree that looks at God all day
And lifts her leafy arms to pray;
A tree that may in summer wear
A nest of robins in her hair;
Upon whose bosom snow has lain;
Who intimately lives with rain.
Poems are made by fools like me,
But only God can make a tree.
Joyce Kilmer, 1913
Visit Joyce Kilmer Memorial Forest • Joyce Kilmer - Patriot Poet
History of Joyce Kilmer Memorial Forest • Nearby Points of Interest


Sign up for the Blue Ridge Highlander Newsletter, Messages from the Mountains
to find out first about our new feature stories, road trips and special offers

Your e-mail addresses will not be sold or given away to anyone.
Privacy Policy

Interested in your business being on the Highlander, click here...

Let our visitors tell you about the Highlander...


Click the feathers to go to the Highlander site map...