Menu
Blue Ridge - Smoky Mountains Travel Guide
Quick links to our
NEWSLETTER SIGN Up

and our EVENT CALENDAR

If you are planning a trip to the mountains and need more information use this link to let us know what you need...
---
Trip Advisor Quote..."Finest Gallery within hundreds of miles"...

Highlander Gallery is Open...
Wednesday, Thursday, Friday & Saturday 11 am to 5 pm
10079 Old Highway 64 •  Brasstown NC
3/4 miles east of JC Campbell Folk School
---
Brasstown, North Carolina
John C. Campbell Folk School
Kid's Christmas Party
Saturday, Dec 15th
1 pm to 3 pm
Each year John C. Campbell Folk School has a free event of kids, it is not just another Christmas event, this is a special mountain Christmas experience. A visit from Santa on a fire truck, plus games, music, dancing, story telling and refreshments.
This event is for kids of all age from Grandmas and Grandpas to Moms and Dads and down to the younger Kids as well. A wonderful family event...join us in the mountains.
click for more information and a map
---
Blairsville, GA
Downtown Blairsville Christmas Fun
Sat - Dec 16th • 10am to 6pm
Celebrate the Holidays with the Union County Historical Society December 16th, 2018. Every year during the holiday season the museum gift shop sells a variety of handcrafted Christmas ornaments and other holiday items. Come ge,t yours while supplies last.
Christmas on the Square in downtown Blairsville has a lot of attractions to help kick off the holiday season. Christmas on the Square Schedule
6 pm Christmas Parade
Complimentary refreshments will be served.
Enjoy cookies, cakes and drinks!
click for more information and a map
---
Blue Ridge, GA
Santa Express on Blue Ridge Scenic
Sat & Sun through Dec 16th
Mon - Dec 17th
through Sun Dec 23rd
Daytime fun-filled trip with Santa. While on board your family will hear the "Twas the Night Before Christmas", sing Christmas Carols, visit with Christmas characters and visit with Santa. Each child receives a traditional BRSR Christmas Bell memento, BRSR Christmas Activity Book and a candy cane.
Approximately 1 Hour Trip Time
Enclosed Climate Control Cars ONLY
Use the link below to find the days that Santa Train will be running and times on line along with more info and a map.
click for more information and a map
---
Hiawassee, GA
Mountain Country Christmas
In Lights
at Georgia Mountain Fairgrounds
Every Thursday through Saturday
November 22nd - December 29th
Don't miss the Mountain Country Christmas In Lights. Enjoy Arts & Craft Vendors, Food and Entertainment throughout the event.
Show runs every Thursday, Friday and Saturday from Thanksgiving Night to December 29th.
$5 per person - Groups of 15 or more $4 each - Children under 12 are free
Live Nativity • Strolling Carolers
click for more information and a map
---
Blue Ridge, GA
Miracle on 34th Street
at Blue Ridge Community Theater
Thurs, Fri & Sat & Sun
through Dec 16th
"This is a tale that we want to believe in, that creates a world we seem to desperately desire, free of the blatant commercialism that surrounds us, where love and decency and generosity of spirit are their own rewards. What we want Christmas to be all about, really." So writes the Santa Cruz Sentinel of this most heartwarming holiday story. By chance, Kris Kringle, an old man in a retirement home, gets a job working as Santa for Macy's.
Kris unleashes waves of good will with Macy's customers and the commercial world of New York City by referring parents to other stores to find exactly the toy their child has asked for.
Seen as deluded and dangerous by Macy's vocational counselor, who plots to have Kris shanghaied to Bellevue Psychiatric Hospital, Kris ends up in a court competency hearing. Especially at stake is one little girl's belief in Santa.
click for more information and a map
---

Take a trip on the Cherohala Skyway Scenic Byway and it is mobile ready. The Cherohala Skyway's 36-miles of scenic mountain views rival any scenic byway in the eastern United States.  Mountaintops, waterfalls and waterways joined together with wildlife and giant trees, adorn this high country of eastern Tennessee and western North Carolina.  I was very impressed with Spirit Ridge Overlook with an elevation of 4,950-feet. This is by far the best handicap access location along the Cherohala Skyway.
The average trip over the Skyway takes 2 1/2-hours, if you just want to drive and view scenery.  I would recommend setting aside the best part of the day to enjoy some of the bigger than life features the Cherohala Skyway and Unicoi Mountain Wilderness have to offer.
Read more... A day trip on the Cherohala Skyway Scenic Byway
---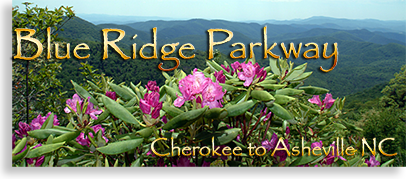 One of the special wonders in these mountains is the Blue Ridge Parkway.  The Parkway begins or ends on the edge of the Shenandoah National Park in the Blue Ridge Mountains of Virginia the Blue Ridge Parkway travels 469-miles southwestern along the high ridges and over the tall mountain peaks of the Blue Ridge Mountains ending or beginning at the southern gateway to the Great Smoky Mountains National Park.
To get the most out of your scenic road trip the Highlander suggest starting out early and begin your journey from the town of Cherokee where the Blue Ridge Parkway officially ends at the southern entrance gateway into the Great Smoky Mountain National Park.
Read more...A day trip on the Blue Ridge Parkway...from Cherokee to Asheville
---
The Highlander is celebrating 21 years on-line this year
Moving to these mountains in 1995, and seeing the wealth of healthy resources available to everyone led us to wanting to explore more That exploration led us to wanting to share that information. Having a history in marketing and publishing and the desire to publish a magazine about these mountains led us to research the Internet and its potential in 1995.
We started developing BlueRidgeHighlander.com in 1996, and launched it in 1997. Our next biggest challenge was to go around the mountains and explain to many what the Internet was and the value it had as a communication medium. Today 88.5% of the US population uses the Internet regularly.
The Highlander has been redesigned and re-programmed many times over the years. We are always looking into new ways to benefit our readers and sponsors, and are working on new benefits to add this coming season. We know you are going love the new additions and changes as we continue to grow out of the box.
We would love your input as to what you would like to have in the Highlander, after all, we are doing this for you, our readers, as a way to enjoy and plan your trips to the mountains.
Use this link to share your ideas of what you would like to see added to the Highlander. Continue to check out the progress, each week you will see something new...enjoy..
designed, produced and hosted by
The Blue Ridge Highlander logo, all photography, design, graphics, artwork, writing, digital images, etc are the
Copyright ©
of C. Wayne Dukes and Sherry Bell Dukes. 1996 - 2018, except where otherwise stated. All rights reserved, reproduction, downloading, and/or duplication of any sort is strictly prohibited, all violations will be prosecuted.
Legal Policy
. If you have any questions, or comments, regarding this site,
e-mail the Highlander
.