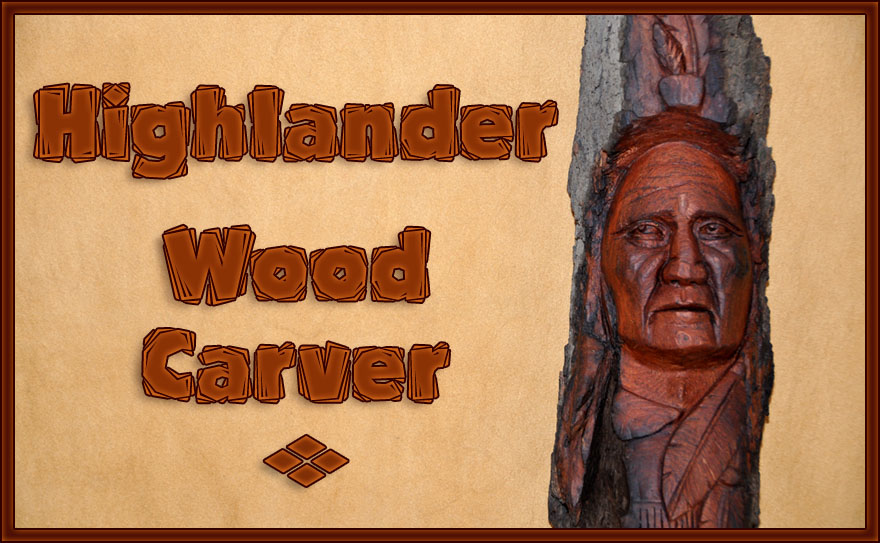 Woodcarving and Friends
A weekend at John C. Campbell Folk School
The spellbinding atmosphere of the John C. Campbell Folk School has driven some devotees into the surrounding wilderness homesteads along the outer fringes of the school campus where many have chosen to pursue their craft as a local artisan. I suspect a few missing former students might even have evolved into a hermit society of local woodland wanderers grasping onto the Folk School campus as though it were a Mystical Shire Village in a land of folklore and fable.
When Mrs. Highlander and I arrived in the Blue Ridge Mountains in January 1995, we were more than fish out of water, we felt more like birds without a tree lost in a gigantic forest with minimal resources and even fewer business opportunities for a couple of commercial artist gypsies. In those early years it was great to spend time discovering the heights and depths of the majestic Blue Ridge Mountains on days when our late model Audi Quattro was behaving itself and we could afford the gas, which by the way was 87 cents a gallon at the time. On other days we spent time looking for commercial art projects and took short hikes near the three-room cabin on stilts that we were renting at the time.
With limited funds and greenhorn dispositions about us, Mrs. Highlander and I found long periods of time with nothing to do. I needed a hobby that was cost free and time consuming, since all of our personal belonging, including my guitars were still a thousand miles to the north, and the possibilities were quite limited. What I did have with me was a single blade 3-inch pocketknife and a small folding saw, which would sometimes accompany me into the woods where I would cut potential walking sticks. With nothing better to do, I spent hours cutting and shaving the bark off about a dozen walking sticks that I then gave away before deciding to try my hand at some self inspired, simple carving. An example of that carving can be seen in the Blue Ridge Highlander feature stories under the title, "The Promise."
My free style hand carving captured my attention away from the outside world for hours at a time. Chipping away on my new walking stick was meditative therapy and a great outlet for personal insight. My pocketknife woodcarving phase lasted for about two years at which time we moved our personal belonging to the mountains where I immediately took up my guitars and hadn't even scratched a stick since.
During those early days of exploring the mountain roadways, looking to capture images of a disappearing mountain culture, Mrs. Highlander I came across the John C. Campbell Folk School on the edge of the small artisan community of Brasstown located on the border of Cherokee and Clay County, North Carolina. The setting and history of John C. Campbell Folk School was as timeless as the mountains themselves.

Mrs. Highlander and I have always been touched by the Folk School's unique qualities and peaceful atmosphere. Over the years we have made many visits to John C. Campbell Folk School, and feel blessed to live close enough to walk their trails and enjoy their campus. For the past 14-years we have been following the Folk School, going to and reporting on their popular events and festival. All the while longing to enroll in one of their many courses, yet never allowing ourselves to take the time away from the Highlander to give ourselves that privilege.
It's Her Birthday
In early January 2011, Mrs. Highlander informed me that her birthday was coming up at the end of the month and that she had enrolled me in a weekend woodcarving class at the Folk School. Her intentions were to have me carve her birthday gift and wanted to know what I thought about this great opportunity. My first thought…how special for her to put me into a class I had no previous or formal instruction in; doesn't she know she set me up for possible embarrassment or failure? Did she not realize my personal reputation was on the line, that I was risking possible humiliation in the attempt? (writer suffers from ideas of grandeur as though its all about him)
Mrs. Highlander went on to explain the class was to be taught by an accomplished instructor, a woodcarving artist of the juried status and there was nothing to be concerned about. The goal of this particular woodcarving class was to create a Native American head and upper body out of cottonwood over a weekend, no pressure there.
Under the gun of it being Mrs. Highlander's birthday request and the fact that the Folk School has been a long time Blue Ridge Highlander fan, how could I say no? Within the mindset of my own personal insecurity issues however, how could I say yes?
I reluctantly agreed, well knowing this was something I always wanted to do yet lacked the nerve to try a formal hand at. Mrs. Highlander was excited that I agreed, I didn't say much, I didn't actually know what to say.
Visiting the Folk School in the past while taking photos of students and instructors for upcoming Highlander feature articles, Mrs. Highlander and I witnessed students who were creating incredible handmade projects. Many of the students were complete novices and their handcrafted projects astounded us in both quality and execution, it was one of those things that you had to see for yourself to believe it. Experienced artists and craft-persons as well attended many of the classes to further their own personal skills under the guiding hands of master teachers. A personal desire set to further mature and expand their own gift for creativity.

Back to School
After several weeks of reluctant yet desiring anticipation the big "make me a carving for my birthday," day came and I was off to school. The only woodcarving tool or make-do tool I had was my old 3-inch single blade Case knife, now 16-years old with an edge sharp enough to easily pass through a stick of butter. The Folk School recommends to those with woodcarving tools to bring them although excellent quality school tools would be provided for those that are only familiar with pocket, kitchen or electric carving knives (scissors skills didn't count.) I figured I would sharpen my Case knife when I got to class, just in case I needed a back up tool.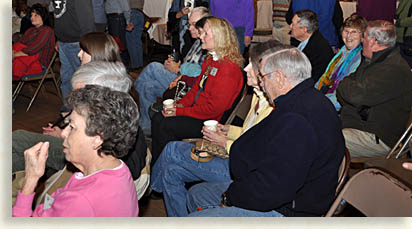 Weekend student orientation at John C. Campbell Folk School began at 5:30 pm Friday evening in the Keith House Community Room-Auditorium. At the orientation the friendly staff hostesses greeted the students and informed us of the school's policies and mission and went on give housing instructions to those staying on campus. Personally I live only 10 to 12 minutes from the Folk School campus and chose to commute to class. Besides it was mid-winter here in the mountains and I needed to feed the pets and keep the two wood burning stoves loaded.
Mrs. Highlander tagged along that evening so she could join me for the welcoming dinner after the meeting. At first I wasn't sure if she came along to make sure I showed up for class or she thought she needed to drop me off personally for big kid daycare. Her company was understandable considering it was her birthday weekend or to hear her tell it, it was her birthday week which from my recollection lasted about 10-days. With her week lasting 10 days, I told her I was shooting for a birthday month, so be prepared.
The students were then introduced to each of their class instructors. What made the biggest impression on me surrounded by a sea of eager students was when the hostess said, "When you're here at the school you can count on making friends and I mean you will make friends during your visit, I guarantee it." Personally I came to study, not to socialize; little did I know at the time how right the hostess's prophecy was.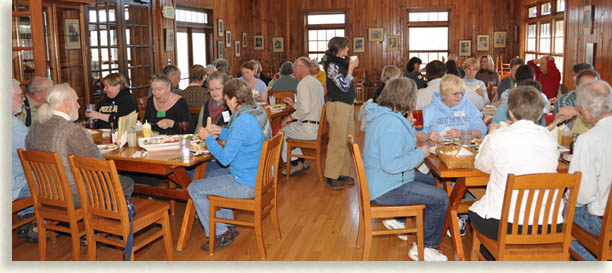 It was 6:00 pm when we made our way over to the Olive D. Campbell Dining Hall named after John C. Campbell's wife and co-founder of the school. The beautifully designed dining hall is one of the newer constructions on the campus idyllically following a style conducive to the historic buildings that are scattered throughout the campus. Everyone gathered in the hall selecting seating of their own choosing, all standing behind their seats as a blessing of the food was recited either in a short prayer or song, a very fitting prelude to the delicious family style dinner that was laid before us. Good food and good people, this experience was beginning to take an enthusiastic up trend for me.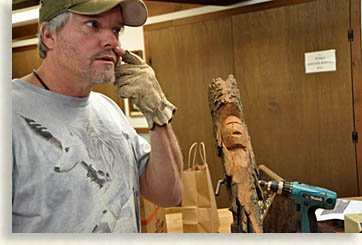 After dinner I bid Mrs. Highlander farewell for the evening and went to meet up with my woodcarving class back at the Keith House Community Room. There I met our instructor and woodcarving extraordinaire, Billy Reynolds from Tennessee. Along with Billy I met my weekend classmates, Ralph from Pennsylvania, Dewey from North Carolina, Sabrina from Tennessee and Matthew from Pennsylvania. After introductions at the Community Room we headed over to the Woodcarving Studio to get started, Friday evening class ran from 6:45 to 9:00 pm.
At the studio Billy briefed us on our class project which was to be a carving of a Native American head and upper body out of out of a piece of cottonwood that each student personally selected. It was like choosing a bark canvas to set our skills too, or for some of us our lack of skill.
After selecting our piece of cottonwood we headed over to the worktable where Billy had pre-mounted his own custom made steel swivel headed devise for holding our wood for us to work on. I expected to receive only instruction that evening when Billy let us know that weekend classes were time limited and we would need to get started right away. After mounting our wood piece to the stand and receiving tools for the craft we began by drawing an oval circle onto the wood bark in order to shape out a rough head. As we chipped away Billy continued giving us details that we would need to know to hone our skills. After prepping the wood surface, our class was dismissed for the evening.
Most of my classmates had rooming on campus; I began to be envious that they got to have the full campus experience. I live close to the school and needed to get home and load up the two wood burning stoves. Taking this class was a good way of breaking up a long winter season, normally our winters are mild, this one kind of got away from us, although this weekend was beginning to size up to be sunny and rather mild.
Day 2…the Moment of Truth
Accomplishing some prep work the night before helped me feel more confident knowing that Saturday was likely to be a long day for me, filled with newfound skills and techniques. Being more eager than I expected to be, I arrived at class early in the morning and was greeted by our instructor Billy who was preparing for class. From the moment I met Billy I felt a kinship to him, he's was personable, easy going, wise in his craft and non-intimidating to us novices longing to learn more.

Billy Reynolds is a true artist that really knows his craft, not just the techniques of his tools; he also has a greater understanding of the human and animal form, which makes his artwork so creatively true to life. Because there are so many classes offered at John C. Campbell Folk School, the school maintains both acclaimed resident instructors and renowned visiting instructors bringing a vast array of talent and skills to the campus.
After the morning greetings, we all gathered around the big table and listened to Billy's detailed instructions on how to carve a three-dimensional head resembling a Native America of the 1800s. Spending our evening before exposing the cottonwood's bark to its inner wood surface, Billy now instructed us to divide the oval shape into thirds, brow, eyes and nose, and chin. Now this is where all my anxiety about my limited skills began to collide.
As I stated earlier I've had some self-taught pocketknife experience at woodcarving, cutting shapes into walking sticks or carving something out of a forearm length of a natural shaped piece of wood. The images I carved look good, yet I was dealing in abstract not exacts. That's what I was looking for when I went from apprehensive student to committed student; the ability to have the understanding and confidence to produce a work that I felt was more real looking in results than surreal.
As we chiseled and chipped away Billy was instructing us on tool skills and tool maintenance, he was continually conveying his knowledge of the human face to us as we turned raw wood into wood chips. It was as though he was a skilled plastic surgeon instructing his interns. Billy went from work station to station, moving counter-clockwise around the table, spending valuable personal time and instruction with each student as he prepared them for independent work on their carving till his next time around. Billy's choice of using cottonwood was great, an excellent soft yet firm wood to carve into. Cottonwood grows on the great prairie lands west of the Mississippi River and a welcome sight to us hardwood forest people of the Blue Ridge Mountains.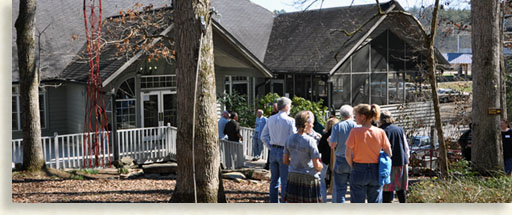 We broke for lunch at noon and headed over to the Olive D. Campbell Dining Hall for some good home cooking and fellowship with other students and visitors to the Folk School. These folks have traveled both near and far, intercontinental to abroad for this unique experience. My favorite part of this particular experience at the school was that I did not have to be the photo guy and note-taking journalist; I was the student and not the production director, though I did shoot some photos of my woodcarving progress.
Before lunch officially ended I headed back across the school campus to the Woodcarving Studio, my personal reluctant anticipation had now turned into serious eager anxiousness. Besides I was a man on a mission, Sunday was Mrs. Highlander birthday and this woodcarving class was driving this Highlander's mission.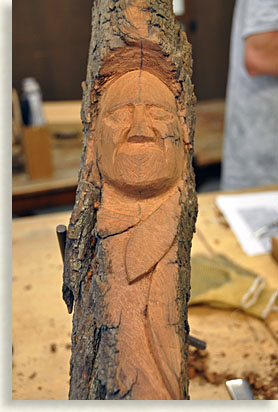 Back at my carving post I was on the clock and burning daylight, my colleagues joined me and we were off chiseling, chipping and chatting. I now remembered the JCC hostess telling us the night before to expect a life changing spirit in this unique creative atmosphere and know that you will make friends. As we each focused on our wooden subjects following along Billy's instructions the group started telling tales around the carving table of their life to each other, sharing insight into what makes each one of them tick. Camaraderie of souls captured the realm of the classroom from the oldest to the youngest of students. The fact that we were all progressing nicely, unleashed a spirit of creativity that illuminated our senses throwing everyone into a higher gear. We were all working hard pushing forward; the concern of possible defeat was now a march to victory over this piece of cottonwood.
Our instructor kept pressing us on tirelessly moving from student to student, as hard as we all were working, I have to admit that nobody was working harder than Billy. The evening before he assured us that we would succeed without failure, a tall order to promise yet a promise that was going to be kept.
The scariest part of the project was the facial features. We were working from our own internal design, no model to follow, just carving and shaping until Billy made his rounds to help with the details. Billy seemed to have a mantra, 90% of the time when you asked him how you doing, he would say "Go Deeper…Go Deeper."
If you needed help with a feature such as an eye and lid Billy would demonstrate his technique on an eye so that you could watch how he did it. After watching him it was easier to follow his pattern, yet for me it was the mouth that allowed no room for error. It was through Billy's knowledge of human face that I learned the corner of the eye socket was the deepest part of the face. Now, when it came to the nose, lets admit they come in all shapes and sizes, start big and if you make a mistake, give it a nose job, no extra charge. By now I'm feeling pretty good about my efforts even though I had a lot of work left to finish.
One of Billy's pearls of wisdom for our current and future carving projects, "don't be afraid of making mistakes, it's a part of the creative process." If you get disappointed put that piece away for a while and start another project, just keep the creative juices flowing, and most important, don't give up."
Not knowing what to expect from taking a class at the Folk School, I told Mrs. Highlander the night before I was to start class that I was only going to start small and simple so that I wouldn't disappoint myself. Now looking around the worktable I noticed my wood figure was larger than the rest of the class, a matter of personal low expectation had become a labor of love both for the sake of art and my undying affection for Mrs. Highlander.
Mrs. Highlander didn't let me in on one very important fact about the class; the Sunday class would be limited to only two-hours of production. Why only two hours? That's because on Sunday every student whether you're a weekend creative warrior or a week-long student, your handy work will all be put on display at the Keith House Community Room for exhibit. This knowledge alone might have been a deal breaker for me with my insecurities, it was good she didn't tell me, luckily by the time I found out I felt more comfortable with my project.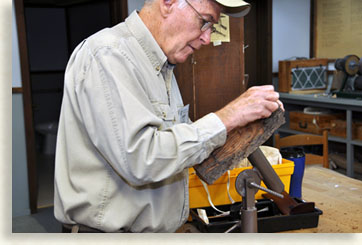 Saturday, around 4 pm my four colleagues were finished with their Native American carving and were applying a coating of Orange Oil and Beeswax to seal their creation. With time left on the clock Billy moved them onto a new project, Wood Spirit carving, an unexpected bonus from our instructor. A wood spirit is a carving of a bushy haired long bearded mountain man. Not only are Wood Spirits carved on small wall hanging and walking sticks, I've also seen them carved on fully matured trees in people's yards. I was envious, I would like to have done one as well, but I wanted to do more with Mrs. Highlander's birthday present so I would have to be satisfied with the thought that I could take another class and learn more at a later date.
We broke for dinner at 6 pm; we had all worked up a big appetite and were ready for some good comfort food. After dinner, on Saturday, some instructors offered optional additional studio time for eager students from 6:45 to 9:00 pm. By 6:45 everyone was back on the clock at the Woodcarving Studio, no one was about to leave this golden opportunity behind. My classmates continued on with their wood spirits while I toiled away on my noble red-man.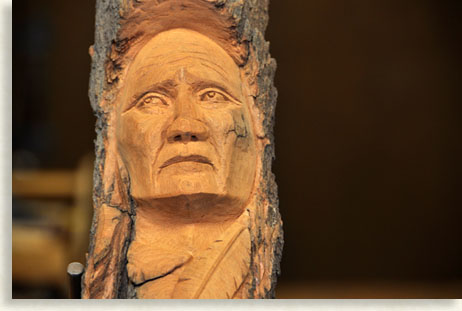 By 9 pm the other students called it a day when Mrs. Highlander showed up to take me home. Billy offered to stay on awhile so I could keep working while he chatted with Mrs. Highlander; it's not normal folk a school policy to stay that late, that was just Billy's greater sense of generosity.
Billy noticed that all afternoon and evening I kept using a small palm tool that belong to him, he joked to Mrs. Highlander that he got a kick out of watching me chip away with that tool while other students were gouging out shapes with large chisel. I didn't know if that was good or not, all he said to Mrs. Highlander and I was that he was going to give me that tool because I used it so much to pick, pick, pick, we all laughed.
By 11 pm I called it quits, Billy assured me I could come back in the morning and play some more, besides the two wood stoves back at the cabin weren't going to fill themselves.
Day 3…Who Would Have Thought
Sunday morning, I was up early and excited to arrive at school before class started. I was feeling the rush to finish my carving. I only had a little shaping, smoothing and shellacking left before show and tell, but only after classroom cleanup.
When I first met Billy I showed him my old pocketknife I hadn't sharpened in 14-years and ask him to help me put an edge on it. While I was coating my wood sculpture with an Orange Oil and Beeswax combination like the other students, Billy took my knife and put a fine edge on it for me. Because of the tools the Folk School provides its novice students, I didn't even need my knife but I was sure glad to have it sharpened.
While we were finishing our projects and cleaning up, other students and guests came into our class and kept complimenting us on our work heightening our confidence with each critique. Some of the students who commented had been in various classes all week and were impressed on how much our class had accomplished over just a weekend. Throughout the campus studios, students were completing their exceptional creations, readying themselves for the exhibit.
After cleanup there was a little time left till the end of class, this gave us time to talk as a group and checkout what each other had accomplished in class. I found it very interesting and obvious that each sculpture had its own character. Following no model in our particular class there was a uniqueness in each woodcarving, it was as though its facial features reflected something within its creator, each artwork possessing a character all its own.
Personally I thought some of my bits and pieces of Cherokee DNA should honor my sculpture, possibly with a title like "Chief, who would have thought," a reflection of the surprise of my accomplishment.
Going to John C. Campbell Folk School and getting the privilege of working with woodcarving artist and instructor Billy Reynolds made me eager to learn more, I informed Billy that he was likely to see me up at his studio in Townsend Tennessee for further individual instructions, this was only a beginning. He needed to teach me how to carve a Wood Spirit, not to mention a Bear, an Eagle and maybe a Wolf.
Individually we all made our way over to the Student Exhibit at the Keith House Community room for the Folk School's closing ceremony. On the way to the Keith House I received several more compliments, one in particular came from a visiting Master Potter who was wrapping up things with his class by the big outdoor wood kiln. What impressed him the most was the time limit our class had and on the quality of work we were producing within that time. I just told him "great class, friendly atmosphere and an incredible woodcarving instructor."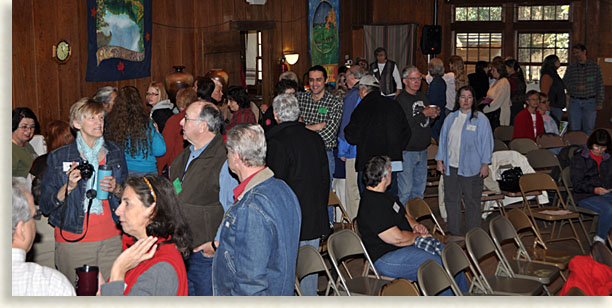 When I arrived at the community room, exhibit tables lined the walls with each area dedicated to an individual class. The room was beginning to fill up with color and beauty, a gallery showing of what's possible at John C. Campbell Folk School.
Students, instructors and guests began to fill the room, wandering about all the new creative works on display, admiring all the works to be seen. It was obvious that some students and guests were seeking inspiration toward a new challenge they might desire to take a class in on their next trip to the Folk School.
It was rewarding to watch folks lingering at our exhibits and admiring the work that was being shown. Mrs. Highlander caught up with me right before the Closing Ceremony and was disappointed in not having enough time to examine all the good works before the speaker began. All the students were congratulated on their fine work and then the instructors were invited up front, one at a time for a closing comment to their students.
After the ceremony closed we all made our way over to the dining hall for one last round of good home Folk School cooking. Oh…by the way did I mention that John C. Campbell Folk School offers a variety of cooking classes, well of course they do.
After bidding farewell to my classmates and other new friends that I made at the school that weekend, Mrs. Highlander and I went outside to enjoy what was a beautiful sunny and dry winter mountain day. Being it was Mrs. Highlander's birthday I presented her my woodcarving sculpture as her gift, which pleased her greatly. Easy come, easy go, at least I get shared custody with the carving.
Before leaving the campus, we stopped by the gift shop on the lower level of the Olive D. Campbell Dining Hall to admire all of the beautiful artwork created by local artisan and former students of the Folk School, great inspiration for future classes.
My weekend class at John C. Campbell Folk School turned out to be an experience I will gratefully remember forever and long to do again soon. The only flaw I saw was within myself, it was my reluctance and apprehension to feel uninhibited enough to express a part of me that has longed to come out. All I had to do to be successful was to show up, listen to directions and get out from under the weight of my own skin in order to be free enough in my spirit to give it an honest try.
The creative mind is a door that can be opened to escape from a world of outside pressure and into a solitary peace within, offering a sense of reward and achievement for our efforts. It's the unique atmosphere of the Folk School and its non-competitive philosophy that allows for the greater expression of the creativity that is within each and every one of us. The Folk School offers a guiding hand into what's often our own natural nature as a creator in a world filled with creativity. A unique world, when entered offers a sense of joy and peace held within the nature of creativity itself, locked away in the state of the creative imagination that needs no winds to sail, nor wings to fly.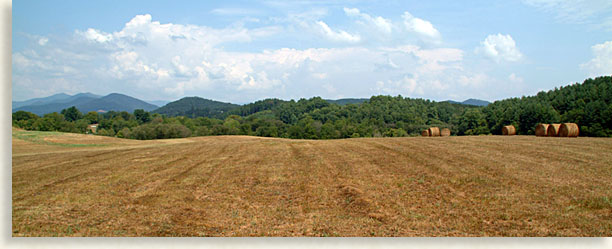 Driving away from the Folk School campus toward a distant mountain where Mrs. Highlander and I live we took in the local rural beauty of the landscape, I thought about the many residents of this land of valley and foothills who journeyed here in the distant past and especially those who have made their lives here for the last 30 years or less. I see the Folk School as the pivoting cornerstone of this region, a place where one turns from the outer to within. Its history, its mission and purpose, its legacy and all the tens of thousands of people the Folk School has touched is amazing, not to mention the effect on personal lifestyle changes it has impressed on its students and the surrounding community.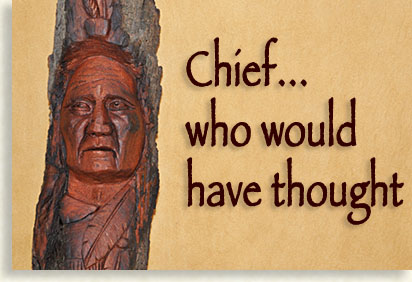 John C. Campbell Folk School is not only a destination for the education of arts and crafts, it is also the heart and soul of the mountain communities of Western North Carolina, North Georgia and far Eastern Tennessee. A location that seems lost in time where devotees to the cause have dedicated themselves to the preservation of the old as well as introducing some newer mountain ways into the local culture that has permeated right into the very heart of its followers.
Mrs. Highlander and I would like to thank John C. Campbell Folk School, its staff and instructors for helping us make our own skins a little lighter and to encourage others that have the inkling to open up their own creative self to unlock a joy that will carry them for a lifetime.
The Highlander
To order their latest class catalog, use this link...
www.folkschool.org/Catalog/