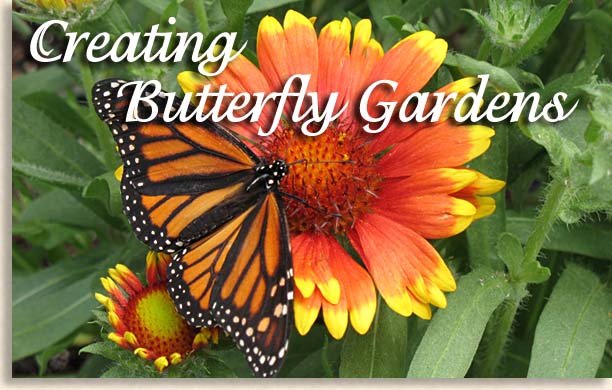 Creating a Banquet Butterfly Garden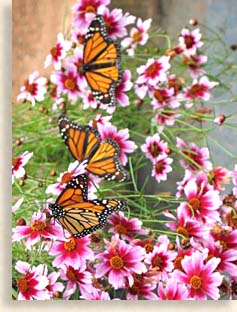 The perfect nectar menu for butterflies fluttering about in the Blue Ridge and Smoky Mountains can be created in an existing garden area or in a spot you choose for new beginnings.
In order to keep butterflies dining in your yard as opposed to your neighbors', you'll need a variety of blooming plants from spring to fall. A wider choice of flowers will appeal to a greater selection of butterflies.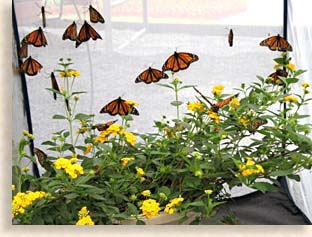 Choose a sunny location to produce more blossoms and feel free to mix annuals and perennials in the same garden.
Annuals will bloom all season while perennials generally have a more limited bloom time but return year after year.
Perennials may require a bit more initial investment but pay off for years to come. When choosing nectar plants, the old versions work best.
Modern hybrids are selected for appearance, compact growth, etc., and may have less nectar and fragrance. Flower color is also important to butterflies. They prefer purples and yellows followed by blue, white and red.
One perennial spring/early summer favorite is Lupine. This beauty prefers full to partial sun and neutral to slightly acid soil. A mix of Russell Hybrids will attract butterflies to your garden early in the season. Use them in borders to add height and vertical interest.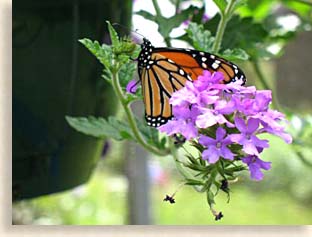 Another early bloomer and butterfly favorite is the perennial, Verbena Homestead Purple. It grows well in the landscape and pots or hanging baskets and prefers well-drained soil and full sun. Butterflies find this plant's nectar irresistible.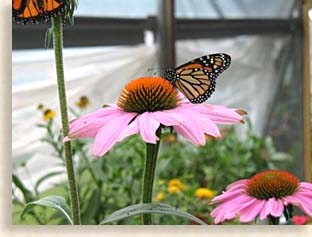 Purple Coneflower (Echinacea purpurea), is a gourmet to butterflies and grows well in average soil with full sun. The plant can be considered a candidate for the perfect perennial. The graceful, fragrant blooms sit high above the foliage and burst into a mass of color mid-summer to frost. The bright, nectar rich flowers draw Monarchs, swallowtails and many other winged visitors.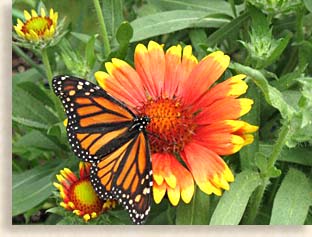 Blanket Flower (Gaillardia), our Monarch's favorite nectar flower, prefers full sun and well-drained soil. It blooms summer through fall with little maintenance. These sun lovers produce bright yellow, red and orange blooms. Not only do these flower attract butterflies but the winter seed heads are perfect food for Goldfinches.
Another nectar favorite is the butterfly weed (Asclepias tuberosa). These plants grow in dry soil and will form large clumps over time. New growth emerges slowly in spring and bright orange blooms abound from mid-summer through fall. Asclepias species (Milkweed) are also the exclusive host plant for the Monarch butterfly.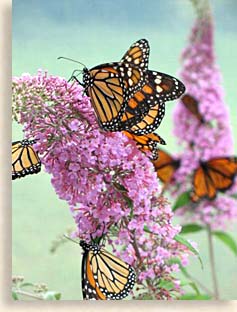 After depositing eggs on the foliage, a female may linger on the blooms for a nectar snack. Be sure and let the caterpillars munch the foliage so you can observe the entire, magical life cycle.
Last but not least in our banquet of nectar, is the Butterfly Bush (Buddleia). This large, woody perennial grows well in poor soil and blooms from June until frost if deadheaded. Our Monarchs' first choice is the pink Buddleia but they also enjoy purple, white and yellow.
This list of plants is by no means exclusive. Butterflies will visit hundreds of flowering plants. We encourage you to experiment and seek advice from your favorite independent garden center.
Butterflies are a symbol of new beginnings and good fortune. According to an ancient Indian legend…."if you want a wish to come true, whisper it to a butterfly. "