Menu
Carters Lake in Mountain City, GA
Gilmer County - North Georgia Mountains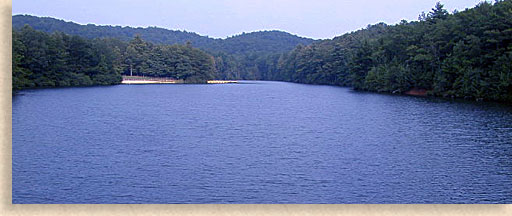 Carters Lake, the deepest of Georgia's reservoir lakes, is located in both Gilmer and Murray County. It was named after Farrish Carter who lived in the 19th century. It has a surface area of 3,200 acres (13 km2) and has 62 miles (100 km) of shoreline. Carters Lake is also more than 450 feet (140 m) deep.
Carters Lake, owned by the US Army Corps of Engineers, is a man-made lake without private docks or houses along its shore. This lake is fed by the Coosawattee River that runs between Ellijay and Chatsworth. Carters Dam, the tallest earthen dam east of the Mississippi, was completed in 1977. Since then, it has been used to act as a watershed to control annual flooding and generate power. Carters Lake is also used for various forms of outdoor recreation such as boating, fishing, water skiing, hiking, camping, and mountain biking.
Fish species: Largemouth Bass, Spotted Bass, Striped Bass, Hybrid Bass, Crappie, Walleye and Catfish.
Season: Open year-round, weather permitting.
Directions to the Visitor Center: From I-75, take Exit 320 in Resaca, go east on Hwy. 136, cross the bridge by the lake and turn left to the Vistor Center.
From Hwy. 515 between Ellijay and Jasper, take Hwy. 136 west and follow the signs to the Visitor Center.
Latitude: 34.6072 34° 36′ 25.92
Longitude: -84.6332 84° 37′ 59.52
Elevation: 1,112.3 feet (339.0 m)
For more Information and Licenses
U.S. Army Corps of Engineers
706.334.2248
Return to North Georgia Mountain Lake Directory
designed, produced and hosted by
The Blue Ridge Highlander logo, all photography, design, graphics, artwork, writing, digital images, etc are the
Copyright ©
of C. Wayne Dukes and Sherry Bell Dukes. 1996 to current day, except where otherwise stated. All rights reserved, reproduction, downloading, and/or duplication of any sort is strictly prohibited, all violations will be prosecuted.
Legal Policy
. If you have any questions, or comments, regarding this site,
e-mail the Highlander
.