Menu
Wayah Bald in the Nantahala National Forest Service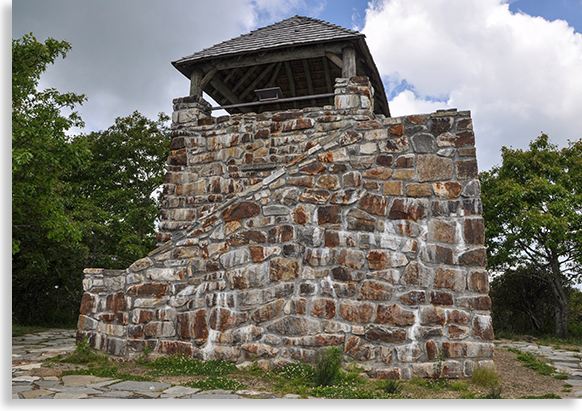 Enjoy panoramic views from 5,342 feet. On a clear day, you can see north to the Great Smoky Mountains in Tennessee and south to the rolling hills of Georgia. At Wayah Bald, visitors can climb a fire tower built in 1937 by the Civilian Conservation Corps.
A bald is a mountaintop generally devoid of trees. The dominant plants at Wayah Bald's summit are azaleas and mountain laurel. A picnic area is nearby. En route to Wayah Bald you'll see the 1916 Wilson Lick Ranger Station by Forest Road (FR) 69. An exhibit with historic photographs tells the story of this first ranger station in Nantahala National Forest. Wayah Bald is west of Franklin. Take U.S. 64 west to old U.S. 64 to SR 1310 (Wayah Road), then turn right on FR 69, a gravel road, a gravel road for 4.5 miles.
Forest Road 69, which runs from Wayah rd to the Bald, is closed from Jan 1 to April 1st. 
Directions: To reach Wayah Bald Lookout Tower Trail from Franklin, North Carolina, travel west along US 64 (Mountain Waters Byway) for 3.7 miles and turn right at the Wayah Bald directional sign (right on Old Murphy Road/State Road 1442, then a quick left onto State Road 1310/Wayah Road). Go 9 miles, turn right onto a National Forest Road 69, at the top of the ridge at the Appalachian Trail crossing, and go 4.3 miles to the end. 
Sadly the North Carolina forest fires on 2017 burned the top of the tower, and totally destroyed the 1916 Wilson Lick Ranger Station.
The good news...construction is underway to rebuild a mountain landmark destroyed by wildfire a year ago. The Camp Branch fire burned down the wooden framing of the Wayah Bald fire tower in Macon County's Nantahala National Forest.
for more information contact:
Nantahala Ranger District:
90 Sloan Roan
Franklin, NC 28734
828-524-6441
mailroom_r8_nantahala@fs.fed.us
designed, produced and hosted by
The Blue Ridge Highlander logo, all photography, design, graphics, artwork, writing, digital images, etc are the
Copyright ©
of C. Wayne Dukes and Sherry Bell Dukes. 1996 - 2018, except where otherwise stated. All rights reserved, reproduction, downloading, and/or duplication of any sort is strictly prohibited, all violations will be prosecuted.
Legal Policy
. If you have any questions, or comments, regarding this site,
e-mail the Highlander
.