Hiawassee GA - Georgia Mountain Fair at the Georgia Mtn Fairgrounds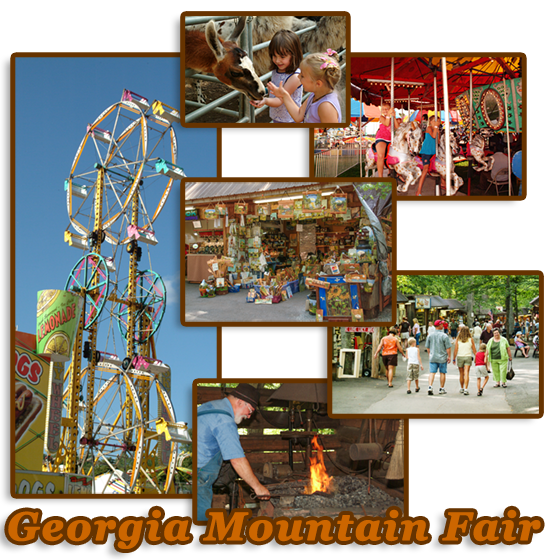 Georgia Mountain Fair at Georgia Mtn Fairgrounds
Friday, July 15
Arts & Crafts 10:00 AM - 8:00 PM
Music Show - 2:00 PM & 8:00 PM
Saturday, July 16
Arts & Crafts 10:00 AM - 8:00 PM
Georgia Mountain Fair Parade - 11:00 AM
Parade Route begins at Park Sterling Bank and ends at the Georgia Mountain Fairgrounds
Music Show - 2:00 PM & 8:00 PM
Sunday, July 17
Arts & Crafts 10:00 AM - 6:00 PM
Gospel Music Show - 2:00 PM
Monday, July 18
Arts & Crafts 10:00 AM - 8:00 PM
Music Show - 1:00 PM & 7:00 PM
Miss Georgia Mountain Fair - 8:00 PM
Tuesday, July 19
Arts & Crafts 10:00 AM - 8:00 PM
Music Show - 2:00 PM & 8:00 PM
Wednesday, July 20
Arts & Crafts 10:00 AM - 8:00 PM
Music Show - 2:00 PM & 8:00 PM
Thursday, July 21
Arts & Crafts 10:00 AM - 8:00 PM
Bluegrass Day - 2:00 PM & 8:00 PM
Friday, July 22
Arts & Crafts 10:00 AM - 8:00 PM
Music Show - 2:00 PM
Music Show - 3:00 PM & 6:30 PM
Single Acts - 8:00 PM
Saturday, July 23
Arts & Crafts 10:00 AM - 8:00 PM
Music Show - 2:00 & 8:00 PM
Music Show -3:00 & 7:00 PM
Single Acts- 8:00 PM

Additional Events/Attractions
Smokey Mountain Amusements Midway - Fun For All Ages
Friday, July 15 (Opens at 5:00 PM)
Monday - Friday 2:00 PM
Saturday 12:00 PM
Sunday 1:00 PM - 6:00 PM
Crafts and Exhibits
Fair Craft Show Application »
Daily Crafts and Exhibits hours are as follows:
Monday-Saturday: 10:00 AM - 8:00 PM
Sunday: 10:00 AM – 6:00 PM
Many crafts are made at the fair as you watch.
"Old Ways" Demonstrations
"Old Ways" Demonstrations will take you back to the "old ways" as local folks show how "moonshine" was made...corn milling...shake making... cider squeezing...pork skin frying...quilting...black smithing...soap & hominy making and more.
Pioneer Village
Pioneer Village is a replica of just how the ole mountain towns used to be. A mercantile store with products and goods that only your grandmother might recognize. An old, one room schoolhouse, a log home with furnishings just like it was in the 1800's, a smoke house, barn and corn crib are just like it was then. It takes you back.
July 22, 2018

Cost:

see above copy for costs
Categories:
Location:
Georgia Mountain Fairgrounds
1311 Music Hall Road

Hiawassee
,
GA
30546
USA

Venue Page

Weather
Map for Directions
Phone:706.896.4191
Website:
Click to Visit
Share this Event:
Email to a Friend







More...


Save this Event:
iCalendar
vCalendar
Google Calendar
Yahoo! Calendar
Windows Live Calendar
Other Dates For This Event: