Blue Ridge GA - BRMAA - Youth Art Month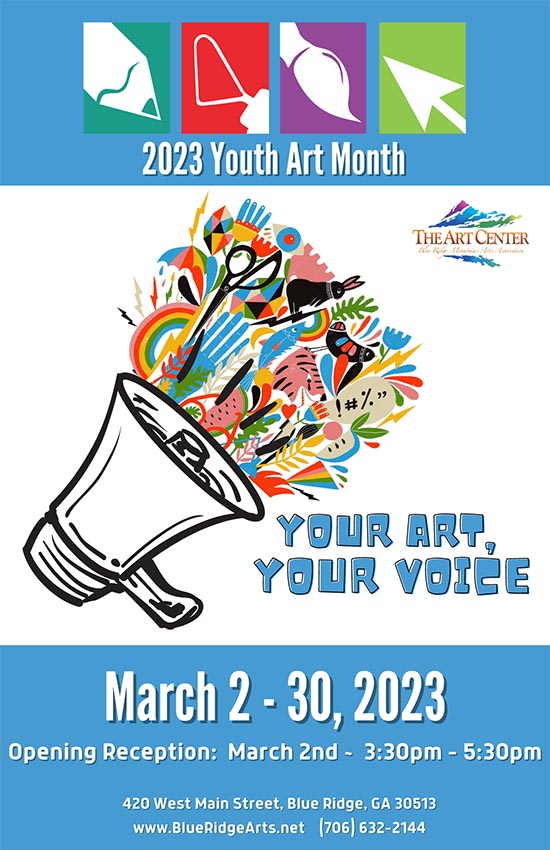 Youth Art Month
 Support our young and talented emerging artists during the nationally celebrated Youth Art Month. Young artists from Fannin County and Copper Basin area schools, as well as homeschool artists and students from the Radical Scholars program, will display their artwork inside the Richard Low Evans Gallery highlighting this year's theme "Your Art, Your Voice". Join us in celebrating the talent and hard work that goes into the quality arts education within our area. 
What is Youth Art Month (YAM)?
YAM was created in 1961 as a service to art educators and the public with the following objectives:

•Recognize art as a necessity for the complete development of a high quality of life for all people 
•Direct attention to art education as an effective vehicle to teach critical thinking, communication skills, self-expression and multi-cultural awareness
•Increase community, business and government support for art education.
Who participates?
Participation in the exhibit is open to participating school students in grades K-12 in Fannin and surrounding counties and homeschooled children from within Fannin County.
Thank you to the following educators who help make this year's exhibit possible:
Ali Lindstrom (BRES)    •    Lora Eisenhart (EFES)
Ben Sexton (WFES)    •    Dana Stone (FCMS)        
Holly Viccaro (FCHS)    •    Carmella Scott  (Radical Scholars)
Laura Meineke  (Homeschool students)

Opening Reception will be March 3rd from 3:30pm–5:30pm.
More information available online via BRMAA's website at BlueRidgeArts.net.
March 24, 2023

Categories:
Location:
The Art Center - Blue Ridge Mtn Arts Association
420 West Main Street

Blue Ridge
,
GA
30513
USA

Venue Page

Weather
Google Map and Directions
Phone:706.632.2144
Website:
Click to Visit
Contact:
Phone: 706.632.2144
Website:
Click to Visit
Other Dates For This Event: