Hiawassee GA - Georgia Mountain Fall Festival at the Georgia Mtn Fairgrounds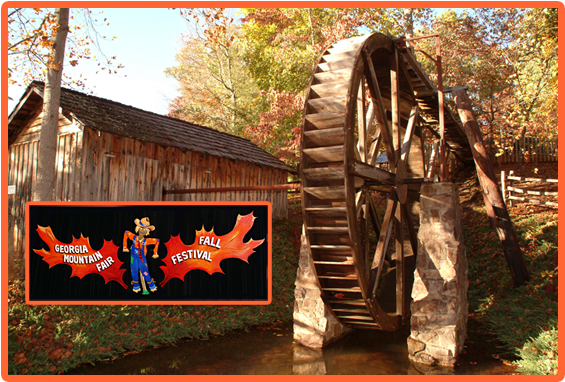 Georgia Mountain Fall Festival at Georgia Mtn Fairgrounds 
Look forward to the 2019 Fall Festival. With its mild temperatures and beautiful scenery there is no better place to be than the North Georgia Mountains in the fall. Each October, the 9-day event features exciting musical performances, Arts & Craft vendors, educational demonstrations, a flower show and the ever-popular Georgia's Official State Fiddlers' Convention.
Friday, October 11
Opening Day!
Flower Show - Opens at Noon
Music Shows - 2pm & 7pm
Larry Gatlin & The Gatlin Brothers
Jim Wood & The Georgia Mountain Fair Band

Saturday, October 12
Music Show - 2pm & 7pm
T.G. Sheppard
Stone Cold
Annual Amateur Music Show - 8pm

Sunday, October 13
Interfaith Worship Service - 11am
Levi Bowman
Gospel Music Show - 2pm
The Isaacs
Jordan's Bridge
Hyssongs

Monday, October 14
Music Show - 2pm & 7pm
Ronnie McDowell
Bottoms Up
Tuesday, October 15
Music Show - 2pm & 7pm
Crystal Gayle
Radford Windham

Wednesday, October 16
Music Show - 2pm & 7pm
Gary Puckett
Union GapFriday, October 11
Opening Day!

Thursday, October 17
Music Show - 2pm & 7pm
Earls of Leicester
Wyatt Espalin

Friday, October 18
Music Show 2pm & 5:30pm
Balsam Range
Frances Mooney and Fontanna Sunset
Fiddlers' Convention - 7pm
Competition Begins. Categories inclue beginning fiddler, harmonica, buck dancing, dulcimer, dobro and old-time banjo. Winners will be declared "Official Georgia State Champions."

Saturday, October 19
Fiddlers' Convention
Competition categories: senior fiddler, junior fiddler, bluegrass band, finger style guitar, flat pick guitar, banjo and mandolin
Additional Events/Attractions
Chases Racing Pigs
3 Show Daily

Pioneer Village
Pioneer Village is a replica of just how the ole mountain towns used to be. A mercantile store with products and goods that only your grandmother might recognize. An old, one room schoolhouse, a log home with furnishings just like it was in the 1800's, a smoke house, barn and corn crib are just like it was then. It takes you back.

Crafts and Exhibits
Daily Crafts and Exhibits hours are as follows:
Monday-Saturday: 10:00 AM - 7:00 PM
Sunday: 10:00 AM – 6:00 PM 
Many crafts are made at the fair as you watch.
October 19, 2019

Cost:

see above copy for costs
Categories:
Location:
Georgia Mountain Fairgrounds
1311 Music Hall Road

Hiawassee
,
GA
30546
USA

Venue Page

Weather
Google Map and Directions
Phone:706.896.4191
Website:
Click to Visit
Other Dates For This Event: