John C. Campbell Folk School - Friends & Family Day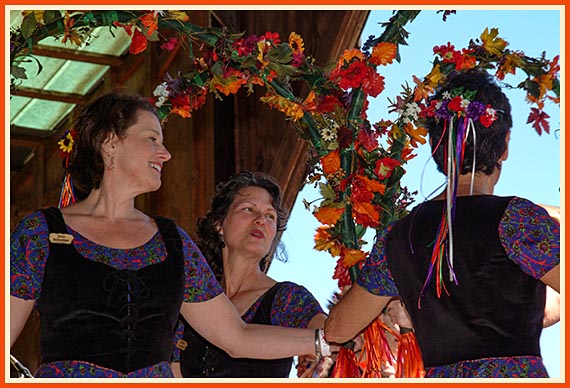 John C. Campbell Folk School - Friends & Family Day
Join us for a fun day at the Folk School!  Participate in hands-on craft, music, and dance activities. Tour our campus and learn more about the Folk School's programs. 

All ages welcome!
Stop by Keith House and pick up a Friends & Family Day map. Walk the trails (or drive) to the following studios where you'll make things with our artists and volunteers.


Open Studios:
Cooking: "Southern Succotash." It's not only fun to say, it's also easy and enjoyable to make. We'll have ingredients ready for small groups to prepare a portion -- and taste, of course!

Feltmaking: What do you get when you place brightly colored wool on a bar of soap and give it a massage in warm water? A felt-covered bar of soap! This is a great scrubby for dirty fingers, makes the soap last longer and easier to hold, plus it's a nice little gift.

Beekeeping (Nature Studies): Learn to appreciate bees. Watch a beekeeper demonstrate the gear and equipment used to manage a hive, discover how to build a simple wooden "hotel" to help native bees in your yard, and make a rolled beeswax candle to take home.

Blacksmithing: Want to be a blacksmith? Learn how to make a wall hook using fire, steel, and a hammer. 

Weaving: Can you imagine using drinking straws to make a simple loom? Try it, and learn to weave over & under for fun yarn creations -- a great take-along project. 

Quilting: Learn amazing fabric tricks to make four-patch, triangular, and hexagonal mug mats -- as easy as fold, sew, and flip! Quiltmakers will also show and explain the steps to making favorite traditional quilt blocks.

Clay: Give the wheel a whirl! Guide and manipulate clay as it turns on the potter's wheel to create a small bowl, and also learn to handbuild an animal out of clay. Clay Demo: Raku Firing

Woodcarving: Enjoy watching Brasstown Carvers at work. Wooden hearts and crosses will be cut and ready for you to sand to take home as a memento.

Jewelry: Make a copper-enameled pendant. Learn to texture a copper disc using the rolling mill, and then fire colorful powdered glass (enamel) onto it with a torch. 

Basketry: Using basketry reed, weave a colorful daisy for yourself or for someone special on Mother's Day.

Woodturning: Watch professional woodturners attach a block of wood to a lathe and use tools to shape the wood into a bowl or other amazing wooden item.

Painting and Drawing: Discover how to paint small watercolor landscapes that capture the world around us. Then try drawing the same subject matter with graphite while learning about composition and design elements. 

Marbling: Come transform ordinary white paper into a sheet of magical colors and beautiful designs with the art of marbling. No two are the same! 

Printmaking: Crank up the presses! Learn how to run a print on a tabletop proofing press to create your very own poster. 

Woodworking: Build your own little sailboat, a treasure you can play with in the tub or take to the creek to see it float. Along the way, learn about woodworking with hand tools.


See craft demonstrations and learn about the history of the Folk School in the History Center.

Watch Music & Dance performances by Brasstown Morris, Folk School Cloggers, Junior Appalachian Musicians, and more in the Keith House Community Room.

Visit the Craft Shop, open 8 a.m.-5 p.m.

Food made by local vendors will be available in the Keith House parking lot from 10 a.m.-2 p.m.


Music and Dance Schedule:

10 a.m. Dawn Davis, Celtic Harp
11 a.m. Brasstown Morris Dance Teams
12 p.m. Campbell Folk School Cloggers
1 p.m. Junior Appalachian Music Students
2 p.m. David Brose, Martin Sachs, & Kathleen Seacrest: Folklore & Music 
3 p.m. Ted Cooley: Tales and sing-a-longs
May 09, 2020

Cost:

Free
Categories:
Location:
John C. Campbell Folk School
1 Folk School Road

Brasstown
,
NC
28902
USA

Venue Page

Weather
Google Map and Directions
Phone:828.837.2775
Website:
Click to Visit