Hiawassee GA - Georgia Mountain Cooking Festival at the Georgia Mtn Fairground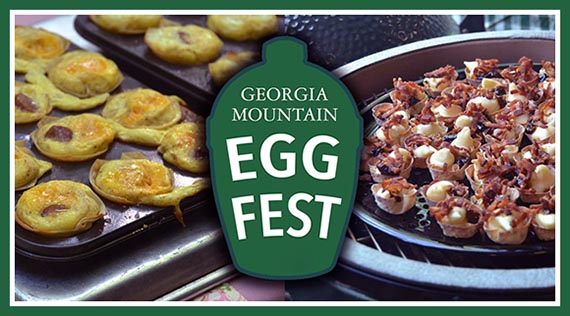 Georgia Mountain Cooking Festival
Don't miss the 10th Annual Georgia Mountain EggFest, May 14-15, 2021, in the beautiful North Georgia Mountains. Located in the most scenic of venues, this event hosts cooks and tasters from all over the US and Canada.
Tickets & Admission
Cook Tickets: Free  -  Taster's Ticket: $30
Please see our schedule of events here. Schedule is subject to change, so please check back often as we add new events, classes and guests.
Friday, May 14, 2021
5:00 pm
Meet & Greet and Registration
Saturday, May 15, 2021
7:00 am
Cooks Sign in and Setup
9:00 am
Let the Eggfest begin!
Tasters Sign In
3:00 pm
Cool Down
5:00 pm
Demo Pick-Up
Chef tickets are on Sale at Georgia Mountain Fair
Taster tickets are available now! Sign up early so you don't miss out.
If you are interested in purchasing an Egg that has been gently used for one day (*See Note below) with some significant savings, a demo egg is the way to go! All of our demo Egg packages can be pre-ordered by calling 706-896-3201. Please note, all sales are final and there are no refunds.

*Note: All the pre-sold demo eggs and nests that aren't required for eggfest use will not be assembled and will be delivered new and in the box.
Taking Your New Egg Home
All demo eggs will be ready for pick up after the last tasty bites are cooked. Please bring everything you need to secure your Egg in your vehicle and meet us at the front gate by 5:00 PM on May 15th, 2021. There will be staff members to help you load and secure your Egg for travel.
For detailed specifications on each egg, go to: www.biggreenegg.com/eggs/sizes
Limited Quantities

**Note** This year we are offering two free taster tickets with each egg purchase ($60.00 value). Please contact us for options and additional pricing.
Demo Egg Prices: 
Extra Large Egg with nest - $929.00

Large Egg with nest - $699.00

Medium Egg with nest - $599.00

Minimax Egg with carrier - $419.00
https://georgiamountainfairgrounds.com/localevents/eggfest
Cook Tickets: Free  -  Taster's Ticket: $30
May 15, 2021

Cost:

see above copy for costs
Categories:
Location:
Georgia Mountain Fairgrounds
1311 Music Hall Road

Hiawassee
,
GA
30546
USA

Venue Page

Weather
Google Map and Directions
Phone:706.896.4191
Website:
Click to Visit
Other Dates For This Event: