Blue Ridge GA - The Ancient Ways of the Cherokee and How We Can Use Them Today by Award-Winning Author and Naturalist Mark Warren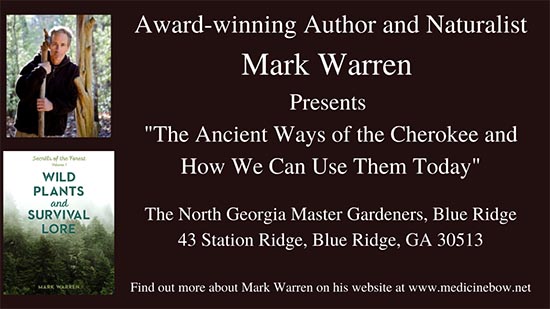 The Ancient Ways of the Cherokee and How We Can Use Them Today
by Award-Winning Author and Naturalist Mark Warren
Mark Warren, owner of the nationally renowned Medicine Bow Wilderness School in Dahlonega, GA, has been teaching nature and survival skills of the Cherokee to adults and children for half a century.
Mark believes today's society can - and should - learn some valuable lessons and skills from those native people who inhabited this continent hundreds of years before European explorers ever landed on its shores. He will be discussing how some of the most common native plants and trees were used by the Cherokee for food, medicine, insect repellent, crafts, shelter and fire. Mark will bring along some plants and handmade crafts for viewing and discussion.
Quote from Mark, "All of us who live in Southern Appalachia reside on land that once belonged to the Cherokee. While these native people led lives of intimate daily interaction with their natural surroundings, most folks today have reduced nature to a backdrop of scenery. The great deficit in this scenario is our lack of understanding that we still depend upon nature. That dependency is largely hidden to us, especially to the new generations that come along to take over the 'rules' of how we behave with nature - air to breathe, water to drink, energy to consume for our daily actions. These are commodities that are easy to take for granted. If taken for granted, humans will have no reason to respect and conserve the pieces of the puzzle we call ecology."
Mark has packed 50 years of teaching and knowledge about the Native Americans' everyday life skills into a four-volume series of books titled Secrets of the Forest, which he wrote with three purposes in mind:
1.) To provide clear instructions in primitive survival skills for anyone wanting to better his/her self-sufficiency in the wilderness . . . by learning the old Indian ways of living comfortably in the forest.
2.) To offer parents, teachers, scout leaders and outdoor educators a guide to engage their students in nature . . . at a time when our young ones so desperately need this connection, as does nature itself.
3.) To win over a new generation of environmental advocates who will look after this world.
Mark's Secrets of the Forest series will be available for purchase at this event. Find out more about Mark Warren on his website at www.medicinebow.net
This event takes place at the Fannin County School System Agriculture Facility
43 Station Ridge, Blue Ridge, GA 30513
May 22, 2022

Cost:

Free Event
Categories:
Location:
Fannin County School System Agriculture Facility
43 Station Ridge

Blue Ridge
,
GA
30513
US

Venue Page

Weather
Google Map and Directions
Contact: Susan Brown
Phone: 706-864-5928
Website:
Click to Visit