Chimney Rock NC - Annual National Get Outdoors Day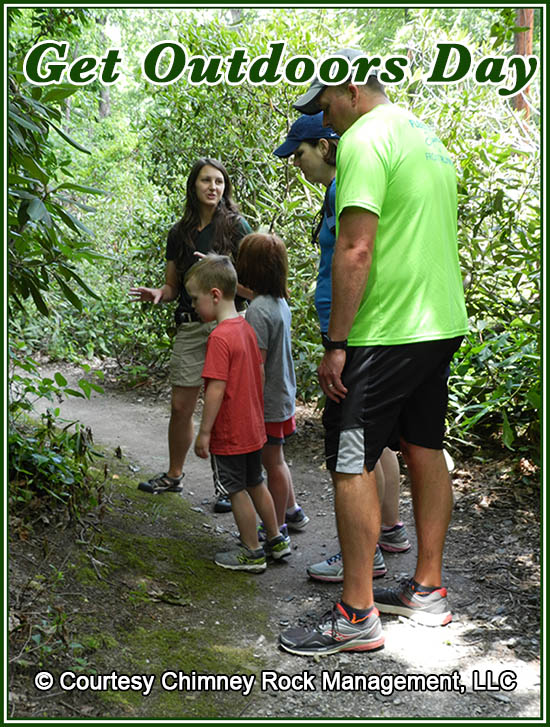 National "Get Outdoors" Day
This national holiday celebrates our favorite thing to do… get outdoors! Look for our discovery stations as you hike and learn some cool trail information and history from our naturalists. Plus, look for our friends from Fox Mountain Guides leading rock climbing demonstrations.
Animal Encounters programs will be offered throughout the day by Chimney Rock Management and will feature our on-site naturalists and resident Animal Ambassadors.

Guests can explore the Park's six trails and enjoy breathtaking views of the Hickory Nut Gorge and Lake Lure as they join this national push to get outside and enjoy nature. As you hike, be on the lookout for trail guides providing special science and history activities.
About National Get Outdoors Day
Get Outdoors Day was created to encourage Americans, especially youth, to get outside and enjoy the public lands around them including parks, forests, rivers and more. The program was started in 2008 and has been widely embraced by State and National Parks around the country as well as nonprofits and the recreation industry. Many of these organizations continue to promote Get Outdoors Day and offer programs and activities that encourage community participation.
About Chimney Rock at Chimney Rock State Park
Chimney Rock at Chimney Rock State Park is a still-developing international outdoor destination located 25 miles southeast of Asheville on Highway 64/74A in Chimney Rock, N.C. It is recognized as one of the Southeast's most iconic sites and popular travel destinations. The Park's 535-million-year-old monolith called Chimney Rock can be accessed via a state-of-the-art elevator or the nearly 500-step Outcroppings Trail. At the top, guests can enjoy 75-mile panoramic views of the Hickory Nut Gorge and Lake Lure. The Park features one of the highest waterfalls of its kind east of the Mississippi River, Hickory Nut Falls. Hickory Nut Gorge, is one of the state's most significant centers of biodiversity, and is home to 36 rare plant species and 14 rare animal species. A destination for travel groups, weddings and special events, the Chimney Rock section of the Park also hosts innovative educational programs for field trips, scout groups, and summer camps. Visit Chimney Rock's website for more information.
This nature holiday is a great excuse for people to not only get out and enjoy the great outdoors, but it is also a great opportunity to learn some fun outdoor activities.
Chimney Rock will host a variety of outdoor specialists and vendors that will give you information and gear demonstrations on activities such as hiking, rock climbing, camping and much more.
Mark your calendars for this fun, interactive event!
The event begins at 10 a.m. and stations will remain open until 3 p.m. Activities are included with paid Park admission.
June 10, 2023

Cost:

See Above Copy for Fees....
Categories:
Location:
Chimney Rock at Chimney Rock State Park
431 Main Street

Chimney Rock
,
NC
28720
USA

Venue Page

Weather
Google Map and Directions
Phone:1.800.277.9611
Website:
Click to Visit
Contact:
Phone: 8286259611
Website:
Click to Visit