Gatlinburg TN - Arrowmont - Adult Community (Short) Classes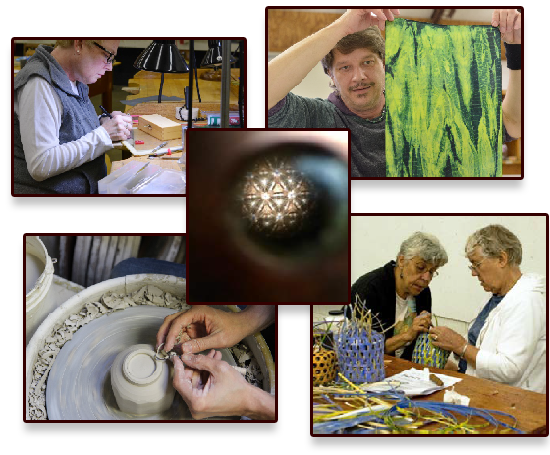 Adult (Short) Community Classes 
Enameled Pendants - Emily Culver - $90
In this short workshop students will focus on creating a pendant of their own design by learning how to cut, pierce and enamel metal. Students will have the opportunity to experiment with different possibilities of color and opacity to achieve something truly unique by the end of the third night.
Extruding Extravaganza – M. Paige Ward - $90
The clay extruder is often a forgotten tool in the clay studio. We often get tired of the same old company provided dies. Be introduced to the power of the extruder as a merely a tool as we make our own unique extruder dies and learn about altering existing ones in this workshop. From making vessels such as butter dishes, elements for your thrown vessels, and small pieces for sculpture, students will learn how the extruder can be a unique way to complement their own studio work.
Screen Printing 3 color prints in 3 nights - Kelly Sullivan - $90
Learn how to screen print in this three night workshop. Students will learn to coat screens, work on transparencies drawings, and expose screens for printing. By the end of the workshop students will learn to print using different registration techniques, how to remove the image from the screen and talk about their experience and finished prints. The class will also exchange prints to create a "Suite Print Portfolio."
Boxes, Boxes, Boxes - Scarlette Rouse - $90
In this class, learn to make small lidded boxes for any occasion! Students will make a Simple Lidded Box and a Chinese Hat Box. Both boxes will be made from dry wood and will be less than three inches tall. Learn how to make precise measurements to have a good fitting lid, how to use jam chucks to properly hold the material as we turn the boxes and do finishing cuts on the lathe. Open to all skill levels.
Kaleidoscope - Heather Ashworth - $90
In this Mini Lathe Class, get into turning with this fun and simple kaleidoscope class. Over the span of 2 nights learn the ins and outs of making this fun and unique wood object. Students will explore design and use basic wood turning skills on the mini lathe.
Duffel Bags - Max Adrian - $90
In this three-day workshop, students will learn basic pattern-drafting skills to create a unique, functional duffel bag of their own design. We will look at a variety of sewing techniques such as piecing and appliqué for the exteriors of our duffels before moving on to linings, pockets, zippers, and straps. Students are encouraged to use a variety of materials and/ or sewing techniques to create a one-of-a-kind statement bag, so bring any durable materials such as canvas, denim, or upholstery fabrics that you may like to incorporate into your duffel. Prior knowledge of machine sewing will be helpful but is not necessary.
Registrations are accepted on a first-come, first-registered basis. Class size is limited – early registration is recommended. Registration is by phone at 865-436-5860.
February 19, 2018

Cost:

See above for prices
Categories:
Location:
Arrowmont School of Arts & Crafts
556 Parkway

Gatlinburg
,
TN
37738
USA

Venue Page

Weather
Map for Directions
Phone:865.436.5860
Website:
Click to Visit
Contact: Ann May
Phone: 865-436-5860 ext. 28
Website:
Click to Visit
Other Dates For This Event: