Gatlinburg TN - STARRY NIGHT Under the Tent and the Stars on the Arrowmont Campus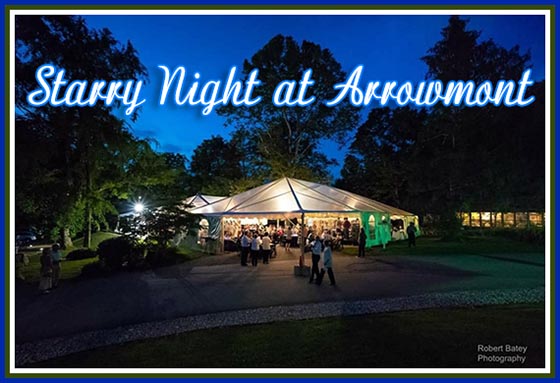 STARRY NIGHT
Under the Tent and the Stars on the Arrowmont Campus
Join us for STARRY NIGHT, Arrowmont's annual art and wine auction. Formerly Shine, Wine & Dine, the event provides a full evening of great food, wine, art, conversation, and fun.
During and after dinner, you can dance the night away to the music of Top Tier on the dance floor under the clear tent letting in the night and the stars.
A FABULOUS DOOR PRIZE – The winner will be able to bring their family and friends (up to 12 people) for an Art Indulgence weekend of relaxation, great food by Arrowmont's excellent chef, an evening at Anakeesta, and an arts and crafts workshop designed especially for you. The total value of this prize is $10,000.
STARRY NIGHT LIVE AUCTION ITEMS PARTICIPATING DONORS:
Anakeesta ∙ Arrowmont School of Arts and Crafts ∙ Erin Anfinson ∙ Dixie Biggs ∙ Sandy Blain ∙ HP Bloomer ∙ Barbara Bullard ∙ Harlan Butt ∙ Eric Cannizzaro ∙ Gary Chapman ∙ Linda Christianson ∙ Fran Day ∙ Peter Dellert ∙ Adrienne Eliades ∙ Stuart Gair ∙ Candace Gooch-Ward ∙ Ted Green ∙ Bill Griffith ∙ Suzanne Jack ∙ Stan & Chris Johnson ∙ Bob Lockhart ∙ Matt Long ∙ The Park Grill ∙ Megan Peden ∙ Jeremy Randall ∙ Peggy Schmid ∙ Stephanie M. Wilhelm ∙ Kari Woolsey ∙ Margit Worsham ∙ Nelson Ziegler
if you want more info right away, call Anne May, 865-436-5860 or email amay@arrowmont.org.
Sponsorships are available. For more information, call Fran Day, 865-436-5860
or email fday@arrowmont.org.
May 31, 2019

Categories:
Location:
Arrowmont School of Arts & Crafts
556 Parkway

Gatlinburg
,
TN
37738
USA

Venue Page

Weather
Google Map and Directions
Phone:865.436.5860
Website:
Click to Visit
Contact: Anne May
Phone: 865-436-5860
Website:
Click to Visit