Hiawassee GA - Georgia Mountain Fair at the Georgia Mtn Fairgrounds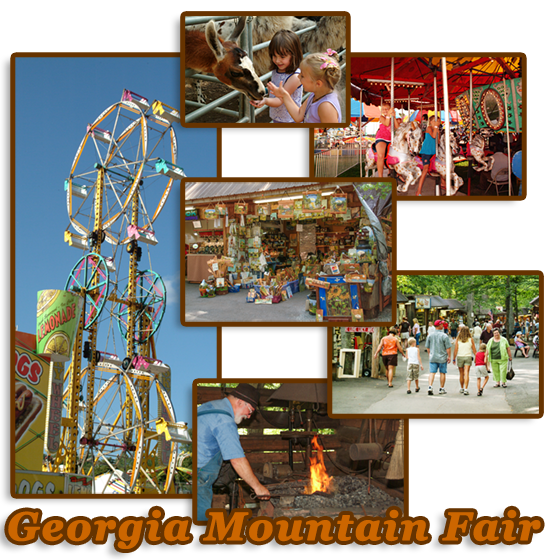 Georgia Mountain Fair at Georgia Mtn Fairgrounds
Look forward to the 69th annual Georgia Mountain Fair, held at the historic Georgia Mountain Fairgrounds this summer! Thousands of visitors from across the region have experienced the excitement and nostalgia that the event has to offer. With first class musical performances, arts & crafts, fun carnival rides, unique attractions and a glimpse into North Georgia's rich history and culture, the Fair provides something for every member of the family.
Free Parking - Sorry, No Pets Allowed
Friday, July 19
Opening Day!
Flower Show Opens - 2pm
Music Show - 2pm & 8pm
Pam Tillis & Family  •  Country River Band
Saturday, July 20
Georgia Mountain Fair Parade 11am
Music Show - 2pm & 8pm
Neal McCoy  •  Mountain Home Music
Sunday, July 21
Interfaith Worship Service - 11am
Jim Dykes
Gospel Music Show - 2pm
The McKameys  •  The Primitives  •  The Inspirations

Monday, July 22
Music Show - 12pm & 7pm
Booth Brothers  •  Kingsmen Quartet
Tuesday, July 23
Photography Exhibits Open - 10am
Music Show - 2pm & 8pm
Ricky Skaggs  •  High Roads
Wednesday, July 24
Music Show - 2pm & 8pm
The Spinners  •  High South
Thursday, July 25
Bluegrass Day - 2pm & 8pm
Del McCoury  •  Mike Snider  •  Jeff Parker
Friday, July 26
Music Show - 2pm & 8pm
Jim Wood & The Georgia Mountain Fair Band  •  B.J. Thomas
Saturday, July 27
Music Show - 2pm & 8pm
T. Graham Brown  •  The Grains of Sand Band

Additional Events/Attractions
Smokey Mountain Amusements Midway - Fun For All Ages
Friday, July 27 (Opens at 5:00 PM)
Monday - Friday 2:00 PM
Saturday 12:00 PM
Sunday 1:00 PM - 6:00 PM
Crafts and Exhibits
Daily Crafts and Exhibits hours are as follows:
Monday-Saturday: 10:00 AM - 8:00 PM
Sunday: 10:00 AM – 6:00 PM
Many crafts are made at the fair as you watch.
"Old Ways" Demonstrations
"Old Ways" Demonstrations will take you back to the "old ways" as local folks show how "moonshine" was made...corn milling...shake making... cider squeezing...pork skin frying...quilting...black smithing...soap & hominy making and more.
Pioneer Village
Pioneer Village is a replica of just how the ole mountain towns used to be. A mercantile store with products and goods that only your grandmother might recognize. An old, one room schoolhouse, a log home with furnishings just like it was in the 1800's, a smoke house, barn and corn crib are just like it was then. It takes you back.
July 23, 2019

Cost:

see above copy for costs
Categories:
Location:
Georgia Mountain Fairgrounds
1311 Music Hall Road

Hiawassee
,
GA
30546
USA

Venue Page

Weather
Google Map and Directions
Phone:706.896.4191
Website:
Click to Visit
Other Dates For This Event: