Andrews NC - Western NC Wagon Train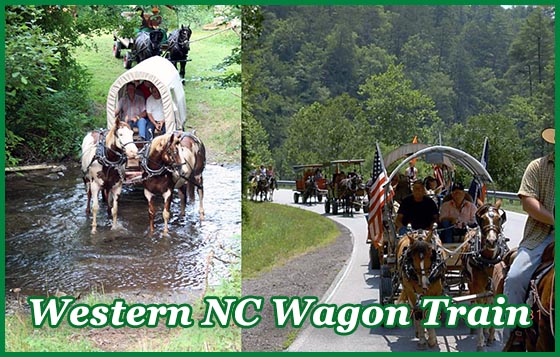 Western NC Wagon Train
First ride will go out June 28th. We will stay in Andrews each night camping in the same field through July 6th.
We will have a Pot Luck Dinner at 6pm this year to allow everyone to get together and socialize. The Scholarship award and Good Neighbor award will be given at the dinner. Scholarship funds have been expanded to also be given out to help needy families. Please check out our new policy on our Scholarship page.
4th of July Parade on July 4th in Downtown Andrews
Other awards will be given out after our parade on July 4th.
Layover day will be July 1st and July 4th, when we will have our layover games and activities. We will parade town on July 4th at 6 p.m. Please be sure to bring Decorations for your horses and wagons for the Parade! Sealed Candy to toss to the kids is OK. Let's make this a year to remember! The mayor, James Reid, of Andrews along with others chosen to judge will be in town watching us go through town to award a participant with one of 8 awards to be given out that evening.
This year we plan to have a Team Pulling Contest,Kids Games, both Horseback and ground games, and more!
For more, visit http://www.wncwagontrainnc.com. 
WNC Wagon Registration Information
Family $40.00: Husband, Wife and Children under 18 years of age 
Individual $25.00: Individual 18 years of age or older
ARM BANDS (will be worn on left wrist at all times - NO EXCEPTIONS!) Arm bands come with the price of admission. If you lose your first armband, you must come to registration and pay $2 for another arm band.
Coggins
All Livestock must have a current Negative Coggins Test to Enter Camp. You will need to have a copy available upon request.
Animal Care
Please make sure to water all stock as often as possible to prevent dehydration while on the trail. Also be sure to cool stock first before watering when returning to camp to help prevent colic. The Western North Carolina Wagon Train Staff will be able to contact a veterinarian if need be. It is recommended that all animals have on shoes as the terrain is rough.
June 29, 2019

Cost:

See above copy for cost
Categories:
Location:
Western Carolina Wagon Train Trailhead
Robbinsville Road and Hwy 74

Andrews
,
NC
28901

Venue Page

Weather
Google Map and Directions
Phone:828-557-0602
Website:
Click to Visit
Contact: Sande Kimball
Phone: 828-557-0602
Website:
Click to Visit
Other Dates For This Event: