Gatlinburg TN - Arrowmont - Holiday Classes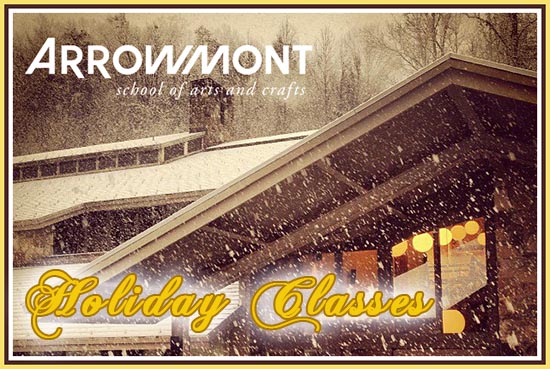 BAKING BONANZA ・ JENN BLACKBURN ・ CULINARY

METAL PHOTO ORNAMENTS ・ VICKIE BRADSHAW ・ METALS

WINTER WONDERLAND WATERCOLOR ・ PAIGE BURCHELL ・ DRAWING

SEW A STOCKING ・ KELLY HIDER ・ TEXTILES

HOLIDAY GNOMES ・ LUKE HULING ・ CERAMICS

FUNCTIONAL SNOWMEN ・ JACKI PROFFITT ・ WOODTURNING

ENAMELED SUGAR COOKIE CUTOUTS ・ JOLYNN SANTIAGO ・ ENAMELS

GELLI PRINTED HOLIDAY CARDS AND TAB-BOUND JOURNAL ・ KELLY SULLIVAN ・ PRINTMAKING

HOLIDAY PRINTS ・ ALEX YOUNGER ・ TEXTILES

use link for full description of classes. 

Arrowmont offers a variety of workshops for kids and adults on December 7, 2019. Lunch is included.

Registrations are accepted on a first-come, first-registered basis. Class size is limited - early registration is recommended. Registration is by phone at 865-436-5860.

Following the Holiday Classes, bring your family and friends for a Holiday Concert. Tickets are available at the door. We invite you to join us in celebration!

 

 
December 07, 2019

Cost:

See above for prices
Categories:
Location:
Arrowmont School of Arts & Crafts
556 Parkway

Gatlinburg
,
TN
37738
USA

Venue Page

Weather
Google Map and Directions
Phone:865.436.5860
Website:
Click to Visit
Contact: Ann May
Phone: 865-436-5860 ext. 28
Website:
Click to Visit