Fannin County History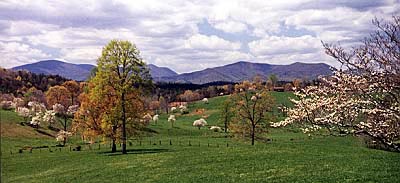 Fannin County was approved as its own entity, by the State of Georgia in 1854 from parts of Union and Gilmer County. The town of Morganton was the site for the Fannin County seat. Farm communities and modest towns were quickly becoming permanent fixtures within the county.
Controversy arose in Fannin County when the railroad proposed to build a rail line through the mountains. Morganton felt the railroad should naturally go through the county seat, the railroad didn't feel that Morganton provided the best route. Although much controversy erupted before the final decision, the railroad chose another location for the railroad hub.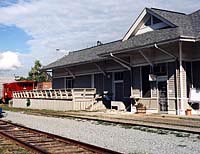 As a result of this decision, the town of Blue Ridge came into being, and was incorporated in 1887. Blue Ridge took its name from its location at the southern gateway of the Blue Ridge Mountains.
The future had arrived in Fannin County as of 1889, the railroad would carry passengers supplies and modern convenience to this new frontier, while hauling raw materials from the mountains to the low lands.
Blue Ridge became a boom town as a result of "the great iron highway." Entrepreneurs, investors and tourists headed to North Georgia in the late 1800's and early 1900's, for much the same reason they do today. Visitors flocked to the mountains, to get away from over crowded cities, and stay in one of the many hotels or summer homes, not just for a weekend but for longer periods of recuperation.
Mineral potions were the rage during this era, and Fannin County had pure mineral springs. These springs' boast of rejuvenating powers for all your ailments. Many people attested to the curative properties of the mineral springs and their own personal healing miracles. Most felt it was a combination of good water, fresh air, wholesome foods and the lack of stress offered by the beautiful landscapes and the laid-back mountain lifestyle. Visitors returned home after each visit with a fresh outlook and they have been returning seasonally for over 100 year.
All attention was on Blue Ridge during this time. Hotels and inns sprang up along both sides of the tracks as well as restaurants, dry goods stores and stables. A railroad hub-machine shop was built in Blue Ridge, employing a large numbers of people from the county. Prominent homes were being built along with schools and churches. This growth required Fannin County to eventually move its county seat to Blue Ridge for convenience sake in 1895.
Over the next dozen years, travelers from Atlanta and Knoxville came to this popular luxury resort and health spa area, by the droves. The demands were so large that the railroad had to add "extra" and "special" passenger trains to an already busy rail line.
An 1887 newspaper article in from the neighboring town of Ellijay, gives us a view of the activity that was present during the birth of Blue Ridge, the railroad and the mineral spas.
"Its hills that jut up in mid air kiss the first rays of the morning sun and are fanned by an undisturbed breeze. Fannin County stands at the head of the list of American counties for health, the mortality being only five percent. As a health resort, it stands without superior and those who are disposed to invest capital that way are not slow to perceive its splendid inducements.
There are also a number of mineral springs in the town that deserve more than a passing notice. Lots are being sold almost every day, and on last Tuesday seventeen lots were sold, and as captain Frank Walton remarked, "It wasn't much of a day for selling lots, either." People from all over the state and many without are investing in Blue Ridge dirt, if for no other purpose than to await future development. More could be said in this article, but we wait for another issue.
With a $700 church, a $1,000 Academy, a $40,000 hotel, and other attendant improvements, we see no reason why Blue Ridge, with all her mineral wealth and her health given chalveate water, may not yet bloom out the pushing town of North Georgia Messers. McKinney and Walton, who own the real estate, intend to make a town of that place whether fate so decrees or not."......The Ellijay Courier, 1887.
Visions for a great mountain city were born out of raw forest, mineral springs, iron rails and a lot of capital investments. Blue Ridge was preparing a great stage for the "Gilded Age," high society, social fare, good health and daring investments. During this era the town of Blue Ridge grew, not by humble abodes, by homes of substantial means. Visionaries and idealist thought they were on their way to building a new Utopia.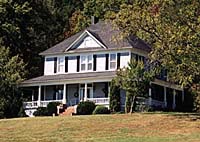 Up the rail line from Blue Ridge was Mineral Bluff, another Fannin community, known for its inspirational water and spa retreats. Mineral Bluff pre-dates the railroad and grew quickly to accommodate the accelerated growth. Over time, Mineral Bluff drifted quietly back into the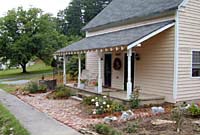 tranquil little community that it is today.
In 1906, the railroad's machine shops were moved further up the line into Tennessee, the progressive momentum of Fannin County was beginning to slack. The hordes of mineral mining was running thin. By the 1920's, 80% of the ancient forest was lost to loggers, land clearing or disease. Copper mining defoliated 60,000 acres before its halt, some of which were in northern Fannin County, although the majority of the copper mining was done in the southeastern corner of Tennessee.
The demand for raw materials seemed inexhaustible, the land yielded its bounty, and had no defense. Vast land tracts were barren and in need of replenishing, nurturing and preservation, a great atrocity had been committed. In the end, the users and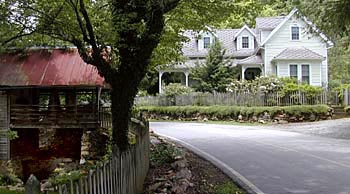 takers had to turn their less than conscientious pursuit into a conscience awakening.
In the southern high mountain valley of Fannin Country, along the subtle banks of the Toccoa River, is a mountain farm community named Dial, Georgia. Founded in 1834, Dial was one of the first communities settled in this region. The charm of this community, is that there's no town. Small farms and a hand full of modest homes dot the fields and river banks. There are also landmark constructions of barns, out buildings, a large double decked porch farm house and quaint Victorian farm house to mention a few. This community hasn't' seen a change in over 100 years, lets hope it never does.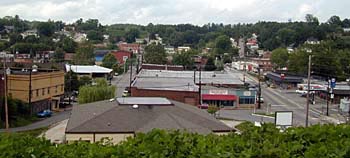 McCaysville is a classic river town on the border of Georgia and Tennessee. The railroad and copper mines put this town on the map. Copperhill Tennessee is directly adjacent to McCaysville, unifying the two river communities as border towns or twin cities.
The history of these two towns have seen a seesaw of growth, natural disasters, economic wealth and failure. Presently the twin cities are proud of the comeback wave it is now experiencing at the close of this Century.
Just south of McCaysville you'll find Epworth, originally a farm community, mostly residential today with an old country store, definitely worth checking out, and post office. Epworth is located on the route between Blue Ridge and McCaysville.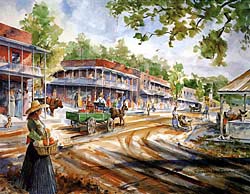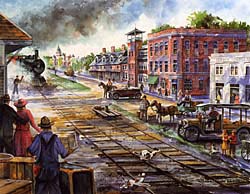 Paintings by Richard Lowe Evans, courtesy of the Blue Ridge Arts Association and Mrs. Dot Evans. Prints and note cards are available for sale at the Blue Ridge Arts Association.
More on Fannin County
Fannin County, Blue Ridge, Morganton, Mineral Bluff, McCaysville, Dial, Epworth, Aska Adventure Area Community Profile
Gateway to the Mountains, editorial on Fannin County and Blue Ridge Georgia