Menu
Waterfalls in the Rabun County in the North Georgia Mountains
Angel-Panther Falls
By following the trail on the west side of Joe Branch for .6 mile. you'll come to Panther Falls, continue on another .3 mile. and you'll reach Angel Falls.
Directions: Take U.S. 23/441 south from Clayton for 7 mile. Turn right on unmarked county road for .1 mile., then left on GA Hwy. 15 for 2 mile. Turn right on County Road 10 for five miles and enter Rabun Beach Campground #2 and go .2 mile. and park on right in parking area. where you'll find the trail head to the north
Becky Branch Falls
Five minutes from downtown Clayton is the 20 ft. cascading Becky Branch Falls. Easily accessible by road and trail.
Directions: East from Clayton on Warwoman Road, 2.8 mile. Park on left side of road by branch. Hike up the trail on the right side of branch 200 yards to base of falls.
Dick's Creek Falls
This fall drops a shear 60 ft. over a granite mound and into the Chattooga River.
Directions: Take Warwoman Road east from Clayton for six mile. and turn right on Dick's Creek Road or Sand Ford Road. Drive .5 mile. and take a left across the creek. Go 3.5 mile. and cross second ford and park at Bartram Trail sign. Now follow trail north to Dick's Creek then follow creek to the falls.
Holcomb Creek Falls
1.3 miles in length, the Holcomb Creek Trail starts at the junction of Hale Ridge Road and Overflow Road. The trail takes you to both Holcomb Creek Falls and Ammons Creek Falls and an observation deck.
Directions: From the HWY 441/ Warwoman Rd intersection in Clayton, take Warwoman Rd E for 10 miles. Turn left onto Hale Ridge Rd (FS 7) for 7 miles until it intersects Overflow Rd (FS 86).The first trail head is located across from the intersection of Hale Ridge Rd and Overflow Rd, and is marked with a blue band around a tree and a rock engraved with Holcomb Creek Trail. Parking is limited at this location.Better parking and a second trailhead can be found by turning left and heading up Overflow Road for about 0.5 miles. Turn right onto FS 696 and there is an open area on the left for parking. The trailhead is marked with a brown post and can be found near the bridge passed on the way to the parking area.
Waterfall Description: The 1.75 mile loop trail that encompasses Ammons Creek Falls and the 120-foot Holcomb Creek Falls gives visitors a look at an entire waterfall system. It is from the stream that feeds it at the top to the water flowing downstream away from the base of the falls. The trail can be accessed at two points, one at the intersection of Hale Ridge Road (FS 7) and Overflow Road (FS 86), and the second further up Overflow Road just past a bridge. The trailhead near the bridge offers a gentler slope and easier access to the falls. Hike Difficulty: Moderate
Martin Creek Falls
A two tiered waterfall, 35 ft. in height. Follow the Bartram Trail along the west side of the creek for 1/2 mile.
Directions: Go east from Clayton on Warwoman Road for 3 mile. and turn left on F.S. Road 152 driving pass the Game Checking Station. Go .5 mile. and park in small camping area on the left at a sharp left bend in the road. Hike west from camping area, cross Martin creek and go uphill to the top of the falls, about .4 mile.
Minnehaha Falls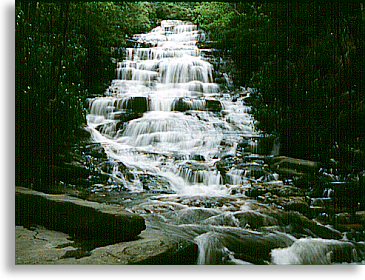 Follow Minnehaha Trail along Fall branch .4 mile. to a dead end. Minnehaha Falls is approximately 100 ft., stair stepping all the way.
Directions: From Tallulah Falls, take U.S. 23-441 north for 3 mile. to Rabun Beach Recreation Area and turn left on Old 441. Go 2.5 mile. and turn left on Lake Rabun Road. Go 1 mile. past the Recreation Area and turn left on Low Gap Road (look for Flat Creek Community sign.) Follow Bear Gap Road (which forks to the left,) 1.5 mile. to trail on right side of road.
Mud Creek Falls
Alias "Little Estatoah," this fall drops 100 ft. and into the Estatoah Falls in Dillard.
Directions: Go north from Clayton on U.S. 441 and turn right on GA Hwy. 246 towards Sky Valley. Turn left at Sky Valley's entrance gate, then right on Tahoe Road and continue to the falls.
Caution: Keep in mind, waterfalls are beautiful, but they are not to be climbed on, they can be dangerous, people have been seriously injured and in some cases have lost their lives climbing on waterfalls, they are posted for a reason, so enjoy while you are there and take a photo home to remember.
Printable
State • Town • City • County • Guide
If you would like to know what towns are in which county,
use these printable pages to find out.
North Georgia Mountain • Printable City and Town Guide
Other Blue Ridge Smoky Mountain Waterfalls
designed, produced and hosted by
The Blue Ridge Highlander logo, all photography, design, graphics, artwork, writing, digital images, etc are the
Copyright ©
of C. Wayne Dukes and Sherry Bell Dukes, 1996 to current day, except where otherwise stated. All rights reserved, reproduction, downloading, and/or duplication of any sort is strictly prohibited, all violations will be prosecuted.
Legal Policy
. If you have any questions, or comments, regarding this site,
e-mail the Highlander
.