Historical Rutherford County
Rutherford County founded in 1779, borders a natural gateway into the Blue Ridge Mountains. It is the oldest operating county government seat in Western North Carolina with a wealth of new world history whose Colonial frontier was settled long before the American Revolutionary War.
During colonial times many Scotch-Irish and some English pioneer families traveled down the Great Wagon Road from Pennsylvania and Virginia. These hardy settlers were looking for a new start along the western frontier when they made their way into this region of far Western North Carolina in the mid-1700's. These colonial frontier families formed a new life for themselves in a wilderness country that was being pressed on both sides by outsiders as well as their own adversaries within. To the east lay British tyranny pressing with taxes, military power and government, to the west in the mountains of the Blue Ridge lay the Cherokee nations whose warriors pressed back hard against the advancing settlers, declaring "no more yield to native land." To make matters worse, within the colonials own new settlements were families loyal to the British Crown, the Tories.
Prior to the War of Independence, Rutherford County was named Tyron County; its county seat was at Gilbert Town, established in the mid-1700's. At the outset of the Revolutionary War patriots defending their settlements and fighting for their own independence would soon bring a new and welcomed county name change to the region, the namesake being a local patriot war hero named General Griffith Rutherford.

Several early forts were built in the region prior to the war in order to protect these Colonials from their enemies. These forts and blockhouses were named Fort McGaughey, Fort McFadden, Pott's Fort, Hampton's Fort, Munford's Fort and Earl's Fort. Problems began to escalate at the outbreak of the war when the Colonials found it necessary to first take the fight to the Cherokee who had allied themselves with the British in order to drive out the white settlers. With the help of the Cherokee the British themselves sought to put down the Colonialist rebellion once and for good.
In 1776, the British instigated their Cherokee allies, particularly a war party of young Cherokee warriors, to raid the frontier settlers, causing a massacre of 30 to 40 settlers along the nearby Catawba River to the east. General Griffith Rutherford of North Carolina who was stationed at Fort McGaughey was commission to put an end to the raiding parties.
Gathering a force of 2,400 men, Rutherford set out on a 40 day mission to destroy the Cherokee towns deep within the Blue Ridge Mountains and any braves that stood in their way. Living on what supplies they brought along, this sizeable force made an amazing journey into the deepest and wildest reaches of the southern Blue Ridge Mountains. This large expedition destroyed 35 Cherokee towns, their goods and livestock. Although General Rutherford was concerned about ambushes against his command, the real truth of the matter was that the Cherokee recognized the invading forces sheer firepower and fled out of harms way leaving their towns almost completely deserted. The number of Cherokee casualties and prisoners were low due to their exodus into the deep mountain forest though their personal loss in material and substance was devastating.
The amazing route General Rutherford followed on his campaign was nearly the same precise route today's major highways follow throughout the interior of the western Blue Ridge Mountains. General Rutherford obviously had excellent scouts, likely using both frontier hunters and Native American guides who were familiar with this mountainous region known as the Cherokee Middle Towns, making this dramatic expedition both effective and timely. Today this route is known as Rutherford Trace, the trace-route is documented along these same roadways and by-ways by numerous historical markers baring the expedition's exploits. With most of the local Cherokee problem put to the side for a while, it was now time to deal with the local British's Loyalist, the Tories. Brigadier General Griffith Rutherford fought many battles against the British and Tories; due to his wartime exploits he became a noted and courageous war hero whose name has become synonymous to this region's history.
At this time, the local Tryon County seat, saw both the British along with their loyalist Tories and the American patriot's separately camping their troops at Gilbert Town during different times. Once the patriots gained control of the region, Gilbert Town located on Rock Road just north of Rutherfordton, became the new Rutherford County seat from 1781 to 1785 before being moved to the newly founded town of Rutherford Town, later shorten to Rutherfordton. All that remains today of Gilbertown is a historical marker for the original construction site. Because of its pre-revolutionary heritage during the mid-1700's, Rutherford County founded in 1779 is considered the oldest continuing body of government in far Western North Carolina.
During this revolutionary time, a call to arms brought the Overmountain Men thru Rutherford County. These rugged men were made up of crack shot frontiersmen from the upper Blue Ridge Mountains and the upper Tennessee Valley. As the Overmountain Men marched through the county they gathered local recruits from October 3rd through the 5th while on their way to encounter Major Ferguson at the Battle of Kings Mountain. It was this battle that helped decisively turn the Revolutionary War's Southern Campaign into an American Patriot Victory.
The Overmountain Victory National Historic Trail, which also runs through 18-miles of Rutherford County, was established into law on October 7, 1980. The entire historic trail is 330-miles long beginning in Abingdon Virginia, into Tennessee and then crosses over the Blue Ridge Mountains of North Carolina's Pisgah National Forest region heading to Kings Mountain National Military Park in South Carolina. In their route as a patriot militia they tracked down British regulars and loyalist along their way before reaching the climatic battle at Kings Mountain. Today, parts of the historic march follows existing trails and roadways, while other sections of the trail are still under development.
Rutherford County at the time of its establishment was so large that it was considered to have jurisdiction from the foothill-mountains of the Blue Ridge to the Mississippi River. The Cherokee didn't agree with this claim, defending their homelands for decades through conflicts, treaties, politics, law, new world assimilation and dire patience until 1838 when they were forced into the infamous exodus along the "Trail of Tears."
Between the years 1791 to 1855, Rutherford County was required to give up parts of its original county district to create regions of the neighboring Buncombe, Cleveland, McDowell, Henderson, and Polk Counties of Western North Carolina to name a few.
Life was good in Rutherford County, the British were driven out, the Loyalist Tories were put down and the Cherokee hostiles were driven back while the Cherokee mixed-bloods moved towards assimilating the skills and customs of a new nation.
Though agricultural and natural resources were the county's main livelihood it took the waterways and roadways to get the goods to the market. The Broad, First Broad, Second Broad and Green Rivers flowed to the markets in Columbia and Charleston, South Carolina, with the Broad River being the most navigable. Road building during this time demanded money and labor, both of which were in short supply.
In the 1820's and 30's the county began to prosper due to improved roads, waterways and the young nation's demand for farm goods and home products. It was also a time of celebration when gold-fever took hold from 1828 through the 1840's in the foothills of Rutherfordton. The most notable gold-strikes were in the South Mountain's Golden Valley region in the northeast corner of Rutherford County. Gold could easily be found; compensation for goods and services could be acquired; yet currency and coins were scarce to come by. In 1828, the U.S. Congress rejected a proposal to have a branch of the United States Mint be established in Rutherfordton.
Christopher Bechtler, his son August and nephew Christopher Jr. opened a jewelry store in Rutherfordton in 1831. They were experienced German metal workers from Grand Duchy of Baden. In 1831, the Bechtlers decided to coin gold themselves using handcrafted dies and presses. The gold coins were in the denominations of $5.00, $2.50 and $1.00 pieces. They minted $2,241,850.50 in gold currency from 1831 to 1840. Christopher Bechtler, Sr. died in 1842 and the mint closed in 1848 due to a new gold rush in California and a new government minting company.
With the coming of the Civil War the railroad came to Rutherford County. Joining the Confederacy at this time were 1,734 men from Rutherford County. No major Civil War battles were fought in the county, yet one tragic event did find fate here in 1865, "Stoneman's Raid," led by General Gillem, under General George Stoneman. This raid was made up of a contingent of Southern recruits loyal to the northern cause that called themselves the "Home Yankees." The "Home Yankees" made their way through the mountains to the north and into Rutherford County reaching Rutherfordton where they began to assault the local citizens. They burnt down some of the county buildings, roughed up local citizens they considered to be Confederate sympathizers and confiscated needed supplies before leaving the region.
Here's a FYI. I have now come across at least two possible locations in the Blue Ridge Mountains and Foothills concerning the late President Abraham Lincoln's possible birthplace and the possible identity and burial grounds of his father. The birthplace is in the town community of Bostic in Rutherford County and his possible father's burial site is in far Western North Carolina's mountain town of Murphy in Cherokee County. Since the true identity of Lincoln's father is debatable and unsure, it is believed by some local Rutherford County residents that they have found the actual birthplace of President Lincoln in their beloved county. Members of The Friends of Abraham Lincoln's Birthplace insist that the nation's 16th president was born less than 2-miles from the Bostic Lincoln Center, which is located in a former train depot at 112 Depot Street. These members believe that a foundation of large rocks at the top of a hill near Puzzle Creek once supported the home of Abraham Enloe, who they believe to be Lincoln's real father. It is said that Lincoln's mother Nancy Hanks, lived with the Abraham Enloe family in Rutherford County and Lincoln was born there between 1804 and 1806 rather than the popular belief that he was born in Hardin County Kentucky on February 12, 1809. The group is currently lobbying the government for a DNA testing to verify their claim.
After the Civil War, agriculture remained the county's principal resource, including some illicit moon shinning along the outer skirts of the county. In 1874 Rutherford County began a new generation of industry with the first textile plant opening and then closing just a few months later due to a large fire. In 1885, R.R. Haynes and S. B. Tanner started their own textile industry in the county and built a cotton mill. Haynes and Tanner built a mill village with homes, a school, a company store and helped build churches to provide for their employees. Later, others came and built textile mills and villages as well. These textile companies were all located near the center of Rutherford County, along the railroad lines, which spawned several communities to grow together side by side. Towns such as, Forest City, Spindale, Avondale, Cliffside, and Ruth along with a few other smaller communities developed from the growth of the textile industry. Rutherfordton the county seat also got involved with the textile movement.
These mills brought steady work and much needed household cash to folks who toiled long hot days on the local farms for generations. Rutherford County gladly received this new influx of currency from the textile industry, which improved the quality of life for their local residents causing many local businesses to prosper as well.
In the dawn of the early 20th century something unique began to take hold, something that would put Rutherford County on the geological tourist site map of fame and recognition.
In the year 1900, standing atop the summit of Chimney Rock, Dr. Lucius B. Morse was awe struck and inspired by the magnificent beauty and wonders of Rutherford County's Blue Ridge Mountains, foothills and valley lands. As a result, he began an obsession that would continue over the next two decades. In 1922, Dr. Lucius B. Morse and his investors began work in the region of Hickory Nut Gorge to create a resort attraction that would consist of a white water river, a large man-made lake and a geological natural wonder that has drawn millions of visitors to the area for over a century, Chimney Rock Park. Today Chimney Rock at Chimney Rock State Park is renowned for its natural geological wonders and is one of the most popular state parks visited in all the Blue Ridge Mountains.
For nearly 250-years, Rutherford County along with its rich heritage has grown and prospered through its agricultural, textile and now its tourism industry, along with being a historical gateway to the Blue Ridge Mountains.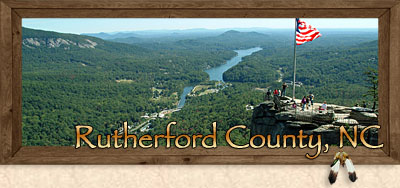 Visit Rutherford Counties Towns and Communities

Rutherford County consists of many local towns and communities that date back nearly 250-years along with 20th century vacation resorts, and upscale 21st Century golf and gated communities. With hard work for some, leisure vacation lifestyles for others, it's these new and old-time county folk who spend their full or part-time lives here, alongside their ancestors and predecessors who have made Rutherford County what it is today. These communities reside within a backdrop of mountains, lakes and natural wonders making this county unique amongst its peers. Throughout the county you'll find that special character, charm and pioneer spirit that make these towns and communities so special.
Scenic Drives in the Lake Lure and the Blue Ridge Foothills Area...Rutherford County