Jackson County North Carolina
"Where the Blue Ridge Meets the Smokies"
From the ancient barrier wall of the Blue Ridge Mountains, to the towering heights of the Great Smoky Mountains, Jackson County in Western North Carolina is by far one of the most majestic and diverse counties in the entire Blue Ridge - Smoky Mountain Province. From spectacular mountain vistas encompassing the county from horizon to horizon, to rushing waterways coursing across the entire length and breadth of the county, Jackson County has everything you are looking for. There are mountain lakes aplenty both big and small, and a heritage dating back thousands of years. Jackson County is a wilderness wonderland for both outdoor enthusiasts and leisure minded visitors looking for that great mountain getaway they've longed to enjoy, or even call their home. Throughout the towns and communities, popular seasonal events, festivals, and cultural activities draw annual visitors to the county for both outdoor and indoor fun.
Jackson County was formed in 1851 from a large section of neighboring Macon and Haywood Counties. Post 1851, sections of Jackson County were adopted to form parts of both Transylvania County to the southeast and Swain County to the northwest. Jackson County was named in honor of Andrew Jackson, who served as President of the United States from 1829 to 1837. Jackson was a true southerner and American hero to many.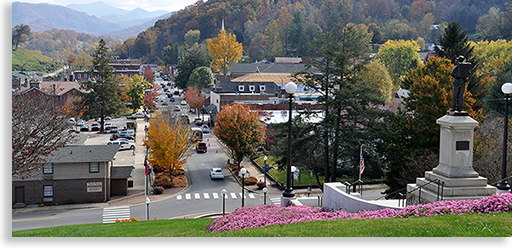 The historic towns and communities of Jackson County, offer excellent shopping and dining either in the atmosphere of an old Victorian town setting, or the finery and elegance of an upscale mountain resort town.
Visitors will often find that the smaller communities offer a natural homespun hospitality they've grown to expect in a mountain setting. An excellent selection of lodging is available throughout the county from hotels to resorts, cabins, inns and bed & breakfasts, as well as RV parks and campgrounds. Local outfitters are available for various types of exciting outdoor adventures.
Jackson County in itself is a land of many wonders encompassed within a large section of Nantahala National Forest. Along the northern border of the county is the Great Smoky Mountains National Park, over half a million acres of mountaintop cathedrals, rushing waterways, campgrounds, and picnic areas, as well as an abundance of waterfalls, hiking trails, and plenty of fly-fishing. The parklands maintain a thriving wildlife community and an abundance of natural wildflower gardens ablaze with colorful flora from spring through fall. The park harbors numerous rare species of plant-life indigenous to the Great Smoky Mountains. The Park was designated as an International Bio-sphere Reserve in 1976.
Cradled below the Smokies at the northern end of Jackson County is the Qualla Boundary of the Eastern Band of the Cherokee, or more popularly known as the "Cherokee Reservation." Since establishing Harrah's Cherokee Casino, the town of Cherokee has elevated its status to a popular resort destination. Also located at the junction where the Smoky Mountains and the town of Cherokee meet is the entrance to the 469-mile long Blue Ridge Parkway. This renowned parkway traverses some 45-miles of Jackson County along its northeast border and is considered by many to be the most exceptional 45-miles of the scenic byway.
Along the southern border of Jackson County, there's a section of the ancient Blue Ridge Mountains. These ancient mountains border the entire length of the eastern Blue Ridge Mountain Province. From the narrowest point in the Shenandoah Mountains of Virginia, this blue-colored wall of mountains stretches southwest through North Carolina, South Carolina and along the upper state-line of North Georgia.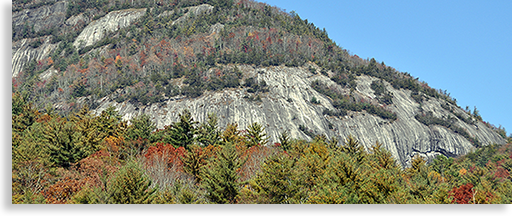 The Blue Ridge Mountain range is considered to be one of the two oldest mountain ranges in the world, much older than the Great Smoky Mountains to the north. Their age is evident by the displays of bare rock cliffs that are exposed from the natural forest that covers the majority of these ancient mountains. Natural erosion makes this region unique in comparison to the much younger Unaka Mountain ranges of the Great Smokies to the north. The shaping of these older mountains was caused by an effect known as the Blue Ridge Escarpment. The Blue Ridge Escarpment effect created a sharp drop in elevation between the mountains above and the Piedmont below. This sharp steep drop isolates these older mountain slopes from heavy foot traffic that can cause much destruction. Yet it's these two distinctly different mountain elevations that offer a diverse geological and environmental atmosphere that no other county in the Blue Ridge Mountains has to offer, making Jackson County truly a 'one of a kind experience.'
Jackson County has pristine mountain country that spreads far and wide, bathed in history and covered in wilderness lands, offering many opportunities for those looking for adventure in the great outdoors or those just looking to cruise the high-country, taking in all the beauty and history that surround them. Hiking, camping, fly-fishing, horseback riding, golf, mountain biking, ATV trails, high mountain lakes, a mighty river, white water rafting, kayaking, canoeing, tubing, bird watching, and nature walks are just a handful of assets awaiting those looking for a great getaway from the daily stress of the outside world.
Tying all these outdoor adventures together are the many towns and communities that often lie along the banks of the Tuckasegee River. The river's headwaters begin in the southern regions of the county and flow northward through the upper reaches of Jackson County. These mountain towns and communities are as diverse in character as the surrounding mountains themselves, offering all the amenities visitors, guests and residents require when visiting or living in Jackson County.
The main towns and communities within Jackson County (most of which are incorporated,) are Sylva, Dillsboro, Webster, Cullowhee, Forest Hills and Cashiers. Each town reflects their own unique style of community pride and spirit. Other communities such as Whittier, Tuckasegee, Glenview, Balsam, Whiteside Cove, Panthertown Valley area and others, offer an atmosphere unique in geographic landscapes.

Also located along the eastern bank of the Tuckasegee River in the community of Cullowhee, is Western Carolina University, founded in 1888. A spectacular mountain backdrop surrounds every corner of this historically acclaimed university.
This opening profile is only a summation of all that Jackson County has to offer visitors and residents alike. Plan today to make Jackson County your next mountain destination and discover for yourself all it has to offer. For more information on the many options and adventures Jackson County has to offer in its great outdoors, towns and communities, click the bar below to Continue Exploring Jackson County.
"Come to where the Blue Ridge Meets the Smokies."
The Towns in Jackson County
The Great Outdoors of Jackson County
Scenic Drives in Jackson County
Jackson County Special Assets...
Berkshire Hathaway HomeServices Great Smokys Realty provides a helping hand to buyers and sellers. We are committed to client satisfaction and the highest standards of professionalism. We also value engaging in individual interaction in order to provide the best fit for each buyer, whether it be land for sale, log cabins for sale, homes for sale, or vacation rentals. Berkshire Hathaway covers the Swain, Jackson, Haywood, Graham, and Transylvania County area providing you will full coverage and exclusive access to prime Western North Carolina real estate.
Jackson County is home to the vibrant town of Sylva, NC. Sylva real estate gives access to the serenity of the mountains, while still giving the small hustle of a little town. Just a few miles away, still in Jackson County, sits the beautiful campus of Western Carolina University, which gives Sylva the feel of an intimate college town. Jackson County also bumps against the final stretch of the Blue Ridge Parkway, which holds a vast expanse of mountain scenery. Sylva homes are the ideal Western North Carolina real estate for those who love the mountains, but still want a dash of hustle and bustle in their lives.
If you are looking to buy or sell real estate in Jackson County contact Berkshire Hathaway HomeServices Great Smokys Realty today to setup a free consultation. We are responsible for all aspects of all transactions all the time. So sit back and relax we have you covered.
184 Everett St • Bryson City, NC, 28713 • 828-488-2200 • www.4Smokys.com
Download our Mobile App to search for Property
designed, produced and hosted by
The Blue Ridge Highlander logo, all photography, design, graphics, artwork, writing, digital images, etc are the
Copyright ©
of C. Wayne Dukes and Sherry Bell Dukes. 1996 - 2019, except where otherwise stated. All rights reserved, reproduction, downloading, and/or duplication of any sort is strictly prohibited, all violations will be prosecuted.
Legal Policy
. If you have any questions, or comments, regarding this site,
e-mail the Highlander
.