Lake Santeetlah in Graham County
Western North Carolina Mountains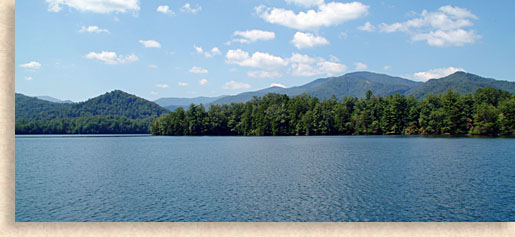 Located in north central Graham County North Carolina, Santeetlah Lake is one of the more picturesque bodies of water in the Blue Ridge Mountains. Completely surrounded by huge mountain ranges makes Santeetlah Lake the idea place to escape form the outer world. With the Great Smoky Mountains to the north, the Cheoah Mountains to the east and the grand Unicoi Mountain Wilderness to the west makes these fresh mountain lake waters a paradise for fishing enthusiast.
The Santeetlah Dam retains the rushing waters of the Cheoah River as it flows northward joining the Little Tennessee River on its journey to the Great Tennessee River Valley.
Santeetlah Lakes consists of 3,000-acres of fun and adventure. Miles and miles of open lake waters and channels offer the excitement of pulling in large and small mouth bass, bluegill, walleye, brown and rainbow trout.
Boating, canoeing and kayaking on the gentle lake waters and water sporting fun for all ages. Cheoah Point on the eastside of the lake offers swimming at a lakeside beach, hiking trails, picnic areas and 26-campsites in this pristine region of Graham County.
Directions: Santeetlah Lake is located along US 129 north just 7 miles north of the mountain town of Robbinsville, Graham County North Carolina.
Return to North Carolina Mountain Lake Directory