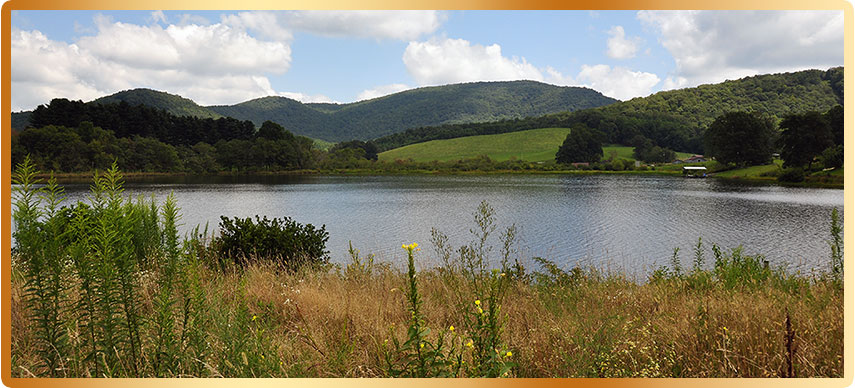 Woody Gap to Neel's Gap Scenic Driving Tour
Several of the roads on this driving tour are marked on road maps as scenic drives, though this Highlander chosen scenic driving tour is not an official Scenic Byway. Official or not, this is a great driving route for scenic driving tour fans. This 35.0-mile scenic route includes miles of winding roads, two mountain gaps, a state park, four mountain lakes, three of which offer great fishing access, campgrounds, swimming areas, and picnic areas. The scenic drive also connects to numerous trail access points for hiking and biking, four waterfalls, a historic structure and historic farmstead.
Take a tour of Woody Gap to Neel's Gap Scenic Driving Tour, including mile by mile turns...
Though beautiful to behold, the steep climbs and descents along the routes paved 2-lane and often 3-lane roadways can be a little intimidating to some inexperienced mountain drivers. Yet it's a paradise roadway to others that are familiar with the curves and up and downs of mountain driving. For those with less mountain driving skills, its advised to take your time, pull over when you can do so safely, so that you can see the sights, or just let the pushy traffic behind you pass you by. Also when going down steep slopes its advisable to take the transmission gear shift out of over-drive, and place it into drive or second gear to avoid excessive brake usage. Also, don't let your vehicle exceed the speed limit to avoid constant braking. A couple of trips over the mountain and you'll soon be a local pro-driver of skill, or at least a lot more experienced.
The Woody Gap to Neel's Gap Scenic Driving Tour is located south of Blairsville, in Union County, along US/19/129 near the junction of GA/180. Each point of interest is listed with mileage per point of interest. Also included is additional information about several of the points of interest along this scenic drive. Please drive safe and have a great time.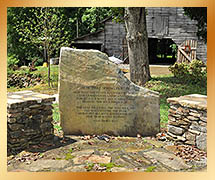 0.0 mile - Byron Herbert Reece Farm & Heritage Center: The Byron Herbert Reece historic farmstead is a great place to begin the driving tour. This 9 1/2-acre farm belonged to the Reece Family and home to the renowned poet and novelist Byron Herbert Reece. The home and farmstead are owned and operated by the Byron Herbert Reece Society. This restored and renovated farm will put visitors in touch with what mountain farm life was all about, giving visitors a sense of the pioneer within, as they journey deeper into this driving tour's magnificent landscape.
0.7 mile - US/19/129 at GA/180 At this junction turn right onto GA/180: There are so many curves over the next 8-miles along this roadway the Highlander has dubbed it the 'Little Dragon,' named after North Carolina's infamous 'Tail of the Dragon,' for those familiar with the roads 318-curves within 11 1/2-miles.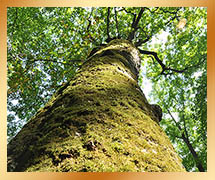 3.7 mile - Sosebee Cove Scenic Area and Trail: The cove offers a quiet nature trail, which flows roughly a 1/4-mile through a hardwood tree stand within a 175-acre tract of Forest Service land. A large hardwood tree reminiscent of one of the giant trees at Joyce Kilmer Memorial Forest, lies near the head of the trail.
4.1 mile - Wolf Pen Gap & Duncan Ridge Trail: This mountain road gap and rustic parking area is located deep within a hardwood forest offering access to the Duncan Ridge Trail. An unpaved forestry road along the right side of GA/180 and Duncan Ridge Trail leads into the Coopers Creek Wilderness Area.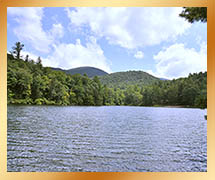 6.9 mile - Lake Winfield Scott Recreation Area: A picturesque 18-acre lake surround by heavy forested mountains offering fishing, hiking, swimming, camping and picnicking. A parking area is located near the road for day visitors.
7.5 mile - Lake Winfield Scott Recreation Area Campground: Up the road a short distance, this second entrance has been provided for longer-term visitors looking for campsites and other amenities.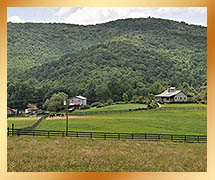 11.9 mile - Town of Suches, GA/180 to GA/60 Junction: The picturesque high mountain valley community township of Suches is where folks go to live when they really want to getaway from it all.
The town of Suches, GA has a gas station and convenience store at the junction.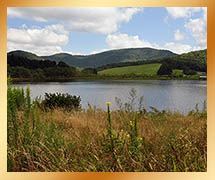 12.2 mile - Woody Lake: Located along highway GA 60 in Suches, and on private land (no fishing.)
This beautiful small lake often reflects the mountain landscape located along the horizon, off its shimmering blue waters. It's a great photo opportunity.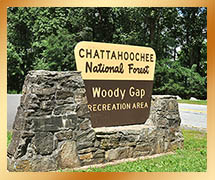 13.9 mile - Woody Gap & Appalachian Trail: Woody Gap offers several attractions. The Appalachian Trail (white blazed) crosses here, plus there is a trail up to the Fire Tower Observation Deck located along the right side parking area at the gap. There are picnic tables, informational kiosk and restrooms. A southern view opening along the tree line, offers a view into Yahoola Valley, the Dahlonega Gold Belt, and the distant piedmont.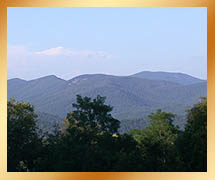 15.5 mile - Chatesta Overlook: Along this descending roadway on the outer edge of the Blue Ridge Mountain Range, there's an opening in the trees offering an interior mountain and valley view. This overlook once had a picnic table and the overlook is getting grown over. Some will claim it's due to erosion prevention...then why have an overlook. It's more like a product of the Forest Service budget cuts, a real shame in our opinion.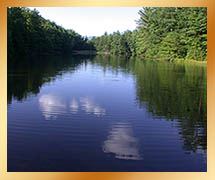 15.6 mile - Dockery Lake Recreation Area: This 6-acre lake recreational area is accessible by an unpaved Forestry Road FS654, offering fishing, hiking trails, restrooms, 6-picnic sites, drinking water, 11-campsites (no electrical and water hookups or showers.) The secluded lake is about a mile down the road. If you choose to check it out it will throw the mileage distance off.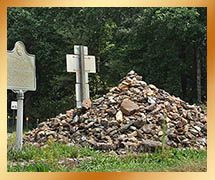 19.2 mile - Trahlyta's grave-site at GA/60 & US/19/GA/9: Turn left at this junction onto US/19/GA/9. You've now reached the bottom of the outer edge of the Blue Ridge Mountain Range. Situated in the middle of the junction under a large stack of stones is the Native American grave-site of legendary or mythical Indian Princess Trahlyta. A historical marker and tale mark the spot next to the grave-site. So renowned was her story in the region that Vogel State Park named its lake after her, Lake Trahlyta. Passerby's knowing her legend have placed a stone atop the grave for good luck. In the 20-years since the Highlander first saw this ancient site, the stack of stones have triple in size. We have never placed a stone here not believing in superstitions, plus the pile is getting a little out of hand, and some of the stones are just too big. Keep it small folks before an avalanche starts.
24.5 mile - Turner's Corner at US/19/GA/9 & US/19/129: At this junction turn left onto US/19/129. The scenic tour now begins its upward climb along the southern slopes of Blood Mountain, first passing between two private owned and operated campgrounds.
25.9 mile - Boggs Creek Recreation Area: Located along the roadside is an unpaved forestry road leading down to the Boggs Creek. There's no camping available here, just a lovely cascading creek.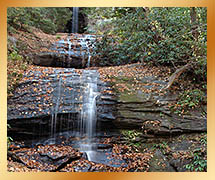 28.7 mile - De Soto Falls and Recreation Area: Named after the Spanish explored, this 650-acre area offers access to hiking trails, 2 waterfalls, fishing, 6-picnic sites, 24-campsites, and restrooms with cold showers. The clear water streams are great for fishing and wading. Legend say's that a piece of Spanish armor was found near the tallest waterfall, dating back to the mid-1500's. The Spanish explorer claimed to find no gold in the entire region. He just didn't know where to look; this is part of the Dahlonega Gold Belt. He was obviously looking to take gold, not prospect gold.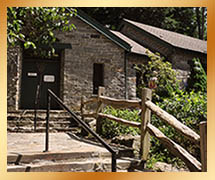 32.3 mile - Neel's Gap Walasi-Yi Interpretive Center: Located at the gap is the historic Walasi-Yi Interpretive Center, built between 1934-1938. The center has a southern overlook with three picnic tables, a store and restrooms. The Appalachian Trail crosses here, yet there is no parking for hikers due to the gap's limited space. Located at the north end of the parking area is a very interesting Historical Marker depicting a legendary Native American mythical tale of other worldly spirit people of the mountains, that's quite fascinating. See next point of interest for parking.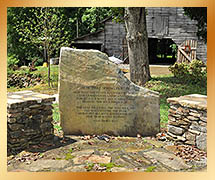 32.8 mile - Byron Herbert Reece Memorial: Located a quarter of a mile to the north of the gap. The memorial entrance to the parking area is just past the memorial parking's exit, it's one way in and one way out. Hikers destined for the Appalachian Trail (white blazed) or the top of Blood Mountain park their vehicles. A narrow bike lane on either side of the roadway leads up to the Center. The Byron Herbert Reece Trail (blue blazed) also connects to the AT atop of Blood Mountain, about a 2-mile hike up the trail. Alongside the parking area is a boulder field and quiet cascading creek.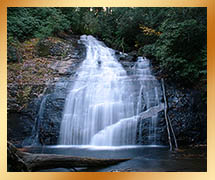 33.9 mile - Helton Creek (Falls) Road: This is a must see, a double set of falls lay 2-miles down Helton Creek Road, the first mile is paved, the second mile is a well maintained unpaved forestry road. A short trail leads to the falls, the lower falls are about 30-feet tall, the upper falls are more than 60-feet tall and spectacular.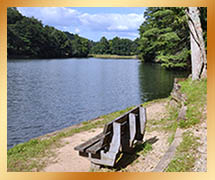 35.1 mile - Vogel State Park: One of the most beautiful state park's in all the North Georgia Mountains. There's Lake Trahlyta for fishing and paddle boating. A Welcome Center, Civilian Conservation Corps Museum, a miniature golf course, campground, hiking trails and access to Wolf Creek Falls, via Trahlyta Lake Trail to Wolf Creek Trail, easy to moderate to hike.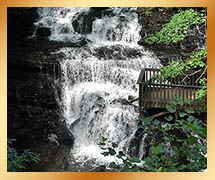 35.2 mile - Wolf Creek Falls: This waterfall overlook from the US19/129 lays along the western side of the roadway, just north of the entrance to Vogel State Park. Reaching the bottom of the falls trail must be accessed via Vogel State Park.
35.4 mile - US/19/129 at GA/180, End of the Tour: This is the Woody Gap to Neel's Gap Scenic Driving Tour's end of the trail and a spectacular driving experience.
For an equally great scenic driving tour, continue on to another neighboring Highlander favorite driving tour along the Russell-Brasstown Scenic Byway. These two-loop tours combined create a figure 8.
The Highlander
Although very enjoyable, the mountains can be a driving challenge to a flatlander (no offense), to help you with your new venture, take a look at our driving tips