Vogel State Park in Union County Georgia

Located along US/19/129 at roughly 2,500 feet in elevation, this mountain parkland offers a cool temperature advantage during the summer heat. Vogel State Park is considered one of the finest state parks in all of Georgia. Cradled deep within a cove along the lower northern slopes of Blood Mountain, the parkland is uniquely laid out forming a mountain atmosphere like non-other. Vogel State Park offers access to a Visitor Center, campsites, cottages, picnic shelters, tables and grills, restrooms, showers, and a picturesque lake stocked with trout. Licensed fishing is allowed.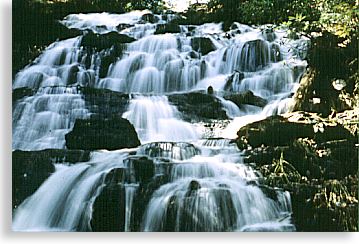 Lake Trahlyta access to water recreation includes a swimming beach and paddle-boats, none motorized boating is allowed on the lake. There's a playground and miniature golf course near the Visitor's Center . The park also houses a historic exhibit in honor of the Civilian Conservation Corps (CCC); who built the parklands, trails and other sites throughout these mountains in the 1930's, under President Franklin D. Roosevelt's 'New Deal' program.
Vogel State Park also provides several trails (listed below) plus up close access to the towering Wolf Creek Falls located below the far western edge of Lake Trahlyta. The parklands are ideal for day visitors looking for the cool waters of a hidden lake plus access to short and long hiking trails.
Cottages & Campsites: The park has 36-cottages available for reservations. There are also 95 camping sites with water and electric hookups plus an additional 15 sites without. Reserve sites in advance, especially during peak vacation and holiday times. 706-745-2628.

Vogel State Park Trails
There are three trailheads located along the roadway near the park's campground just south of the lake and the park's Visitor Center, in Vogel State Park.
Bear Hair Trail
Bear Hair Trail is located along the roadway in the park's campgrounds just south of the lake and the park's Visitor Center. The trail is a 3.6-mile orange blazed loop trail.
Byron Herbert Reece Nature Trail
One of three trailheads located along the roadway near the back of Vogel State Park's camping area, just south of the lake and park's Visitor Center. The trail is an easy 1-mile loop interpretive trail.
Coosa Back Country Trail
One of three trailheads located along the roadway near the park's campground just south of the lake and park's Visitor Center, in Vogel State Park. The trail is a 12.5-mile loop marked with yellow blazes and signs. The trail is considered to be strenuous in difficulty The trail climbs up to Duncan Ridge, and Coosa Bald at 4,000-feet above sea level. The full-length hike along the trail is recommend for backpackers and overnight stays. A free permit is required and available at the park's Visitor Center.
Lake Trahlyta Trail
This trail at Vogel State Park begins at the parking area near the Visitor's Center and crosses upper Wolf Creek where it enters the lake. The trail then continues along the lake's shoreline forming a loop. It is an easy low-impact path, great for casual strolls. At the far end of the lake hikers can access the Wolf Creek Falls Trail before following the trail around the lake. This short, side trail follows a descending path to Wolf Creek Falls wooden observation deck.
Wolf Creek Falls Trail & Overlook
Wolf Creek Falls Trail is located at the north end of Lake Trahlyta Trail in Vogel State Park. The trail is a short gradual descent to a wooden observation deck at the bottom of the falls, which literally touches into the bottom of the actual falls. Wolf Creek Falls are a 40-foot tall stepping stone waterfall just below Lake Trahlyta along Wolf Creek. The trail is only accessible via Vogel State Park.
Wolf Creek Falls can also be viewed from a vehicle pull-off area along the western edge of US/19/129, just a short distance north of Vogel State Park's entrance. From this higher advantage point viewers can see the entire length of the falls in one view. This viewing point is a great late autumn photo opportunity after some of the leaves have fallen.
check out...Wolf Creek Falls...inside Vogel State Park
Admission Fee Required
Park Hours
Sunday - Saturday
8:00 am – 5:00 pm
Wilderness Areas & Trails
Community Resources
History & Culture
Lakes, Rivers & Waterfalls
Parks & Recreation Areas
Scenic Road Trips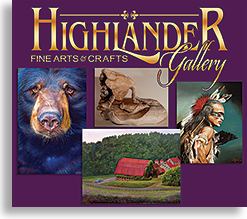 When you are visiting the Blue Ridge - Smoky Mountains, a stop by the Highlander Gallery is well worth your time. The Highlander Gallery represents some of the finest artists in the mountains. With a large assortment of Fine Art Photography and Fine Crafts as well.
Here are a sampling of the artists you will find....Anthony Abreu • Michael Bedoian • Juanita Greenspan • Linda Thompson • Tonya Fowler • Jason Fowler • Chris Jones • Les Smith • Chuck Waldroup • Joe Waldroup • Billy Reynolds • Randy Rowe • Thomas Payne •  Frances McCord • Rita Poole • Clive Poole • Marla McCormick • Don Milsaps
Wednesday - Saturday 11:00 ish - 5:00 ish
10079 Old Highway 64 • Brasstown, NC • 828.835.9982 • www.HighlanderGallery.com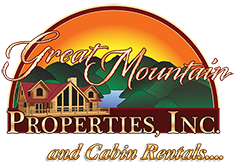 Whether you purchased your mountain home as an occasional getaway, an investment, or the destination of your future retirement, we realize the importance that it be respected as your home first and foremost.
It is our objective to provide you with both quality property management as well as a rental program to help offset some of the expense of owning a 2nd home. Through the combined knowledge of all of us at Great Mountain Cabin Rentals, we have the expertise to help you understand and create a Great Mountain Cabin Rental.
896 Green Cove Road • Brasstown, NC 28902 • 828.835.3275 • www.GreatMountainCabinRentals.com
---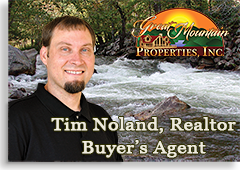 When looking to buy mountain property, you need someone that not only understands the mountains, you need someone that specifically represents you, the buyer. When you choose to work with a Buyer's Agent you are assured that you have an agent that is truly looking for your best interests, someone that will not only find what you are looking for, but someone that will negotiate the best price possible.
10886 Old Highway 64 • Brasstown, NC 28902 • 828.557.1009 •  GreatMtnRealEstate.com
---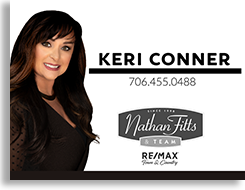 My name is Keri Conner, I have lived in these mountains all my life, and have been a successful Realtor since 2001. I know from personal experience why you want your own special place in the mountains and I know how to help you find that special place. Whether you are looking for a luxury mountain home, log cabin, a view property, river or creek property, a lake front home or property, or a large tract of mountain property, I will help you not only find the right real estate purchase, I will help you through the entire real estate process, including closing. If you are looking to sell your mountain home, to downsize or are finally ready to buy your new bigger dream home or cabin, I am the Realtor/Broker you need.
Check out our Featured Listings....
224 Blue Ridge Drive, McCaysville, GA • 706-964-6470 • RealEstateGeorgiaMountains.com
designed, produced and hosted by
The Blue Ridge Highlander logo, all photography, design, graphics, artwork, writing, digital images, etc are the
Copyright ©
of C. Wayne Dukes and Sherry Bell Dukes, 1996 to current day, except where otherwise stated. All rights reserved, reproduction, downloading, and/or duplication of any sort is strictly prohibited, all violations will be prosecuted.
Legal Policy
. If you have any questions, or comments, regarding this site,
e-mail the Highlander
.