Fun Recreation & Adventure in the Blue Ridge Foothills
Adventure has been a part of Rutherford County since the arrival of the first settlers in Western North Carolina. There is still plenty of adventure here with two new companions to boot, fun and recreation. Fishing, boating, hiking, mountain and tower wall climbing, repelling, horseback riding, biking, swimming, canoeing, kayaking, golf, wildlife fun and so much more have made Rutherford County one of the most popular tourist destinations in the Southeastern United States.
None of these activities came as simple and natural as they appear. It took discovery, vision, risk, investment and development to make the mountain's natural wonders, lake and foothills country of Rutherford County an experience unique in itself for over 100 years. The result of that vision has developed into two resort towns accenting Lake Lure and Chimney Rock at Chimney Rock State Park.
Chimney Rock at Chimney Rock State Park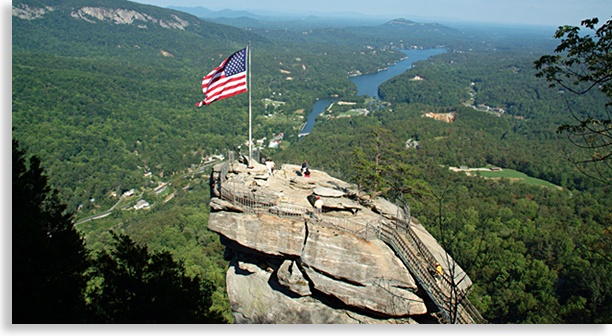 Chimney Rock Park, one of the oldest parks in Western North Carolina was purchased in 2008 by the State of North Carolina from the Morse family to be preserved and to expand the parklands throughout the Hickory Nut Gorge and Lake Lure region. The Park has been re-titled Chimney Rock at Chimney Rock State Park.
In the year 1900 a Chicago physician, Lucius B. Morse paid 25¢ to ride a mule to the top of Chimney Rock. The 75-mile view from the rocky chimney summit was so inspiring that it became his life long obsession. For the next couple of decades, Morse along with his brother and investors bought up thousands of acres around Chimney Rock in order to develop the region into a park site, a world-class resort and a 720-acre man-made lake with a shore line that stretches 27-miles.

It was all coming together, a natural geological wonder towering high above, rugged mountains to the north, south and west, with an eastern view that seemed almost endless with foothills rolling out to meet the piedmont's vast horizon. Below the towering chimney in the narrow depths of Hickory Nut Gorge flowed the ancient white waters of the wild "Rocky" Broad River, from there the wild river was converted by a dam into the gentle waters of the man-made Lake Lure. The historical Lake Lure Inn and Spa along the southern shoreline of Lake Lure opened in 1927, and quickly became a popular resort that drew renowned figures like Franklin D. Roosevelt, F. Scott Fitzgerald along with other famous guests.
The Great Depression put major setbacks in developer Morse's plans for his inspired vision. Though times were tough Doctor Morse held onto to his inspiration by focusing on Chimney Rock itself as a premier park and outdoor adventure destination. Though the Depression did slow down progress for a while, this unique area continued to grow in popularity just the same.
Four generations of the Morse family kept his vision alive, making user-friendly and informative improvements to the park's trails, visitors' facilities and services year after year. For visitors convenience a 258-foot shaft was blasted through solid mountain rock between the years 1946 to 1948, creating a 26-story elevator lift for quick easy access to the summit of Chimney Rock. The shaft was not only bored vertically up through the mountain, a tunnel nearly equal in length had to be blasted horizontally in order to reach the elevator shaft for visitor access to the top.
For foot traffic up to the chimney's summit there are trails, which are often covered with wooden staircases, to make the trip up to the top more convenient. The foot trail, and easy to access staircases to the top, will lead you past many interesting features in the park along the chimney's towering base.
At the beginning of the trail along the lower end, there's an old moon shiner's cave with an actual still inside, other interesting rock outcrops line the journey with additional easy to access small caves along the way, be sure to watch out for your head. There are many other themed trails and unusual rock features in the park yet it is the view from the summit of the chimney itself that draws the majority of visitors to the park.
In true Rutherford County style, you will find numerous, exact in detail murals of Chimney Rock scenes painted by local artist Clive Haynes in some of the most unusual places in Chimney Rock State Park, we'll let you discover their locations on your own, they're not hard to find.
The standing giant monolith column of Chimney Rock rises independently, separated by erosion from the bare mountain cliffs. The chimney tower itself rises 315-feet to an elevation of 2,280 feet. From the summit a magnificent view puts you right at the edge of the foothills to the east and the breathtaking views of Blue Ridge Mountains and the dramatic sight of Hickory Nut Gorge to the north and west. The park's elevations range from 1,100 feet to 2,800 feet offering a diverse ecosystem and wildlife sanctuary.
One of the largest waterfalls in the east, Hickory Nut Falls has a 404-foot straight drop (no cascades on this waterfall) into an ancient pool below, an inspiring sight to behold. This waterfall and cliff trail were featured in the successful remake of the "Last of the Mohicans," filmed in the mid-1990's and is one of the Highlander's personal favorite films.
The numerous hiking trails throughout the park offer a variety of atmospheres to enjoy. From woodlands to rocky trails bordered by steep rock walls; informative signs along the trails enlighten visitors as they hike through this pristine mountain wonderland. Chimney Rock Park's Out Reach Programs, like the Great Woodland Adventure is an educational woodland trail experience offering fun for children in a tree covered fantasy world depicting wildlife in an artistic symbolic fashion along with a small wildlife exhibit at the end of the tour. Chimney Rock offers both rock climbing and repelling along its sheer rocky cliffs. There is also a climbing tower in the park in the open meadows below the towering Chimney Rock for beginners or those who just love climbing towers. Bird watcher's find the open cliffs at Chimney Rock State Park a favorite for spotting various regional and migrating birds.
There's so much to do at Chimney Rock at Chimney Rock State Park that you'll need to set a whole day aside and possibly more to explore its wonders. Chimney Rock State Park has a restaurant near the park entrance; a gift shop at the elevator entrance and trailhead, and the Sky Lounge Gift Shop and Deli awaits you at the top of the elevator shaft near the summit of the Chimney Rock itself. Guided tours fill the needs of enthusiastic visitors and an official Park Ranger is on duty in the park. Most visitors generally use the handy trail guides for their own private tours.
Chimney Rock and the surrounding areas are not only an awe-inspiring sight to see, it's a world full of exciting adventure.
This once family owned park is today one of the latest North Carolina State Parks with plans of expanding its parklands into the Hickory Nut Gorge region to include some 5,000-acres, to preserve and protect these natural wonders for the sake of posterity, a real mountain treasure all for the enjoyment of generations to come. What was once known as Chimney Rock Park is now formally and rightfully titled "Chimney Rock at Chimney Rock State Park" offering personal experiences, guide tours, group outings, special events and more, maintaining a commitment of service to its guest and visitors.
The resort towns of Lake Lure, Hickory Nut Gorge and Chimney Rock have found life here due to the popularity of Chimney Rock State Park, making this region a one of a kind mountain experience.
Click here to continue exploring Lake Lure & the Blue Ridge Foothills...
Rutherford County Scenic Drives
Adventure and Family Fun in Rutherford County

Chimney Rock at Chimney Rock State Park. Come for the views discover infinite possibilities- 75-mile views of Hickory Nut Gorge and Lake Lure, unique hiking trails, 404-foot Hickory Nut Falls, amazing rock formations, guided rock climbing and signature special events.

Preferred Lodging in Rutherford County

Peaceful, private and relaxing" describes our selection of impressive vacation home and log cabin accommodations in the Blue Ridge Mountains of North Carolina. Our getaway destination have gorgeous mountain views. Located between Hickory and Asheville, 15 miles south of I-40 on NC Scenic Byway, Route 226, in the Beautiful Blue Ridge Mountains, our cabins are within minutes of many of North Carolina's most visited mountain attractions.

Luxury Real Estate for Sale in Golden Valley North Carolina

If you're looking for a private Blue Ridge Mountain getaway, far away from the stress of everyday life, yet close enought to Asheville for all the conveniences you could want, Summit Lodge is that place.

No detail was overlooked when building this custom cedar log home, including choosing property with an awe inspiring mountain view. Perfect for a full time residence, a family getaway in the mountains with future retirement plans or a corporate retreat.

Visit Lake Lure and the Blue Ridge Foothills...