The Resort Town of Lake Lure

The resort town of Lake Lure was incorporated in 1926 as part of Lucius B. Morse's vision of a world-class resort at the gateway to Hickory Nut Gorge. Even though Morse first encounter the seeds of his vision in the year 1900, it wasn't until 1926 that a dam was built across the "Rocky" Broad River and a 720-acre man-made lake was created with 27-miles of shoreline becoming one of the most beautiful mountain lakes in Western North Carolina...Lake Lure.
In 1927, Lake Lure Inn and Spa opened and drew dignitaries and celebrities like Franklin D. Roosevelt and F. Scott Fitzgerald along with other famous guests. Antiques and artworks adorned the Inn's interior; the outer gardens and the outdoor pool offered a stunning view of Lake Lure and its high mountain barrier.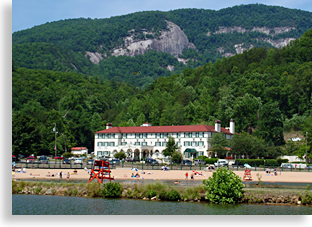 In 1935 the Chalet Club opened for guests to enjoy its lodge, and surrounding cottages with individual fireplaces, and balconies that offered stunning views of Chimney Rock and Hickory Nut Gorge.
Lake Lure offers a variety of lodging from resorts to B & B's, vacation and cabin rentals, hotels, villas, inns and condos. Restaurants offer various delights from fine dining to a quick bite to eat. There's limited shopping and a sense of ease for convenient strolls along the lake's southern shoreline as you absorb the wonderment of this majestic setting while breathing in the fresh mountain air as you fill your sight and senses with its inspiring beauty. There are spas for pampering, a marina for cruising the lake and a real mountain lake beach for lying in the sun and splashing in the water as well as a fun water park for the kids. You can take an informative leisurely boat tour or enjoy a dinner-cruise on the crystal blue waters of Lake Lure as the sun sets behind the bordering mountain's crest.
While staying at Lake Lure you can head out on your own, or go out with a fishing guide and cast a line into the lake or upper Broad River and with a little luck and/or skill you might even pull in your own dinner or breakfast.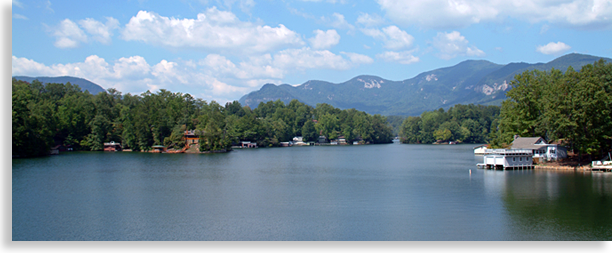 The backdrop of the steep magnificent mountains against the reflective blue waters of the lake inspired some of the scenes from the hit film "Dirty Dancing, " which were filmed here. The hit sound track from the film still echoes off the mountains slopes and waters of Lake Lure. It's quite common to hear many of the songs from the film at various establishments throughout the resort town providing a sense of nostalgia that cause visitors to smile, tap their toes or jump into their own dance steps.
Though the town of Lake Lure maintains a high profile as a resort town, Lake Lure has become as much a resort community as a resort town. Bordering the shoreline around Lake Lure are part-time and full-time residents with private homes and boating docks along the lake-front with exclusive developments surrounding the outer shorelines and hills of this pristine mountain-lake region. Aside from boating, fishing, swimming and mountain adventure, golf is a popular pastime here with picturesque courses welcoming golfers with the seasonably mild weather throughout the year.
The annual boat-racing event on Lake Lure has an interesting theme that has become a popular draw for visitors and residents alike. "Lure of the Dragons" is a lake water event that offers the strong arms and shoulders of the competing fire-breathing paddlers who provide their own customized group dragon vessels for this special event competition.
The outstanding views along the shores of the lake along with the many amenities offered in this resort town, make Lake Lure a special mountain getaway for those looking to be pampered or just want to relax and enjoy lake recreation.
Click here to continue exploring Lake Lure & the Blue Ridge Foothills...
Rutherford County Scenic Drives
Adventure and Family Fun in Rutherford County

Chimney Rock at Chimney Rock State Park. Come for the views discover infinite possibilities- 75-mile views of Hickory Nut Gorge and Lake Lure, unique hiking trails, 404-foot Hickory Nut Falls, amazing rock formations, guided rock climbing and signature special events.

Preferred Lodging in Rutherford County

Peaceful, private and relaxing" describes our selection of impressive vacation home and log cabin accommodations in the Blue Ridge Mountains of North Carolina. Our getaway destination have gorgeous mountain views. Located between Hickory and Asheville, 15 miles south of I-40 on NC Scenic Byway, Route 226, in the Beautiful Blue Ridge Mountains, our cabins are within minutes of many of North Carolina's most visited mountain attractions.

Luxury Real Estate for Sale in Golden Valley North Carolina

If you're looking for a private Blue Ridge Mountain getaway, far away from the stress of everyday life, yet close enought to Asheville for all the conveniences you could want, Summit Lodge is that place.

No detail was overlooked when building this custom cedar log home, including choosing property with an awe inspiring mountain view. Perfect for a full time residence, a family getaway in the mountains with future retirement plans or a corporate retreat.

Visit Lake Lure and the Blue Ridge Foothills...