Andrews NC - Western NC Wagon Train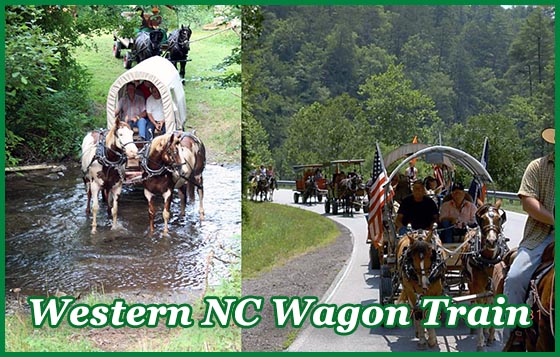 Western NC Wagon Train
The Western NC Wagon Train gets under way on June 29 with a gathering that takes place near Andrews, NC. For 60 years the WNC Wagon Train has grown into a tradition of family and friends gathering to enjoy a week of riding, reminiscing, and having fun.
For more, visit http://www.wncwagontrainnc.com. 
Friday, June 29th: Gathering Day
Saturday, June 30th: Spread Eagle 12 miles, Grade 7.
Sunday, July 1st: Chestnut Flats 12 miles, Grade 6.
Monday, July 2nd: Pisgah Loop. 10 miles, Grade 3..
Tuesday, July 3rd: Whitaker Lane 15 miles, Grade 6.
Wednesday, July 4th: Layover Day Parade town at 6 p.m.
***Kids games and events starting in morning.***
Thursday, July 5th: Tatham Gap 12 miles Grade 7.
Friday, July 6th: Webb Creek 10 miles, Grade 5
Cost is $40 for family; individual $25.
June 29, 2018

Cost:

See above copy for cost
Categories:
Location:
Western Carolina Wagon Train Trailhead
Robbinsville Road and Hwy 74

Andrews
,
NC
28901

Venue Page

Weather
Google Map and Directions
Phone:828-557-0602
Website:
Click to Visit
Contact: Sande Kimball
Phone: 828-557-0602
Website:
Click to Visit
Other Dates For This Event: