Cherokee Legend of Cherokee County
Though the town of Murphy is seated in an ideal picturesque location on a hill at the mouth of a foothills gorge, it was never a permanent town site to the Cherokee, it was never conducive to their daily needs. Near the convergence of the Hiwassee and Valley Rivers, at the northern end of the town of Murphy, the Cherokee believed there lived a legendary river monster they called "Tlanusi'yi," the Leech Place.
Just above the junction of the two rivers along the Valley River is a deep hole where a large stone ledge runs across the water flow. The Cherokee used the ledge as a bridge until one day some men were going along the trail and saw a great red object as large as a Cherokee house lying on the rock ledge in the stream. As they watched it began to unroll, stretching itself along the rock until it looked liked a great leech with red and white stripes along its body.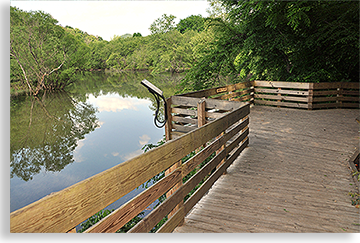 After watching the beast roll up and stretch out once again it crawled down the rock disappearing into the waters of the deep river hole. They said the water began to boil and foam when suddenly a great column of white spray was thrown high in the air and came down like a waterspout onto the spot where they were standing, fortunately their curiosity turned to fear as they ran from the place before the water struck. They say that at times native bodies would be found along the banks that they thought had been swept off the rock and pulled under the water. When examined the bodies would be missing their ears and nose. The people stopped crossing the rock bridge and avoided the place they called, "Tlanusi'yi," the Leech Place.
Rivers are considered powerful places by Native American's, especially where two merge, maybe the giant leech legend was used to keep some of the Cherokee away for a more secretive reason, or maybe its appearance was meant to be a bad omen of things to come, such as the tragedy at Fort Butler.
The Cherokee did live all along the Hiwassee River valley regions as well as the Valley River region and other valley river areas throughout far Western North Carolina; they just didn't live at this river junction.
The Cherokee towns along the county's waterways were called the "valley towns." The Cherokee were not a nomadic people; they built primitive homes and created permanent towns for the most part. Today many of these same ideal settings are called Cherokee County's towns and communities. Some believe these valley lands have been settled, hunted and harvested by local Native Americans for thousands of years. We'll begin our next phase of our feature on Cherokee County following the Hiwassee River to the town of Peachtree.
---
---
---
---
---
---
---
---
---
---
---
---
---