Forest City...Picture Perfect
Equally as significant as the county seat of Rutherfordton, is the town of Forest City just six miles east. A complement in style and charm, Forest City represents that good old warm fuzzy feeling the people of Rutherford County have to offer. You'll find Forest City to be a true down home people kind of town, neighbor to neighbor, community driven, southern hospitality talkin', "gee its good to be back home" kind of place you'll want to visit or possibly make your home.
Forest City is literally a picture perfect Western North Carolina town and they are happy to prove it. Founded during the textile boom of the late 19th century, their downtown district developed later than the county seat. The historical downtown district has a broad 4-lane Main street with a modest well-groomed park medium down the center of the avenue. A large half-a-block long mural depicting in detail the actual downtown district, is painted along the side of one of the historic downtown buildings and can be misleading to the naked eye. Artist Clive Haynes painted this life-size mural of Forest City's Main Street and it is a delight to both Forest City residents as well as welcomed visitors who are looking for the unique and different.
The town's roots began as a crossroad intersection along the old Shelby-Rutherfordton and Spartanburg-Lincolnton Roads. Forest City was originally incorporated in 1877 and called Burnt Chimney due to a fire leaving only the chimney of a lone house standing at the crossroad. A replica of the burnt chimney stands on the park medium in downtown Forest City near the original site. The Kiwanis Club built this replica chimney during the town's centennial. In 1887 the name Burnt Chimney was changed to Forest City after namesake Forest Davis, a local prominent citizen.

Faith and aspirations were grand in Forest City from the onset. The first brick structure in town was constructed on a monumental scale, the Forest City Baptist Church. Originally organized as the Cool Springs Baptist Church in 1848 in the community of Cool Spring, the church was then relocated to its present site in 1889 and renamed Forest City Baptist Church. This inspiring structure is a testament to the citizens of Forest City's vision of hope, faith, prosperity, devotion and community spirit that has endured the test of time.
The town grew and prospered due to the railroad and the Florence Mill coming to town. The wide Main Street accents the grandness of the original downtown city plans. In 1914 the Forest City Betterment Club landscaped the Main Street's mediums adding the fountain that still exist today. So ideal were the plans for the downtown district that in 1927 the town of Forest City was selected as one of the ten most beautiful and best planned towns in the United States by the US Department of Agriculture.
Today the historic downtown is filled with quaint shops, galleries, antique stores, specialty shops and eateries. If you're looking for something special to do you can check out the old-fashioned Smith's Drug Store for an ice-cream float, your choice of flavor. Main Street is wide and spacious and the sidewalks and medium are lined with shade trees, this touch of genius adds not only beauty to the broad-avenue but ample shade for shopping comfort. No fussy parallel parking here, just pull in and back out. Comfort and shopping ease all up and down Main Street just like the architects planned, convenience and style.
During our visit we saw local folks and visitors make their way up and down the sidewalks wandering in and out of shops and stores. Friendly folks were smiling, nodding their heads, saying hello as though they were actually glad to see us. Even though I personally knew what day and year it was, it was as if the town and its people were living in the 1950's when life was simpler and friendlier. They weren't out of touch with current times, these folks were just honestly genuine and cordial, and very welcoming, a natural part of the community spirit. Maybe it was the broad spacious avenue along Main Street that made people more open and friendly. These are the kind of folks you expect to find in rural southeastern America, they made us feel like we were actually visiting a Norman Rockwell painting, maybe that was the premise of the murals we found throughout Forest City and Rutherford County.
When it comes to historical preservation there are 79-buildings within the Downtown Forest City Historic District, 57 of them are considered "contributing" buildings eligible for historic tax credits from both the Federal and State governments. The Town of Forest City provides the services of a preservation planner to assist the property owner in their efforts towards restoration of the historic downtown district.
The residential neighborhoods outlining the downtown district of Forest City were planned with spaciousness in mind. Older and newer homes create a nice blend as you cruise or stroll west on Main Street and along the side streets. Comfort, no congestion, good space no waste.
Forest City has three museums, the Rutherford County Farm Museum, a Classic Auto Museum and an African American Art Museum, something for everyone.
The town of Forest City is also the proud parents' of a new summer collegiate baseball team, the Forest City Owls, a member of the Coastal Plain League. The newly constructed McNair Field, is the home team stadium for the Forest City Owls, it is also a venue for outdoor concerts, events and festivals. A summer day or evening at the ballpark brings back found memories of those "boys of summer."
Other festivals and events held in Forest City are the Hot Nights, Cool Rides auto show event held in August, considered one of the biggest car shows in the Southeastern United States. Christmas in Forest City is a festival of lights and activities with half a million decorative lights accompanied by 18 horse-drawn carriages offering rides up and down Main Street for holiday visitors. Kids enjoy visits with Saint Nick at the Santa House at the east end of Main Street along with many other holiday activities.
Forest City planning is still on the move with the renovation of the 200,000 square-foot Florence Mill, a former cotton mill dating back to the late 1800's located on Main Street in the historic downtown district. The space will be developed into both retail and residential space including "textile mill condos," proving Forest City is not only a friendly little town, it's a town that never ceases to dream big city thoughts.

If you're looking for an out of the way, truly all American hometown that is depicted in a Norman Rockwell, or should I say, local Artist Clive Haynes style. Forest City in Rutherford County is a town we know you'll will enjoy.
Other Links to Places of Interest in Rutherford County North Carolina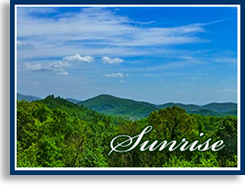 Should you choose Sunrise Mountain Cabin for your mountain getaway, you will enjoy a luxury cabin with all the comfort of home and a million-dollar view with privacy and seclusion, and no neighbors in sight. We all tend to get caught up in the stress of our everyday lives, and without an escape from that stress, life loses its true meaning. A trip to the mountains will help you put life in perspective. We named our cabin Sunrise, because of the outstanding morning skies. Each morning you will see a new nature made painting from the front deck that will rejuvenate you.
828.835.9982 • SunriseCabinRental.com
---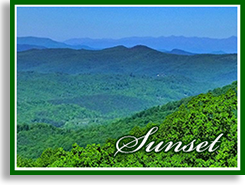 Should you choose Sunset Mountain Lodge for your mountain getaway, you will enjoy a luxury cabin with all the comfort of home, a million-dollar view with privacy, seclusion, and no neighbors in sight. We all tend to get caught up in the stress of our everyday lives, and without an escape from that stress, life loses its true meaning. A trip to the mountains will help you put life in perspective. We named our cabin Sunset Lodge, because of the outstanding evening view. Each evening you will see a new, nature made painting from the front deck that will warm your soul.
828.835.9982 • Sunset Cabin Rental.com
---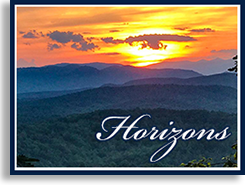 Horizons on Yellowtop Mountain is a quiet, private and secluded luxury cabin in a Golden Valley North Carolina gated community.  When visiting Horizons you will find a peaceful community in the Blue Ridge Mountains, with nature's beauty at every turn, and no neighbors in sight. You will enjoy this luxury mountain getaway, with all their the modern amenities.  Because of its high elevations, you will experience cooler summer climates with a breathtaking scenic view of Golden Valley and Sunshine, North Carolina.
828.835.9982 • HorizonsCabinRental.com
---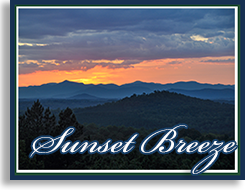 Sunset Breeze Cabin on Yellowtop Mountain, provides luxury log cabin living with all the modern conveniences. Upon arrival you are welcomed by the breathtaking mountain view. Sunset Breeze is located in the charming township of Golden Valley in North Carolina's Blue Ridge Mountains. At a 2,200-foot elevation this wonderful cabin provides cooler summer climates and a scenic view of the Blue Ridge Mountains of North Carolina.
828.835.9982 • SunsetBreezeCabin.com
designed, produced and hosted by
The Blue Ridge Highlander logo, all photography, design, graphics, artwork, writing, digital images, etc are the
Copyright ©
of C. Wayne Dukes and Sherry Bell Dukes. 1996 to current day, except where otherwise stated. All rights reserved, reproduction, downloading, and/or duplication of any sort is strictly prohibited, all violations will be prosecuted.
Legal Policy
. If you have any questions, or comments, regarding this site,
e-mail the Highlander
.