Spindale North Carolina...Hometown Pride
Along Main Street (Business 74) connecting the towns of Rutherfordton and Forest City is the backbone of the textile industry that has greatly contributed to the prosperity of Rutherford County, the town of Spindale. A mill town by description, Spindale flourished here throughout the early to late 20th Century, yet most of those massive factories are closed now, likely the results of oversea manufacturing.
Though the first mill in Spindale opened in 1916 it wasn't until 1923 that Spindale was incorporated. The Tanner family of Rutherford County, who open their first successful textile mill in Henrietta southeast of Spindale in 1885, donated the Spindale House in 1926 to the newly incorporated town.
The historic Spindale House was a former plantation house located in the center of what was to become the town of Spindale. This gift from the Tanner family to the town of Spindale was to be used as a public facility. The stately yet modest sized brick plantation house was built for Colonel Frank Coxe in 1885; you may remember this name from our Rutherfordton profile coverage on the historic St. Frances Episcopal Church on Main Street.
The Spindale House has also served as a memorial to Simpson BoBo Tanner 1854 to 1924, dedicated for the recreational use of the people of Spindale. Attached to the back of the Spindale House is a large red brick building housing a community center and recreation building. In the past this large facility has housed an ice skating rink, a bowling alley and today contains a reception hall and gymnasium.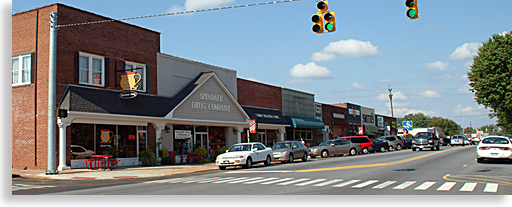 A long row of storefronts line Main Street along the southern side of the street. Here you'll find various shops and eateries. Spindale has an old-fashioned fountain located in the Spindale Drug Company, a sweet-tooth privilege so few towns have these days. On the north side of Main Street are railroad tracks and a textile mill, next to the mill is a church big enough to be a textile mill itself. A long row of forty-year-old Bradford Pear trees and crepe myrtles line this side of Main Street.
With the local textile plants being closed these day and with the rails from the old railroad being removed leaving only the old rail bed intact today, the "rail-to-trail" hiking path has been established in its place and is considered one of the longest North Carolina "rail-trails" in the state. Of the eight total miles the trail runs, three miles of it pass through the heart of Spindale.
At the eastern edge of town situated on the border between Spindale and Forest City, located on the north side of the street across from a large textile mill is a symbol of the region's glorious past. The large white columned Neo-Classical Revival style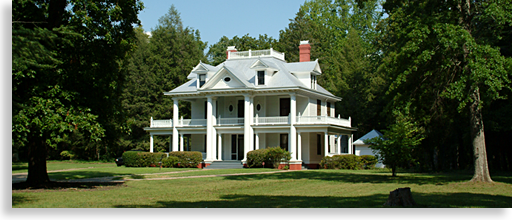 home is a reminder of the wealth this textile region created in the early 20th century. Though this impressive estate is surrounded by trees and situated on a large piece of wooded property, it seems a little out of place amongst the giant textile mills. The home has remained a private residence even to this day. Little information is available about the history of this house or even who owns it, an entry will be made once we know more. What is known is that it is one of two houses constructed in the Neo-Classic Revival style located in the county. This house is of the same architectural style as the Washburn House constructed in the northern rural community town of Bostic in the Washburn Village Historic District. You can find the Washburn House just a few miles north along Rutherford County's "Cherry Bounce Trail," a scenic historic county driving tour. The Washburn House, built in 1913 is the private residence of the Washburn family and is visible from the roadway. The home was listed on the National Register of Historic Places in 2002. The exterior of the Washburn's distinguished home is constructed in red brick with white columns and is also situated within a wooded setting.
Spindale was once a booming industrial town that provided many needed jobs for generations of community residents. The town is still a community of working class families, a friendly good neighbor kind of town whose folks take personal pride in their unique small town lifestyle and see the giant closed textile mills as a historical reminder of an industry whose by-gone past was a mile stone of the industrial age. Even with all the closed mills, the community maintains a pristine image, all neat and tidy.
Today the new symbol of community pride amongst the people of Spindale is the Isothermal Community College, located along the southern edge of town just off the local by-pass. The Isothermal Community College is also home of the Foundation Performing Arts and Conference Center. The college campus was created to serve five local Western North Carolina counties. The Foundation Performing Arts and Conference Center is very popular and highly attended by regional residents and visitors alike. The Isothermal Community College is an impressive ideal setting offering music, dance, theater and other entertainment venues throughout the year. Isothermal Community College is also the home studio to WNCW-FM 88.7, an affiliate of Western North Carolina National Public Radio.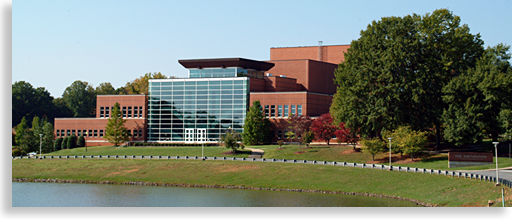 The college got its name from residing in the isothermal belt, a relatively mild weather region due to the highest mountains east of the Mississippi River creating its own unique type of ecosystem in the region. This temperature inversion has the advantage of having ideal conditions for growing fruit crops such as peaches, apples and pears here in the foothills of the Blue Ridge Mountains.
Popular festivals and events in the Spindale town community are the Fourth of July Festival on Main Street featuring car shows, arts and crafts and a hot summer beer garden. The Foothills Antique and Artisan Show is held in both spring and fall at the Spindale House Community Center. Spindale is also home of the popular Rutherford County Farmer's Market, a local and visitors' favorite opened May through November.
The historic significance of Spindale as a leading textile community and the friendly down home folks who make up this southern mill town, presents a charm that is becoming yet a way of life that is growing more extinct all across America. The people of Spindale and surrounding textile communities have made the adjustment necessary in order to continue a lifestyle devoted to a heritage that promotes, family, community service and fellowship. A visit to Spindale will put you in touch with local mill town history and the folks whose families, often for generations made their life here in central Rutherford County. Good town, good people...Spindale.
The Textile Towns and Villages of Rutherford County
The textile region of Rutherford County is a complete contrast to the tall mountains and steep foothills in the north and western sections of the county. All textile towns throughout central and east central Rutherford Counties converge together here along the rail line where the landscape was more conducive for railroads and large textile mills.
Towns like, Forest City and even Rutherfordton were basically mill towns during the early 20th Century even though they held other responsibilities in both government and commerce. Other textile towns like Spindale, Ruth, Henrietta, Avondale and Cliffside all began as mill villages with privately owned mills providing housing, schools, company stores, and helping to build churches for the people of their community. Even though most of these mills are completely closed today, there's a surreal atmosphere here amongst these monoliths. Though empty they maintain their grace, its as though they are part of an abandoned movie set left over after a screenplay has made its necessary mark on our present state of society. Not a series of Hollywood ghost towns, but communities that never lost sight of there roots. The hub of product activity here in this region of Western North Carolina was monumental in leading the first textile industrialization of hospital insurance for the textile workers. The textile industry in Rutherford County is a legacy to its people, products, communities and traditions, a rich and worthy contribution to their heritage.
Other Links to Places of Interest in Rutherford County North Carolina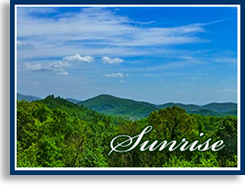 Should you choose Sunrise Mountain Cabin for your mountain getaway, you will enjoy a luxury cabin with all the comfort of home and a million-dollar view with privacy and seclusion, and no neighbors in sight. We all tend to get caught up in the stress of our everyday lives, and without an escape from that stress, life loses its true meaning. A trip to the mountains will help you put life in perspective. We named our cabin Sunrise, because of the outstanding morning skies. Each morning you will see a new nature made painting from the front deck that will rejuvenate you.
828.835.9982 • SunriseCabinRental.com
---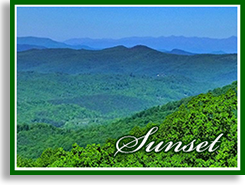 Should you choose Sunset Mountain Lodge for your mountain getaway, you will enjoy a luxury cabin with all the comfort of home, a million-dollar view with privacy, seclusion, and no neighbors in sight. We all tend to get caught up in the stress of our everyday lives, and without an escape from that stress, life loses its true meaning. A trip to the mountains will help you put life in perspective. We named our cabin Sunset Lodge, because of the outstanding evening view. Each evening you will see a new, nature made painting from the front deck that will warm your soul.
828.835.9982 • Sunset Cabin Rental.com
---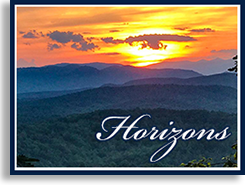 Horizons on Yellowtop Mountain is a quiet, private and secluded luxury cabin in a Golden Valley North Carolina gated community.  When visiting Horizons you will find a peaceful community in the Blue Ridge Mountains, with nature's beauty at every turn, and no neighbors in sight. You will enjoy this luxury mountain getaway, with all their the modern amenities.  Because of its high elevations, you will experience cooler summer climates with a breathtaking scenic view of Golden Valley and Sunshine, North Carolina.
828.835.9982 • HorizonsCabinRental.com
---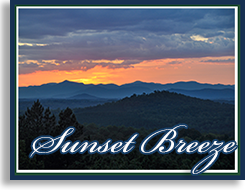 Sunset Breeze Cabin on Yellowtop Mountain, provides luxury log cabin living with all the modern conveniences. Upon arrival you are welcomed by the breathtaking mountain view. Sunset Breeze is located in the charming township of Golden Valley in North Carolina's Blue Ridge Mountains. At a 2,200-foot elevation this wonderful cabin provides cooler summer climates and a scenic view of the Blue Ridge Mountains of North Carolina.
828.835.9982 • SunsetBreezeCabin.com
designed, produced and hosted by
The Blue Ridge Highlander logo, all photography, design, graphics, artwork, writing, digital images, etc are the
Copyright ©
of C. Wayne Dukes and Sherry Bell Dukes. 1996 to current day, except where otherwise stated. All rights reserved, reproduction, downloading, and/or duplication of any sort is strictly prohibited, all violations will be prosecuted.
Legal Policy
. If you have any questions, or comments, regarding this site,
e-mail the Highlander
.