Liz Nicholas is a painter, writer, licensed wildlife rehabilitator, educator and naturalist residing in the North Georgia Mountains. At any given time, besides her freelance consulting work, Liz is tending to a variety of furry, fuzzy, finned and feather wild beasties.
Ms Nicholas' love for all creatures began when she was just a toddler and brought a large frozen beetle into her home for which she promptly inserted into the dryer's lint catcher to thaw. Her father knew when it came to Liz; he was in for trouble regarding animals even back then. From that time on, she and her animals were inseparable.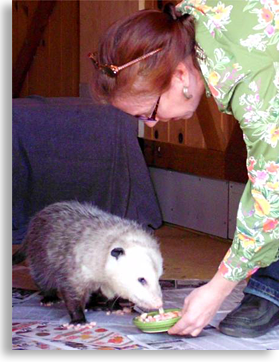 Today, her rehab facility described as the "Prancin' Possum Farm" has houses a variety of temporary residents until they are capable of being re-released to the wild. Her focus now is on federally protected "Birds of Prey" such as Hawks and Owls, but she still has a soft spot for the small furry types, her favorites being Possums and Ground hogs aka Whistle Pigs.
All of her work is done pro-bono, and out of her own pocket and the kindness of her heart. She has to rely on good Samaritans to transport the animals to her. Animals can some times be in her care for quite a while. Driving around for hours trying to find one in the dark is not an easy request. On average it costs Liz and her vet hundreds of dollars to get an animal healthy enough to be released back to their home range. Sometimes it can be a thankless job, feeding around the clock and with the current economy, cash can run low but the need for her services never does. There are not enough wildlife rehabbers out there because of the commitment of both time and money. Liz is committed to the wildlife she takes in, and they never do without. The funding commitment is not to be taken lightly by any means. Liz works directly with the Cohutta Animal Clinic, who is also licensed to aid in injured wildlife.
Nicholas also teaches community outreach programs by request to schools and community groups for a fee, her topic is primarily peaceful co-existence of wildlife and avoiding general conflicts.
Liz also love to help foster a personal connections and commitment between people, wildlife and nature. Her message…wildlife needs to remain wild and not to be treated in any other way, we should all respect to their role within the ecosystem and how we all fit together. One of her many favorite topics is educating people on why the Virginia Opossum is such a great companion to your garden, they are also capable of eating poisonous snakes. Another subject is how the King Snake got his name.
The public is not legally allowed to view animals that are in rehabilitation, although if requested, Liz can coordinate a visit from a fellow falconer with a healthy bird of prey.
If you would like to schedule Liz for an educational outreach program, e-mail her at info@liznicholas.com. You can also make a donation to Liz's Wildlife Fund, by contacting the clinic directly at 706-946-7387 by donating to her project using this link: http://www.indiegogo.com/helpbuildabirdofpreycage
Liz is also reachable, along with other wildlife rehabbers under the "find a rehabilitator" at the DNR website: www.georgiawildlife.org