Nantahala River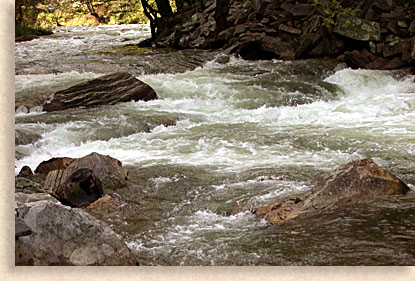 The Nantahala River draws over 250,000 boaters who run the 8.5 mile rapids. At the put-in, restrooms and information is available. About 2.75 miles downstream, Ferebee Memorial Picnic Area offers another launch and take out point, plus restrooms and picnic tables.
The Nantahala River and Reservoir are located in Macon and Swain counties. The Nantahala reservoir as well as the river attracts anglers from all over the country. This area provides a diversity of fishing opportunities from crappie, trout, walleye, catfish, bass, and sunfish in the reservoir to the delayed harvest trout waters below the dam to the Beechertown Power plant. Below the power plant is approximately 9 miles of the Nantahala River Gorge. This area supports a wide variety of outdoor activities including whitewater rafting, canoeing, kayaking, picnicking, fishing, hiking, camping and photography.
For more information on the Nantahala Gorge use this link.
Directions from Waynesville, North Carolina: follow Hwy 19/23 (Hwy 74) west past Bryson City. At the junction of Hwy 28 where the 4-lane becomes a 2 lane, stay straight towards Murphy on Hwy 19/74 into the Nantahala Gorge.

for more information
Nantahala Forest Service
160A Zillicoa Street
Asheville, NC 28802
828-257-4200
mailroom_r8_north_carolina@fs.fed.us