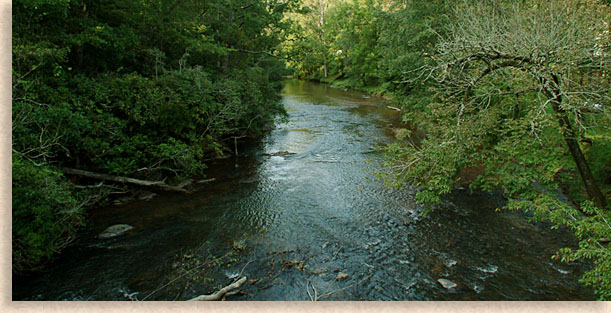 Nottely River

Beginning in the upper reaches of the Chattahoochee National Forest in the south central mountainous regions of Union County along the Eastern United States, Western Continental Divide is Nottely River. The watershed of its headwaters follows a steep path down the mountains before entering the fertile valley and pasturelands of central Union County. This is gold-county a land once laden with creeks sparkling with gold washed down from the gold quarts along the steep slopes of the mountain interior. Gold can still be found here by enthusiastic gold seekers who have a knack and a touch of gold fever, yet it's the Nottely River and its tributaries that now sparkle with mountain trout just waiting for the opportunity to latch onto line and sinker or the draw fly fishermen or women's lure.

The Nottely River's gentle current flows across the valley lands of Union County working its way northward grazing the historic mountain town of Blairsville before filling the shoreline of Lake Nottely. Lake Nottely and its many channels journey across the north central section of Union County and are popular with fishing persons and boating recreation. With so many channels Lake Nottely seems endless with miles and miles of shoreline with many quite coves to fish and explore before the lake breaks open into a much larger expanse of deep lake water, a great destination for bass fishing water skiing and leisure boating.

Lake Nottely is not a year round Recreation Lake, it's a utility lake created by the TVA, Tennessee Valley Authority. During the winter the lake is mostly void of water, what's interesting is that the Nottely River reemerges as it follows the lowest path through the bottom of the lake, giving life back to the river's full length claiming its original route for the winter season each year.

Leaving Lake Nottely Dam behind Nottely continues winding northward crossing the state line and entering North Carolina's Cherokee County. A short journey thru Cherokee County delivers the waters of Nottely River into Lake Hiwassee were Nottely River joins hands with the Hiwassee River in the Nantahala National Forest. From the waters and shore line of Lake Hiwassee you get the feeling of being lost deep in the Western North Carolina mountains due to its locked away position behind high ridges and steep mountains. The historic mountain town of Murphy in Cherokee County lies near the southeastern edge of the lake just beyond the Hiwassee River Gorge, the town is not at all visible from any part of the lake or major roadways, isolated in seclusion just off the beaten path. You're going to want to keep your fishing gear handy the many channels on Lake Hiwassee are idea for dropping a line. Nottely River is not a long river just a great river in a popular mountain region.

Directions: From the US Highway 129-19 bridge downstream to Nottely Reservoir; Rock Creek watershed and Toccoa River.