Fort Mountain State Park

Fort Mountain derives its name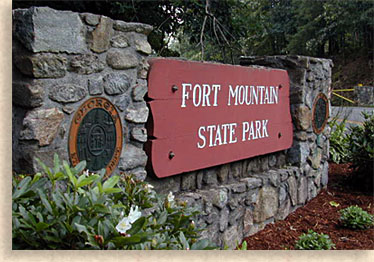 from an ancient 855-foot-long rock wall which stands on the highest point of the mountain. The mysterious wall is thought to have been built by Indians as fortification against other more hostile Indians or for ancient ceremonies. Situated in the Chattahoochee National Forest close to the Cohutta Wilderness area, this park offers a variety of outdoor activities. Hikers, mountain bikers and horseback riders will find some of the most beautiful trails in northern Georgia. Most wind through hardwood forest and blueberry thickets, occasionally crossing streams and providing spectacular vistas. During the summer, children will enjoy the sand beach located on a clear mountain lake.
Facilities at Fort Mountain State Park
3,551 Acres
70 Tent, Trailer, RV Sites with Cable TV hookups
4 Walk-in Sites
15 Cottages
17-Acre Lake with Swimming Beach
7 Picnic Shelters
Group Shelter
Pioneer Campground
Activities at Fort Mountain State Park
Hiking and Backpacking; 14 miles of trails
Mountain Biking; 30 miles of trails, trail fee
Horseback Riding; 37 miles of trails, horse rentals
Fishing and Pedal Boat Rental (seasonal)
Miniature Golf (seasonal)
Fort Mountain State Park Nearby Attractions
Amicalola Falls State Park and Lodge
New Echota State Historic Site (Cherokee capital)
Chieftain's Trail
Chief Vann House State Historic Site
Cohutta Wilderness Area
Funk Heritage Center
Southern Highroads Trail
Park Hours: 7 am - 10 pm
Office Hours: 8 am - 5 pm
Directions: take I-75 exit 333 off I-75 toward GA Hwy. 411, 8 miles east of Chatsworth via GA Hwy 52.
for more information:
Fort Mountain State Park
181 Fort Mountain Park Road
Chatsworth, GA 30705
706-695-2621